A workshop on Hindustānī music inspired by the monsoon by a vocalist who also wears a biologist's hat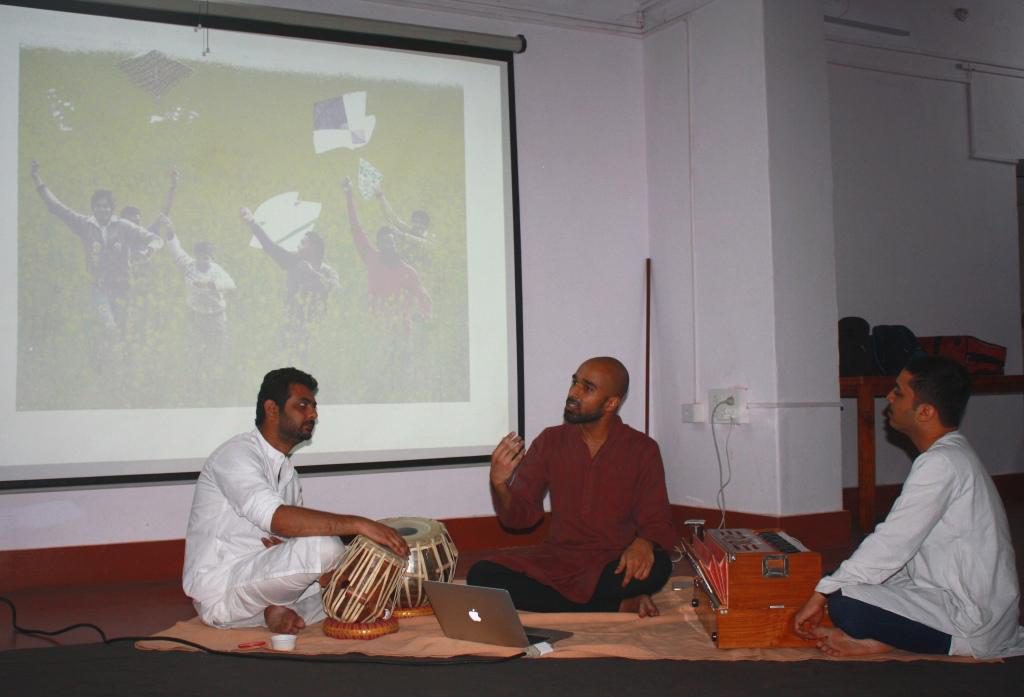 I define myself as a musician with an academic approach. I have been a student of Hindustānī music since my childhood. Besides what I learned from my gurus, the well-known vocalist Geetha Hegde and Ojesh Pratap Singh, a professor of music, I am also self-taught: I learned by listening to different genres of music, songs in various languages, and by keenly observing nature and seasons during my years growing up on IISc's campus. Here's why I mention nature – Hindustānī music has an intimate connection with seasons, plants and animals. This is the meeting point of my passion for music and my interest in biology.

Though my PhD from the University of Göttingen was in biophysics, I have always felt the pull of music strongly, not only as a performer but also as an academic. This is what drew me to the Centre for Contemporary Studies (CCS) – now known as the Centre for Society and Policy (CSP) – which I joined as a visiting scholar in 2017, when Raghavendra Gadagkar was the Chair of the Centre . Here is where I began my musicological research, as well as what I like to term music outreach.

In January 2018, I joined Ashoka University, Sonipat, as a postdoctoral fellow. My job involves teaching both biology and music appreciation courses to undergraduate students, besides continuing my music research (this semester, I am also teaching a Sanskrit course). But during my semester breaks, I have kept coming back to CSP. This time, in June, I was again invited by Anjula Gurtoo, its current Chair, to be a visiting scholar. Being at the Centre has given a huge impetus to my musical journey.
The goal of my music outreach is to make my music, including several of its technical aspects, accessible to a wider audience. I do this through my music appreciation courses, lecture-demonstrations and concerts. Even in my regular concerts, I make it a point to explain what my songs mean to the audience. My lecture-demonstrations always have question and answer sessions. I want listeners to develop a better understanding not just of the music but also the culture and traditions that shape it. My performances tend to be thematic, and I have often found myself inspired enough to compose something new for each event.
The goal of my music outreach is to make my music, including several of its technical aspects, accessible to a wider audience
My audiences are mixed, and consist of musically knowledgeable people as well as those who are new to its technicalities. All my performances are designed to ensure that each person, irrespective of their background in music, goes back with something new. Based on the number of people who attend my performances and their responses, I would say that I have been successful in this regard.

The first lecture-demonstration by me was at CCS in December 2017, and was a general introduction to Hindustānī music for a lay audience. I covered most aspects of the Hindustānī tradition, ranging from swaras and rāgas to different genres – dhrupad, ḳhayāl and ṭhumrī-dādrā. Though I don't consider myself a representative of any particular gharānā, I am enamoured of dhrupad, especially the way the old Agra masters used to sing it. Their style has had a great influence on me.

My second CCS performance was in January the following year. Here, I broke with tradition. I began with Rāga Bhairavī, a favourite of mine, in dhrupad style. I sang an ālāp and a traditional bandish (composition) on Shiva. In my view, Bhairavī – typically relegated to the end of a concert – is a rāga that has great scope and is deserving of much more elaborate improvisation. Another reason for this unconventional approach is that, when sung as Shuddha Bhairavī, containing only the kōmal swaras (flat notes) and no additional notes – not even the tīvra r̥iṣhabh (sharp variant of the second note) that is commonly inserted – this rāga presents a very serious atmosphere. I followed it up with the more light-hearted and lively Rāga Kalāvatī. And after a song of Purandaradāsa set to Bhīmpalāsī, I ended with a tarānā in Yaman Kalyāṇ.

My first monsoon concert at the Centre was in July last year, when I sang the well-known monsoon rāgas Mēgh and Gauḍ Malhār, and concluded with a kajrī – a monsoon song originating from the folk traditions of northern India and laden with viraha, the pathos of separation from one's beloved. In Rāga Mēgh, I sang an ālāp and a dhrupad-aṅg bandish. This bandish is a beautiful example of the "varṇanātmak" (descriptive) nature of dhrupad – to use a term popularised by the renowned musician-scholar KG Ginde in his lecture-demonstration on dhrupad-dhamār. It describes the story of Indra's fury that takes the shape of a storm, Kr̥iṣhṇa lifting up the Gōvardhana hill to protect his village from the torrential rain, and finally Indra bowing down before Kr̥iṣhṇa's might. As an academic, I find this story very interesting, since it is symbolic of a shift in religious practices – the old R̥igvēdic gods being replaced by the gods of the Purāṇas.
This July, I experimented more with my lecture-demonstrations. I did four two-hour sessions. It was challenging, yet exciting. I again went with the theme of the monsoon, a natural choice given the time of year.

The first session dealt with the Malhārs – the quintessential monsoon rāgas of Hindustānī music. In the second, I sang monsoon poetry in six Indian languages, covering a wide range of rain-related emotions: celebration of the lover's arrival home, childhood memories, a hilarious conversation between two frogs, the destructive aspect of rain, and so on. The third began with a detailed discussion of Rāga Dēsh. Dēsh is not a monsoon rāga the way Malhārs are, but it still occupies an important place in monsoon music, since it has several songs on rain. From Dēsh, I moved on to the related raga Sūr Malhār. The reason for placing this Malhār in the third session and not in the first was due to its closeness to Dēsh. Towards the end of this session, I sang bandish-kī-ṭhumrīs on rain, and then kajrī and jhūlā. The latter – as the name suggests – is a genre of swing songs, and is closely connected to the festival of Sāwan Teej that is celebrated in northern India. One of the jhūlās I sang was my own composition in Rāga Māñjh Khamāj, which talks of Shiva and Pārvatī on a swing – in a sense "swinging" away from the usual Kr̥iṣhṇa-Rādhā or Rāma-Sītā themes. Here I have interwoven the culture of the north with that of the south, using symbolic references to the Madurai Mīnākṣhī temple.

In the fourth and final session, I gave the audience a glimpse of the complete r̥itu-chakra (cycle of seasons). I opened with a rāgamālā (multi-rāga song) composed by Chaitanya Kunte, a well-known contemporary musician. It is a celebration of Earth, constantly adorning herself in new ways and taking new forms in every season. After this, I took the audience on a musical journey through all the seasons in the calendar.

This July, I experimented more with my lecture-demonstrations
Most mausamī (seasonal) compositions in Hindustānī music talk of basant (spring) or barkhā (monsoon). There are a few compositions on autumn as well. However, bandishes on the extreme seasons of North India – winter and summer – are rare. For the winter segment, I presented two of my own compositions that were inspired by the German winter which I experienced for several years. The first one, in Rāga Tilak Kāmōd, is motivated by the pristine beauty of snow, and expresses a feeling of milan, or togetherness. As in the jhūlā that I sang earlier, this too expresses my love for syncretism. Here I compare snowball fights to the Hōlī festival. The second bandish, in Kīravāṇī, is about the cold, dark, viraha-filled nights of that season. Love becomes the blanket that provides relief. Winter is followed by springtime, and so the next segment had spring rāgas Bahār and Basant, two Hōlī songs, and chaitī (a traditional form originating in the eastern part of the North Indian plain and sung in late spring).

The summer segment again began with my own composition, describing the furnace-like winds that blow all day long during the months of Baisākh and Jēṭh. I composed this specially for the occasion. Normally it isn't easy for me to compose in such a short timeframe. But to modify an old saying, necessity is often the mother of composition. I chose to set this bandish to Laṅkadahan Sāraṅg – a rāga with fire in its very name. The piece is derived from my own experiences of the summer in Delhi and Haryana. The other bandish that I sang is an SN Ratanjankar composition in Baḍhans Sāraṅg. Sāraṅgs, while not seasonal rāgas, are often chosen by composers for summer bandishes – because they are sung at noon. I ended this session with a Mīrā bhajan on the monsoon, thus completing the r̥itu-chakra, and the month-long workshop.

My performances would not have been possible without the support of those who accompanied me on the tabla and harmonium: Sagar Bharathraj, Abhijeet Bayani, Santhosh Hegade and Surya Upadhyaya. I am also grateful to my gurus and all the people at CSP, who have supported me in my journey.

For me, coming back to IISc, where I spent a good part of my childhood, has been a wonderful experience. It's been even more special to perform here. I look forward to many more such musical conversations.
Achintya Prahlad is a visiting scholar at CSP. He comes from Ashoka University where he teaches biology and music appreciation to undergraduate students. You can find his performances on his YouTube channel here: https://www.youtube.com/user/forestswaras
To read more articles in our series on the monsoon, click on the following links:
Sulochana Gadgil: A Lifetime of Monsoon Research
MONTBLEX: India's First Major Monsoon Experiment
Interview with Syed Ameenulla: 'Ours was a small group, like one family'
BoBBLE: 'An Unusually Successful Cruise'
What an Adivasi Village in Chhattisgarh Can Teach Us about Sustainable Development
Decoding the Signatures of Monsoons Past in Fossils and Genes
Chanchal Uberoi on Monsoon Melodies
Why Knowledge Isn't the Barrier to Water Conservation