How student and alumni-led initiatives are bringing science to young children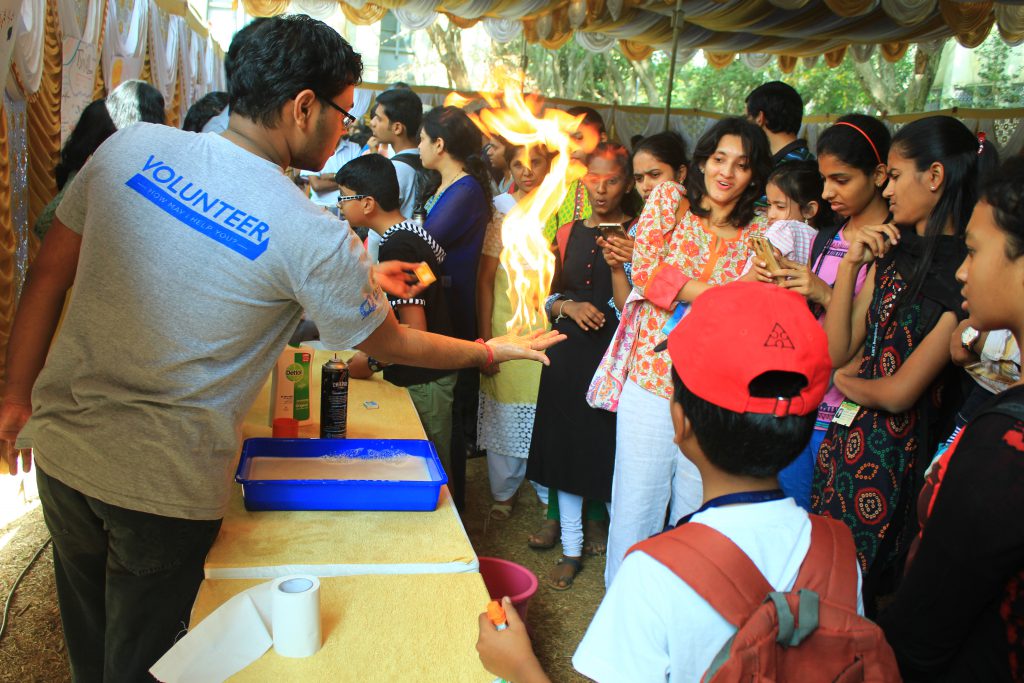 In 2016, when Suyog Mahulkar, Ashok B, Nilesh Potghan and a handful of other students at IISc decided to start an outreach initiative to teach science and maths at rural schools, they were gung-ho but also a bit "naive", Suyog admits. Armed with presentation decks and simple experimental setups built in the lab, they set out to visit schools and orphanages in and around Bangalore, starting with Nisarga Grama, a children's shelter in Hesaraghatta.
What they witnessed at these places, however, was not just the poor quality of education but also crumbling infrastructure and dismal socio-economic conditions. At the Hesaraghatta orphanage, for example, students in the 9th and 10th standard could not do simple arithmetic. "In one of the girls' schools, sanitary pads were lying on the ground, and they did not have proper restrooms. It was very shocking to me," Suyog, a PhD student in the Department of Mechanical Engineering (ME), says. In other schools, experimental kits donated by NGOs were lying untouched because the teachers were scared of damaging them and having to bear the cost of fixing them.
Those visits were eye-opening but did not dampen the volunteers' enthusiasm. Calling themselves 'Science for Rural India (SFRI)', the group has been visiting many such schools and orphanages over the weekends – some nearly 150-200 km away from IISc – to teach the children. The Karnataka State Council for Science and Technology (KSCST), housed in the IISc campus, helps them identify students and schools in need and provides support for travel and logistics. Five years later, the group is still going strong, with about 60 volunteers from various departments at IISc.

"We take up topics from their science books, and explain the concepts with the help of some experiments," says Ashok, also a PhD student at ME. "For example, we built this electric generator using just household stuff: a magnet, a coil, an LED bulb and a rope." Initially, they let the children explore the kit on their own, and give them time to think and analyse what they see. "Then, we finally reveal the concepts behind it – what is a magnet, how is the coil working, what is electricity, and so on."
SFRI has been visiting many schools and orphanages over the weekends – some nearly 150-200 km away from IISc – to teach the children
Over time, the volunteers have experimented with different formats and fine-tuned the way they teach these classes, sprinkling in cartoons and stories to make them enjoyable. "It is really hard to get their attention for more than half an hour. We try to make it as interesting as possible," says Suyog. The volunteers also take along with them at least one person fluent in Kannada or take the help of the school teachers for translations. For a short while, KSCST also brought batches of 40-50 students to campus and helped the group set up science 'magic shows' for them, but that was discontinued after logistical challenges, explains Ashok.
While SFRI has gained popularity in recent years – particularly for their involvement in organising the highly sought-after 'Kids' Zone' at IISc's annual Open Day – Suyog and Ashok are also worried about its future after they graduate from IISc. One of the ways they have tried to ensure its continuity is to rope in PhD students receiving the Prime Minister's Research Fellowship (PMRF), who are mandated to do outreach, each year. They also plan to set up networks with other institutes across India that organise similar activities.
Open Day might be the undisputed queen of outreach activities at IISc, but initiatives like SFRI, driven entirely by students and alumni of IISc, are also making a substantial impact on science education.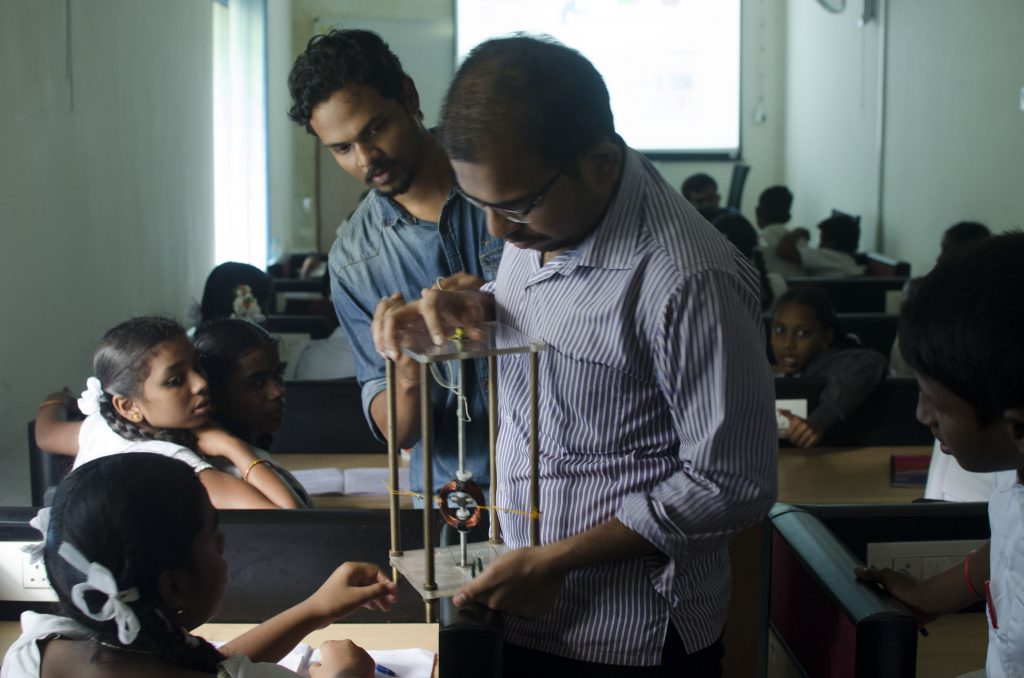 Rethinking classroom education
The problem with primary school education, Pankaj Jain points out, is that the focus is more on "informing" students instead of letting them figure out how things work around us. "Science and maths are very beautiful processes," the former PhD student from the Molecular Biophysics Unit says. But hamstrung by a lack of resources, teachers themselves don't experience the "joy of learning", let alone their students. The classroom environment should also be "mistake-friendly and non-threatening," he adds. "A child should not be afraid of the teacher, and the teacher should not be afraid of the child and accept that they don't know [something]."
A few years ago, Pankaj and a couple of other students from IISc set out with an ambition to change how education is imparted in classrooms. Inspired by their days volunteering at NoteBook Drive, a student-led initiative that has been active at IISc for nearly 20 years, they founded a startup called Seed2Sapling Education. The company has worked with more than a dozen schools and hundreds of students to understand the gaps in teaching and organise different programmes to address them.
Under one of their initiatives called "Dialogue on Learning", for example, they spend an hour or so every fortnight with school teachers to first make them experience the processes behind the subjects. The discussion then goes on to how they can improve the way they introduce certain concepts and elicit responses from students in the classroom; these discussions continue for about two to three years.
"Before we start, we ask the school to fill up a form and understand what their needs are, and customise the programme," explains Tarun Choubasia, a co-founder and alumnus of the Department of Electrical Communication Engineering (ECE) at IISc.
Seed2Sapling also organises programmes aimed at young children in primary and secondary schools, such as "Explore@Home", where the children are asked to develop simple experiments using household items. In one class, when they showed students a photo of ice cubes in a water glass and asked where the droplets on the outside of the glass were coming from, many students answered that the droplets were seeping out from inside the glass. Instead of correcting them, the team encouraged them to try and prove this theory by designing an experiment. For example, a child used coloured ice cubes to see if the droplets also turned out to be coloured.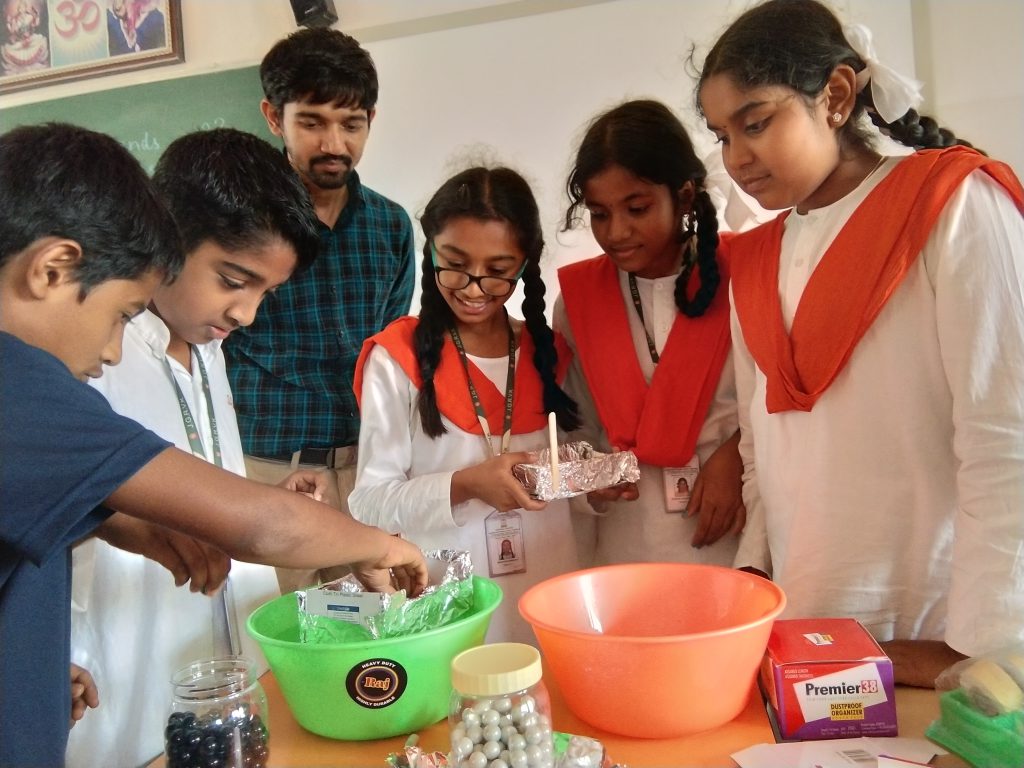 "The idea is not to 'teach' students," explains Pankaj. "We are trying to make it more challenging actually … like a puzzle, but joyful. Let the students figure out the concepts by themselves."
When the pandemic hit, the team saw the chance to expand their scope beyond Bangalore and began organising online sessions for students and teachers. "We could engage a lot of students because of the inquiry and discovery process even in an online setup. But it's not easy," admits Tarun. "Sometimes they may turn their videos off. Then it becomes challenging." Another problem is the glut of information the students are already exposed to, with some of them simply Googling answers to questions the team poses. One way to deal with this is to ask them why they think it is the right answer and use that as a conversation starter, explains Mrinal Shah, another team member and alumna of the National University of Singapore. "We also pick out some absurd articles and ask the students to identify what are the claims made, the evidence for the claims, and if there are any other explanations that they can think of." Mrinal is the only non-IISc graduate who's part of the Seed2Sapling team; the others including Pankaj and Tarun are all alumni of IISc.
Creating enthusiasm for ecology
Another IISc alumna, Devica Ranade, became interested in science communication when she took a break after finishing her PhD from Kavita Isvaran's lab at the Centre for Ecological Sciences. "During my PhD, I always felt that the exciting work that ecologists do doesn't reach the common person," she explains. In 2020, she started a website called 'Ecology Research Explained (EcoRE)' to break down interesting research in the field of ecology for a broad audience. "Initially, I thought that the best way to do this is through videos and animations. Then, I wrote some small articles and posted them on Facebook. That actually got a very good response." Slowly, she began recruiting more interns to help her write articles and make videos to share on Instagram and YouTube.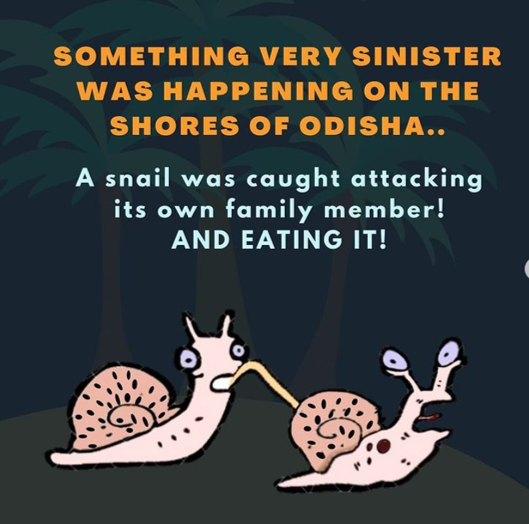 The goal, she says, is to reach students in lesser known colleges in India, and get them excited about pursuing a research career. "In ecology, there's a bubble," Devica explains. "At [places like] IISc, National Centre for Biological Sciences or IISERs, we get taught really well. Those students who are not in IISERs or IISc might not get as much guidance and exposure to the field as they should."
In her videos, Devica and her team use simple language and colourful animations to explain new research findings or fascinating phenomena in the natural world. Some of their early videos on YouTube, for example, touch upon the role of tusks in Asian elephants and why fan-throated lizards display three different colours on their throats. Their website and Instagram handle also have posts on interesting research findings such as how some snails practice cannibalism or how pollution affects pollinators like honeybees. "We focus on studies based in India since they do not get as much attention," explains Devica. In summer 2020, they organised an online workshop on "Backyard Biology" for more than 100 school students through the Chhatrapati Shivaji Maharaj Vastu Sangrahalaya, a museum in Mumbai, which was quite popular, Devica says. "I really want to get kids excited about the natural world around us."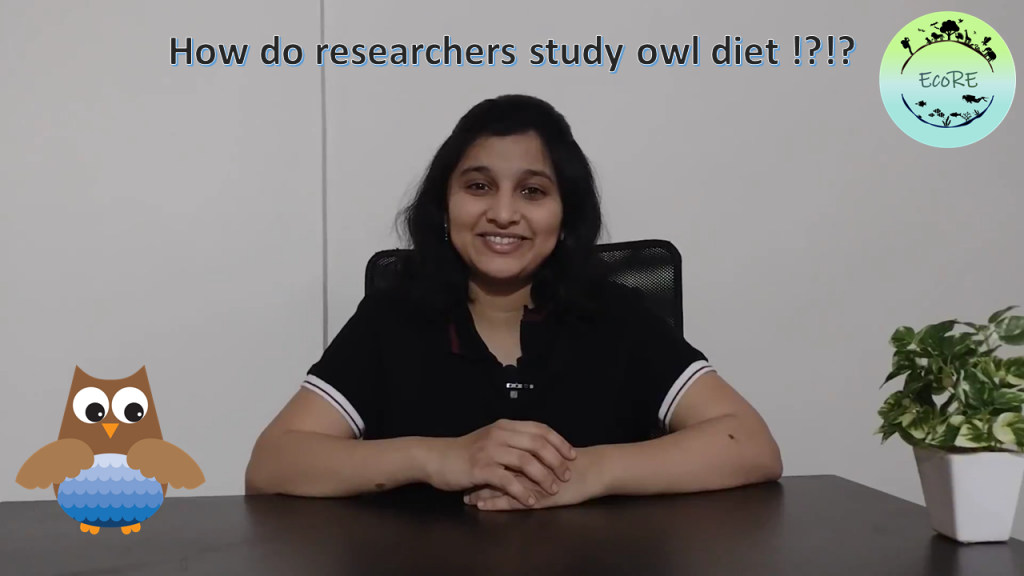 Opening up the campus
Initiatives like EcoRE, SFRI and Seed2Sapling are not the only outreach activities by IISc's students and alumni. The biggest by far, however, is the Institute's annual Open Day. Organised around the 3rd of March each year – to commemorate both JN Tata's birth anniversary and the discovery of the Raman effect – it has become an unmissable event in the city's calendar. On this day, the usually quiet campus becomes abuzz with chattering children and their parents in tow, running to keep up with the kids as they flit from department to department. Cries of "ooh" and "aah" fill the crowds as they watch drones race each other at the airstrip, or a student displaying a fireball in their hand, or the lightning show in the High Voltage building.
The success of Open Day is largely due to the Institute's student community, who turn out in huge numbers to stand patiently on their feet all day, explaining and demonstrating the same concepts and exhibits over and over again, and fielding questions from visitors of all ages.
The success of Open Day is largely due to the Institute's student community, who turn out in huge numbers to stand patiently on their feet all day
"It is an immensely satisfying experience," says Karthik PN, a PhD student in the Department of ECE. "We interact with so many people. They come and challenge our thought process. They question us as to why our work is relevant." During last year's Open Day, Karthik and his friends organised an event called 'Game of Loans' based on his PhD thesis, which saw five teams competing with each other to make split-second choices and score high points. "We get a lot of answers about our own work and understand it a little deeper." They also organised a session on 'Gate to ECE', giving tips and suggestions to students seeking to write the GATE exam and pursue a career in research at places like IISc, which was also popular, he adds.
The concept of Open Day isn't new; the idea of having an "Annual Week", during which labs in the Institute were kept open for the general public, especially industry representatives, was mooted as early as 1957, according to the annual reports. But it is only in recent years that the popularity of Open Day – which is now held only on one day – has increased tremendously, thanks to the reach of social media and interest shown by electronic and print media, points out Veeranna Kammar, Deputy Registrar and Public Relations Officer (PRO) at IISc, whose office is in charge of organising the event. "In 2020, more than 50,000 people attended the event," he says.
A large part of that crowd typically flocks to the Kids' Zone tent run by the SFRI team. In 2017, when they first came up with the idea of setting it up, their ultimate goal was to assemble a bunch of child-friendly experiments and demos they could later take with them to the rural schools. "We initially had only about 5-6 experiments, but on the day before, we received 40-50 experiments from different departments," says Suyog. They were also completely blown away by the visitors' enthusiasm. "The queue was so long that traffic became congested. On that day, we decided we were never going to do it again because it was very hectic to handle the kids," says Suyog. But they continued organising Kids' Zone again during the 2018, 2019 and 2020 Open Days.
This year, adapting to the pandemic, they decided to move Kids' Zone online, creating a day-long event showcasing various experiments and demos, even organising competitions for children to come up with their own experiments at home. The online event also turned out to be unexpectedly popular, with more than 75,000 people joining the live stream. The team is also working on providing translated versions of the videos with voice-overs in several regional languages.
"As a government-funded organisation, we have a responsibility to the common people, to impart knowledge and help them understand science and technology. Open Day is a very good medium for this," explains Veeranna.
Veeranna recalls that in 2019, he met a 76-year-old man who had travelled from a village in Chitradurga district (about 200 km from Bangalore) to bring his young granddaughter to Open Day. They had apparently been planning the trip for 15 days. "He reached here early morning around 7-7.30 am with his granddaughter. He wanted to show [her] everything in the Institute. The granddaughter was very enthusiastic, she grabbed all our pamphlets and kept asking what departments she could visit … She didn't care to eat lunch either; her grandfather was carrying some food in his hand and running behind her saying, 'please, please eat,'" Veeranna says, smiling. "I am sure that she will definitely become a good science student or a scientist."