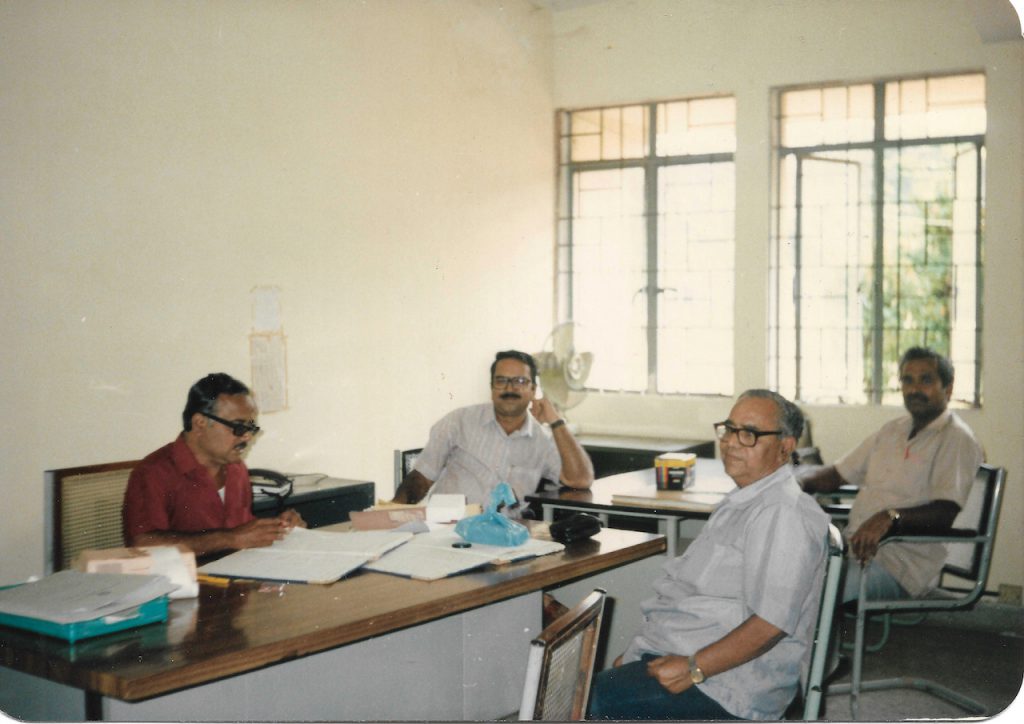 Sudarshan KV joined IISc in 1966. He worked in the Budget Section before serving as Office Supervisor in the Centre for Sponsored Schemes and Projects. After opting for Voluntary Retirement Scheme (VRS) in 1998, he served in the Pensioners' Association at the Institute for over 10 years. Having been born on campus, his association with the Institute has been a long and happy one. In this interview, he recounts how salaries were once given out in cash, how medicines were prepared on campus by compounders like his father mixing brightly coloured liquids, picnics and outings with colleagues and friends, and how having a famous spouse has meant close proximity to the who's who of the Kannada film industry.
What was your life like before joining the Institute?
I feel very glad to be able to say that I was born on IISc's campus. We were nine children in total: I have two elder brothers, two elder sisters, two younger brothers, and two younger sisters. I was the only one of them to have been born on campus, and I was called 'Madhyama Pandava' at home.
My father, Shri Venkat Rao, was an employee at the Institute working in the Health Centre's dispensary, giving out medicines under Dr TB Subba Rao. He was a compounder and served for over 35 years here. He would manage the medicines, which were coloured liquids kept in containers. Whenever the doctors prescribed medicine, he would prepare it by mixing one or two colours and giving it to the patients, who would come with their own bottle. Many a time, for cold, cough or other small ailments, patients would request my father to give them medicine without approaching the doctor for a prescription. My father would ask, "What happened? Okay, drink this and go home, take rest." My father was in service from 1935 to 1975. My mother, Sarojamma, was a housewife. Our quarters were where the Tata Memorial Science Club [now known as the Tata Memorial Club] is currently located, which was near the old government school next to SBI.
My schooling began at the Institute government school. It was a small school, and a very old one. Middle school was in Yeshwantpur, and high school was in Malleswaram, and I pursued a BCom at MES College, Malleswaram. My wife is from Srirampuram, and we also own a house in Mathikere – everything being so close to the Institute has made my life revolve around the campus. Before the pandemic, we were regular visitors to the campus for a walk.
What motivated you to join IISc?
After my BCom, I was planning to work for a bank and was looking for opportunities. My father suggested that I try for a job at the Institute and introduced me to Mr SS Prabhu, who was the Registrar at the time, and requested him to provide me with an opportunity, if any.
Mr Venkata Ramaiah was the Assistant Registrar for the Establishment Section, which handled recruitment. Those days, there was no employment exchange or recruitment process, we only had an oral test. I got through, joined the Institute, and after that we had to appear for a 'code examination' every six months. This particular test is all about the Institute, and we were given a booklet to read beforehand. Those who passed were made permanent employees at the Institute. I was first appointed in the Accounts Section.
What was the nature of work in the Accounts Section?
I first worked in the Budget Section which was in the Main Building. At that time, all the Central Offices – Establishment, Council, Finance, and so on – were functioning from the first floor and ground floor of the Main Building, except for Purchase and Stores.

We had a very pleasant working atmosphere in the Section, especially with our colleagues and officers. Our busiest days were those during the budget period when all the accounts were to be submitted. We would go to the office at 9 am and sometimes work until 9 pm. We had no computers, and there was no OT (Over Time payment) to employees working after office hours. Officers would provide snacks in the evening. Our work involved checking the one-year accounts, receipts, payments and so on, and the final work was to prepare the stencils, which had to be checked very carefully. The stencil was a master print on a special sheet that we would use to print many copies using a stencil machine.
In those days, we didn't pay staff by transferring the amount to their bank accounts – we would give employees cash in an envelope!

In those days, we didn't pay staff by transferring the amount to their bank accounts – we would give employees cash in an envelope! Two employees from the Accounts Section were deputed every month to each department to personally hand over salaries to employees. When it was our turn, we were given a vehicle accompanied by a security guard, and we would take the cash box to each department with a notebook.

I had the privilege of going to the dispensary and handing my father his salary when I was deputed to Cash Counter 2 (we had eight counters to pay salaries on campus). My father was so happy to see me paying salaries to all in the dispensary, and to receive his salary from me in an envelope.

From the Accounts Section, I moved to the Schemes Unit which is now the Centre for Sponsored Schemes and Projects (CSSP). After taking VRS in 1998, I worked in the Pensioners' Association up to 2012. I left the Institute after that to undergo a heart operation, after which I worked in the Association again until 2016.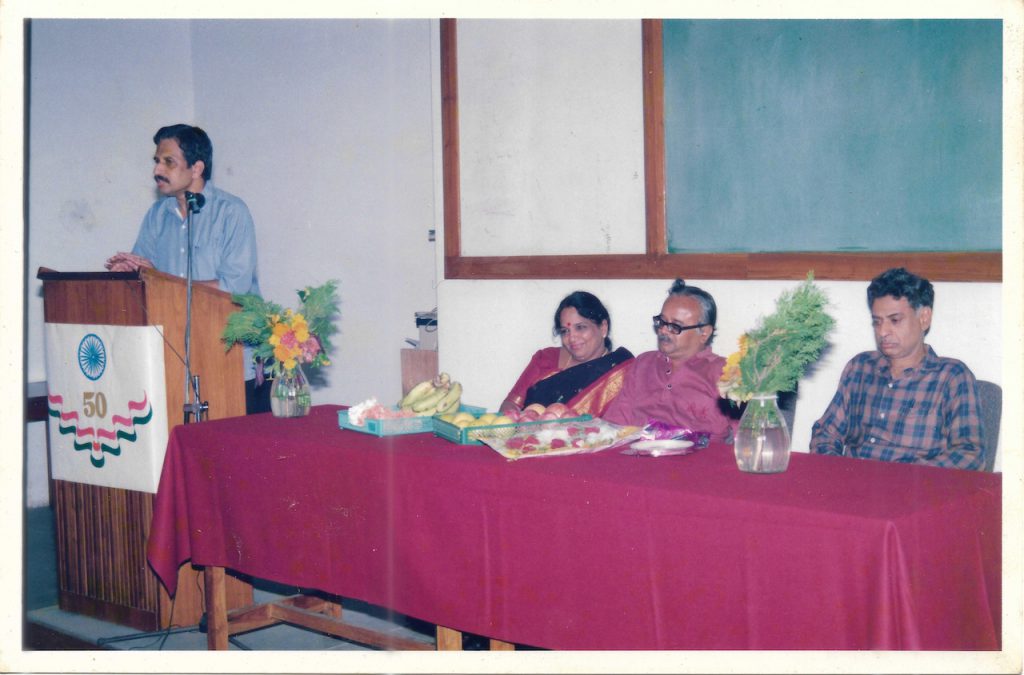 What is the function of the Pensioners' Association?
Retired employees are given the option of joining the Pensioners' Association at the Institute for a membership fee. This association, which has more than 300 active members, has a Benevolent Fund to support pensioners. This fund is generated by contributions from members, grants from the University Grants Commission and the Ministry of Education. The interest earned from this fund is used to support pensioners' medical bills, a death relief fund, their children's education and marriage.
Were there any memorable events from your time at work?
There were several memorable events.

After all the budget work for more than a month of working day and night, instead of OT, to encourage the staff, our officers would take us out to movies and lunch. I remember seeing Sholay with colleagues and enjoying lunch in the Majestic area. We had been to this movie with Mr Anantharam, the Financial Controller, and Mr Nanjunda Rao, the Registrar. They booked tickets for all the staff in our section and got lunch and snacks from Ramakrishna Lunch Home. We were also taken to the exhibitions opposite the Majestic Bus Stand once in a while. Mr Anantharam would spend on all these outings, getting us snacks, gifts, and so on.

I also remember being told that on the day of my father's retirement, during his send-off, Mr SS Prabhu, the Registrar at the time, said to my father, "Hello, Venkat Rao, you are leaving the Institute, but you are leaving an asset to this Institute, I say." My father was in tears hearing those words about his son. After coming home, he called my wife, gave her the garland he received at his send-off, and told her to put it on me. He was so happy about me. This is one of the most unforgettable and happiest moments of my life.
Do you have good memories of your time outside work as well?
There are many, we need more time to talk about that, but let me tell you that my wife Sudha Sudarshan and I organised many picnics to places in and around Bangalore every year for colleagues and friends. I started from our section initially, then many other staff members eventually joined us.

We would start from the Institute at 7 am sharp and return by 7.30 pm. We would arrange to take a cook along with us, and have freshly cooked breakfast and lunch. We conducted many competitions and games, and had a lot of fun giving out prizes and gifts. On returning, everyone would get packed food before they left for home so that they wouldn't have to cook after reaching home. Staff and family members would wait eagerly for the next picnic. We were happy to sponsor these picnics, and we really had good times. I also remember that we used to have a nice canteen for students and staff, who could bring their families as well for unlimited food at subsidised rates. We remember eating the masala dosa every time, and there was no need for us to eat breakfast at home. It was a very good mess, with good food, and staff coming to make those special breakfasts, which were quite popular in those days. We would take house guests there for lunch on Sundays.
Did you happen to meet any dignitaries during your service at the Institute?
I have seen Nikita Khrushchev when he visited IISc, though I don't know the exact date. I have also seen Pandit Jawaharlal Nehru during his visit to IISc. I think this was before I joined the Institute. [Editor's note: Khrushchev visited in 1955, while Nehru visited in 1948 and 1951.]
During the 75th year celebrations of the Institute, I have seen some dignitaries. The Institute gave us one silver coin each.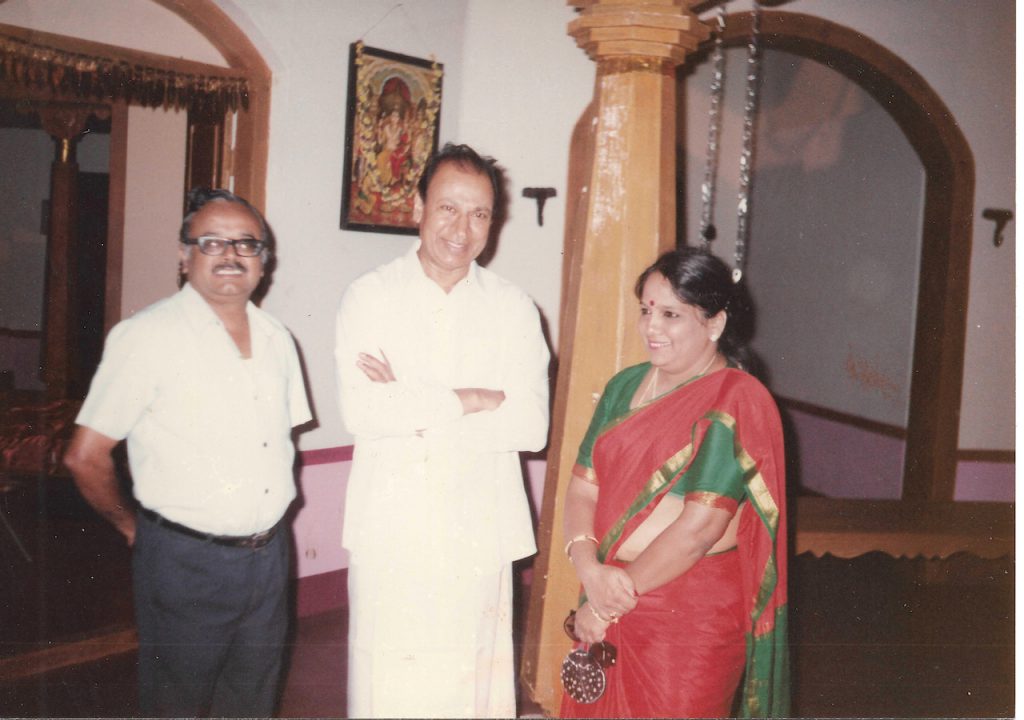 We understand that your wife was a well-known figure because of her work in All India Radio (AIR). Can you tell us about her?
My wife Sudha Sudarshan was quite popular as an announcer in AIR-Vividha Bharathi. Because her work involved interviewing many celebrities, I had the opportunity to meet and interact very closely with almost all Kannada film actors and actresses. In fact, people would frequently identify me as the husband of Sudha Sudarshan. Especially on the phone, when I say I am Mr Sudarshan, they don't remember me, but if I say I am Sudha Sudarshan's husband, people understand who I am. Many of my colleagues on campus were fans of Sudha, and when they found out I was married to her, they wanted to meet her.

Once I had the opportunity to pick up and drop the actress Pandari Bai home after her radio interview. It also so happened that my wife had to interview the actress Lakshmi after the movie Tony. I took my scooter to pick up my wife. That day, somehow, Lakshmi's car was not available. She requested me to drop her home on my scooter. I got really scared; how could I take her on my scooter on the road? Immediately, the actor Ambareesh intervened and arranged to take her home in his car. I also remember Dr Rajkumar saying over snacks with us, "Drinking tea with masala vada, that's the real maja (fun)." I recall several such incidents interacting very closely with many Kannada film stars who are like my family friends even now.
Sudha served at AIR for 25 years and applied for VRS along with me to take care of health issues.
Kavitha Harish is Personal Assistant to the Assistant Registrar (HR, Council) at IISc