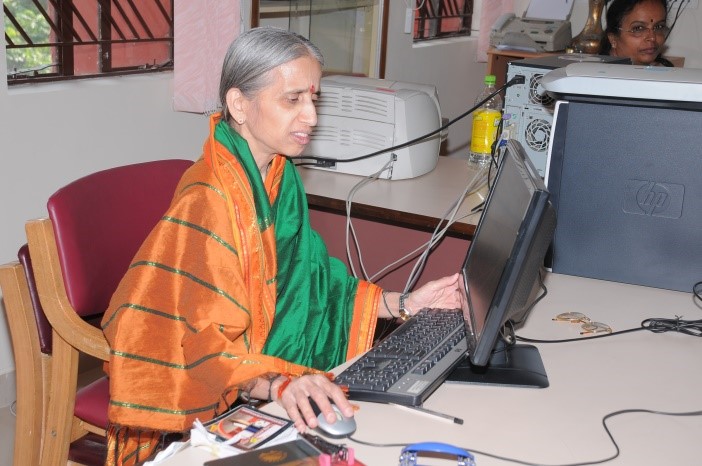 K Nagarathna joined IISc in June 1977 at the age of 23. She was the only daughter of her parents, with five brothers who studied science and engineering. Nagarathna dreamed of joining the Institute ever since one of her brothers pointed out to her IISc's 'tower' on the horizon from a temple in Basavanagudi. After completing her BSc, she acquired secretarial skills and applied to IISc for a stenographer's post. She had to plead with her mother, who was against her taking up a job, to let her try it out for a year. That was the beginning of a long career which spanned the Department of Aerospace Engineering (AE), the Centre for Atmospheric Sciences (now the Centre for Atmospheric and Oceanic Sciences, or CAOS) and the National Institute of Advanced Studies (NIAS). With forty-plus years at IISc, KN, as she is known, continues to work after retirement at the Supercomputer Education and Research Centre (SERC).
Tell us about the time you started working at IISc.
I joined as a Stenographer Grade II. Mr Nagesh from the Establishment Unit sent me to the Aerospace Engineering Department saying, "As you are coming from a far-off place, I will put you in a department closest to the bus stop!"
At that time, Prof Roddam Narasimha was looking for a secretary. Since he was abroad when I started, his colleagues showed me around and briefed me about the work. On the morning of 4 July 1977, Prof Narasimha walked into the office – a small room in the Fluid Mechanics lab – saying, "So, you are the new girl here? What is your name?" From that day on, I became "KN".
How was CAS established and what was your role in its running during those early years?
[In the 1980s], Prof Narasimha realised the need for a department at IISc to study meteorological sciences. With the support of Prof Satish Dhawan, the then Director, he submitted a detailed proposal to the government. The sanction order to establish CAS came on 23 September 1983. A new building, shared with the Centre for Ecological Sciences, came up some months after, and I was asked to move to that Centre. I was promoted to a senior grade.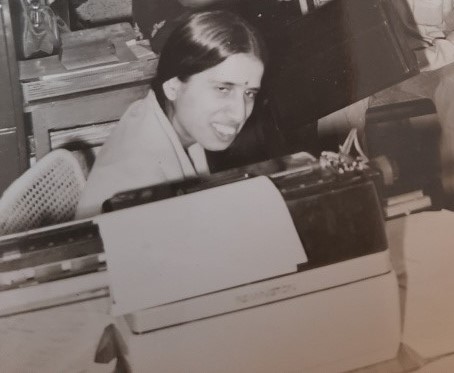 This was also the time when Prof Narasimha relinquished the Chairmanship of AE and became the Director of the National Aerospace Laboratories (NAL). He originally wanted me to go with him to NAL, but later decided that I should be his contact with the students and the Department at IISc. We used to meet in the evenings or on weekends to continue with his work here.
I took charge of the office at CAS, building it along with an increasing number of students and staff, acquiring everything from doors, carpets, locks and keys, to measurement towers and equipment for meteorological observations.
Under what circumstances did you move to NIAS?
In 1993, Prof Narasimha retired from NAL and returned to IISc and to his old office in CAOS for barely a year before leaving again to become the Director of NIAS. This time, he was serious about me going with him. He requested the IISc Registrar to depute me to NIAS. So, I became Personal Secretary to the Director at NIAS for the next seven years.
In 2003, Prof Narasimha joined the Jawaharlal Nehru Centre for Advanced Scientific Research (JNCASR). He had already built a dynamic fluid mechanics group in the Engineering Mechanics Unit there. I was reluctant to leave IISc, because I would not only lose my service but also my living quarters. This was a concern, since my aged parents lived with me. So, I asked the Registrar for advice.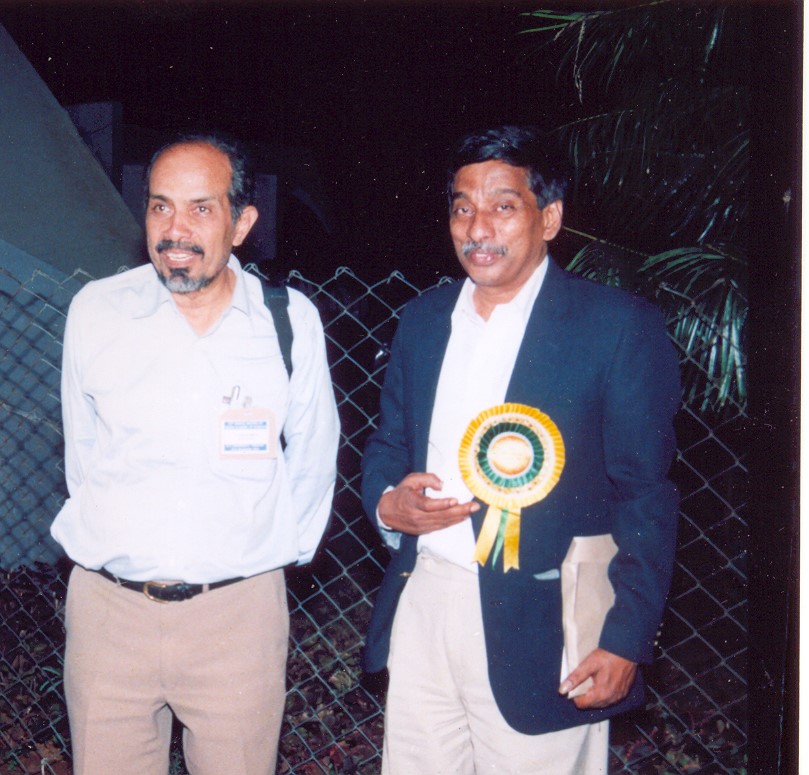 Once, as I was telling Prof Narasimha that the Registrar had not yet made a decision, and that I was to be at NIAS for some more days, Prof N Balakrishnan walked in. He asked me whether I would like to be in the administration or in a department, and I answered that a department would be better for me. He immediately processed the paperwork and took me into SERC.
Your brothers have had successful careers in science and engineering. Did any of them work at IISc?
Two of my brothers did their PhDs from IISc, one from AE (incidentally, he joined the Department when I was already in IISc) and the other from Mathematics (he was about to complete his degree when I joined, and left soon after to become a faculty member at the Indian Statistical Institute). The third brother did his PhD from Bangalore University, but collaborated with the chemistry researchers at IISc, and with the Department of Chemical Engineering after he retired. One of my younger brothers has been a Visiting Scientist at the Department of Electrical Engineering and another worked with Prof N Viswanadham in the Department of Computer Science and Automation for a few months after his Master's degree from IIT Bombay and before going to Georgia Institute of Technology for his PhD.
So, my family has had a very strong connection with IISc, but I am the only one who is not a scientist and still works in a science institute.
What are your fondest memories of your early years at IISc?
I have been walking on the roads of this beautiful and soothing campus for 44 years now. When I joined the Institute, I was a young girl. I had little exposure to the outside world and was scared to talk to anybody. I assumed that whoever joined IISc must be really intelligent and so, I needed to improve myself to survive here, and give utmost respect to everyone. Slowly, I became friends with other girls, especially those from Prof Balakrishnan's lab. I distinctly remember admiring his serious expression as he sat in front of the computer! I never imagined that I would be working for him years later.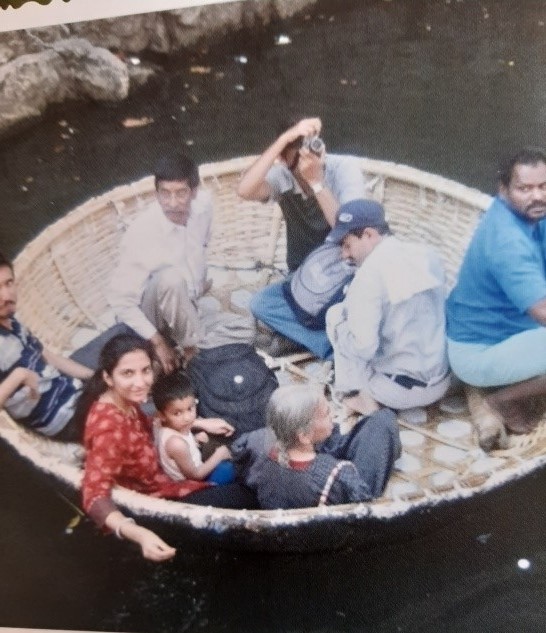 Working with Prof Narasimha was challenging. He was an expert at recognising the potential of people and extracting the best from anyone. To learn more and to work to his satisfaction became my primary goal and it kept me busy all the time. This earned me good grades in my first evaluation.
How has the Institute changed since you joined?
The campus was greener and more silent then. With the infrastructure necessary for the growth of the departments and research activities, it is inevitable that some green leaves turn to grey cement. In the last couple of years, there have also been phenomenal changes in the administrative system, with modernisation and digitisation of work in all sections. This has streamlined the system and made it transparent, but we miss the person-to-person contact.
What was it like to work with Roddam Narasimha?
I lived with my father for 45 years, but hardly had any close interactions with him. He was scholarly but reserved. But with Prof Narasimha, I had the fortune of seeing him every day for 44 years, and understanding his way of thinking, his meticulous handling of projects and people, his hardworking nature, his intelligence and far-sightedness, his uncompromising commitment to perfection and, last but not the least, his kindness.
The lessons I learnt from him have guided me throughout my life.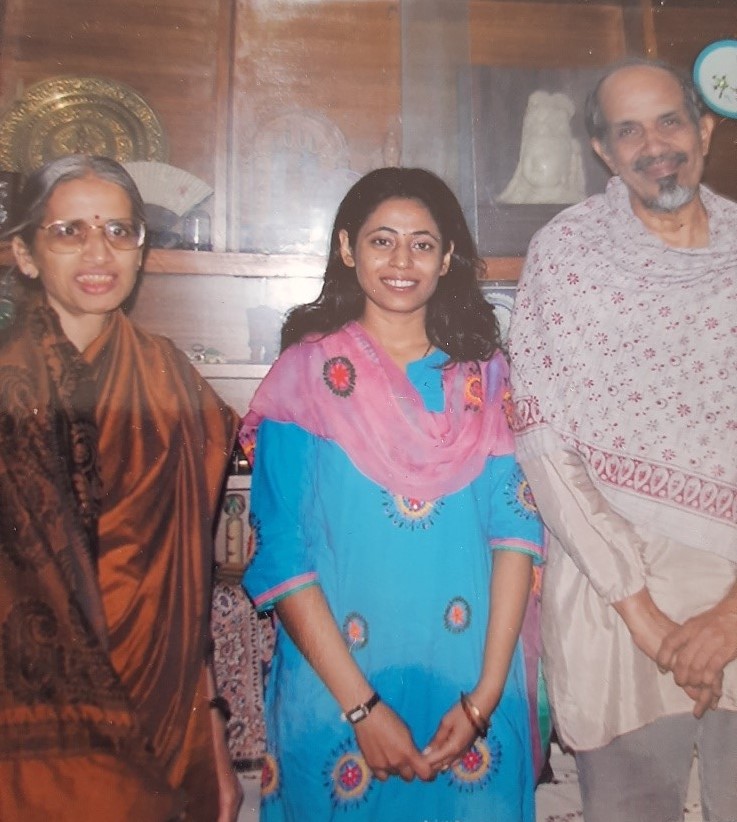 For some reason, he had huge confidence in me. On one occasion, he was in the Indo-US strategic studies meeting, and had forgotten some important piece of paper at home. He could not step out of the meeting and there was no one at home that day. He called me and said, "Take the key, go to my house, go to my bedroom and search for that paper and bring it as soon as you can." Another time, my father was in the hospital before his death. I had rushed there and it was impossible for me to leave him unattended. Prof Narasimha was supposed to go to Delhi early the following morning and I had his flight ticket. I had to give him detailed instructions about collecting the key to my house from the office, going to my house and
taking the ticket from inside the almirah!
He was kind enough to take me to the Rashtrapati Bhavan in Delhi when he received the Padma Vibhushan from the President. It was rare that a person of my stature could participate in such a ceremony.
Knowing my wish to get a grip on the English language, he encouraged me to complete a Diploma in English and always talked to me in English (although Kannada was the mother tongue for both of us). The first gift he brought for me from his trip to the US was a small handbook on the duties and responsibilities of a secretary!
Prof Narasimha was very particular about using appropriate words in his sentences. He demanded absolute scientific accuracy and impeccable language and style from his students, research assistants, colleagues and collaborators. Students would say, "The draft has been given to the Prof, but the bleeding has to happen and then the healing will start!" ('bleeding' referred to the red ink that marked the corrections).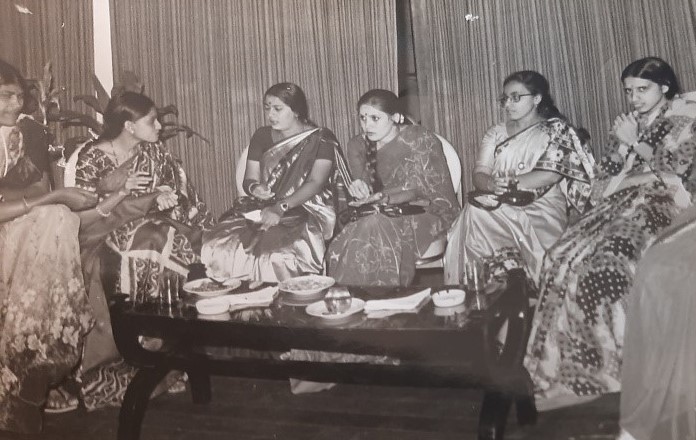 What do you remember most from your time at SERC?
Soon after I joined AE, I was asked to prepare a notice for a meeting that was to take place at 11.30 am. Unexpectedly, Prof Narasimha told me to change it to 4 'o'clock. I changed 11.30 to 4 but am did not become pm. People laughed heartily when they saw the notice for a meeting at 4 am! Later, when I came to SERC, 4 am was not at all considered an unearthly hour. Prof Balakrishnan is well known in IISc for going to the Department like a ghost in the middle of the night. By the time others come in the morning, his work is 100% cleared.
Did you meet many dignitaries during your time at the Institute?
My position at NIAS and later in SERC provided ample opportunities to meet many dignitaries and top-class scientists from across the globe. We had the good fortune at SERC to meet the late President Dr Abdul Kalam. We made friends with the secretaries at the Prime Minister's and President's offices, so we were free to call there directly.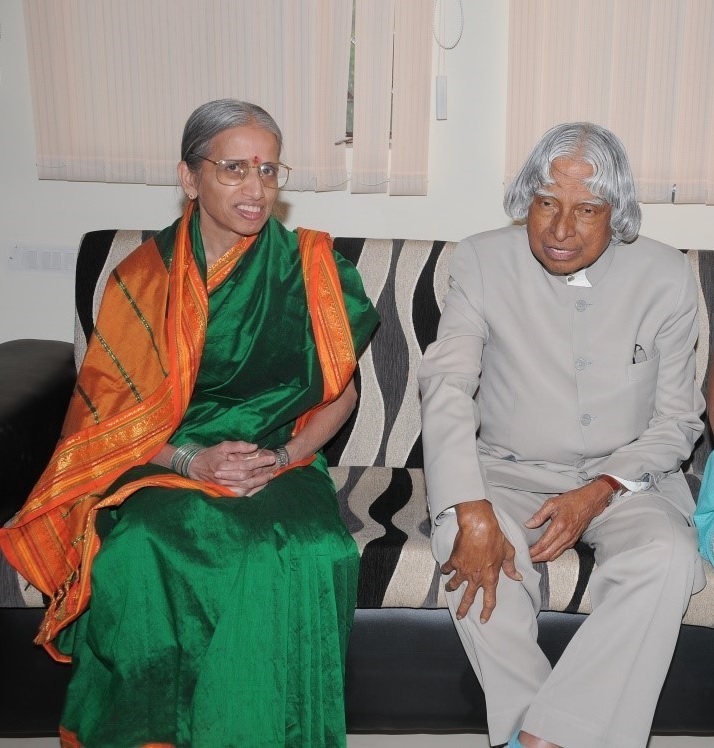 Do you believe that the skill of a stenographer is still useful today?
Stenography has lost importance in the modern age. When I started, a typist's help was absolutely essential even for a line to be written. Today, the faculty and students prepare documents on their own. There are searchable formats for every kind of document. So, the biodatas of most applicants to departments look alike, with sentences like "a quest to work and learn in a professional ambience that enables me to cope with the emerging as well as latest technology and with scope for widening the spectrum of my knowledge." All this, and the candidate has not even read or understood the
meaning of it!
How are you spending your retired life? What are your hobbies?
As mentioned earlier, I am still working at IISc. In parallel, I am trying to reawaken my interest in classical music, learning Sanskrit and vedic chanting. I need more time!
What would you consider your greatest moment of pride in such a long and eventful career?
Prof Narasimha rarely praised anybody directly. I feel very humbled by an email I received just a few days before he left us. It said, "Dear Nagarathna, you are far too kind to an often-forgetful scientist, but I am really very touched. But I must honestly also say that the help and kind assistance I have had from you for some four decades or more has had an irreplaceable effect on my own scientific career, and in fact even on my family life. So please accept my gratitude to you for your ever-cheerful attitude to work and life – very rare in this world indeed. With all best wishes and thanks again, RN." I consider this my 'lifetime achievement' certificate.
Kavitha Harish is Personal Assistant to the Assistant Registrar (HR, Council) at IISc