Dwarakanathan R, a former glassblower, has worked at IISc for 47 years. Now officially retired, the 71-year-old self-proclaimed "workaholic" maintains machinery at the Centre for Nano Science and Engineering (CeNSE). In this interview, he talks to CONNECT about what it's like to be a glassblower, his love for the artistic possibilities of glasswork, and his fondness for vintage scientific equipment.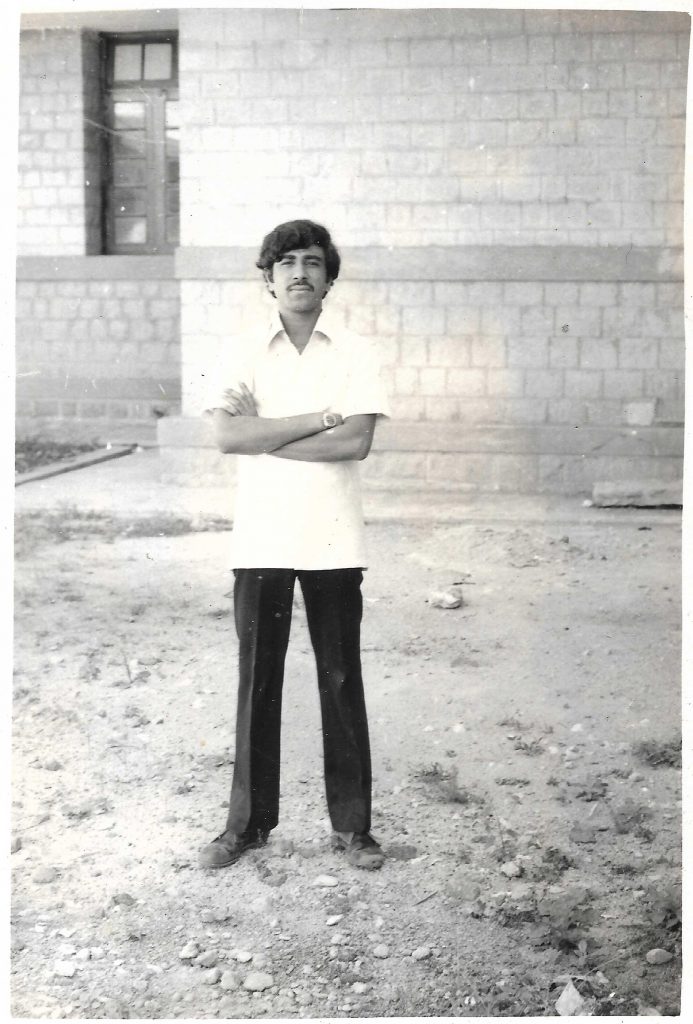 What did you do before you came to IISc?
I completed a course in glassblowing at the Government Glass Blowing Training Institute at Guindy, Chennai. I grew interested in glassblowing as my maternal uncle was a Works Manager at Alembic Glass Ltd in Gujarat, and my father, who worked at IISc as a foreman, would get lab equipment made, which sometimes required glassblowing. My father suggested that I work in this field. My first job was in 1968, in Kolar Gold Fields under MGK Menon, who was a professor at TIFR [Tata Institute of Fundamental Research]. My first job involved making equipment for his project on cosmic rays, which was done in collaboration with Japanese scientists. In 1970, I moved to TIFR Bombay, where I spent four years in the Glass Blowing Section making various types of glass apparatus under HLN Murthy. He was close to Homi Bhabha and he was an expert glassblower himself.
What then motivated you to join IISc?
Being a native of Bangalore, I always wanted to come back. My father was employed at the Institute and this place always fascinated me. So, in 1974 when there was an advertisement for a glassblower, I immediately applied and was selected to join the Department of Electrical Communication Engineering (ECE). In addition to working at ECE, after office hours, I would go to the Department of Inorganic and Physical Chemistry (IPC) to help students with their glassblowing requirements.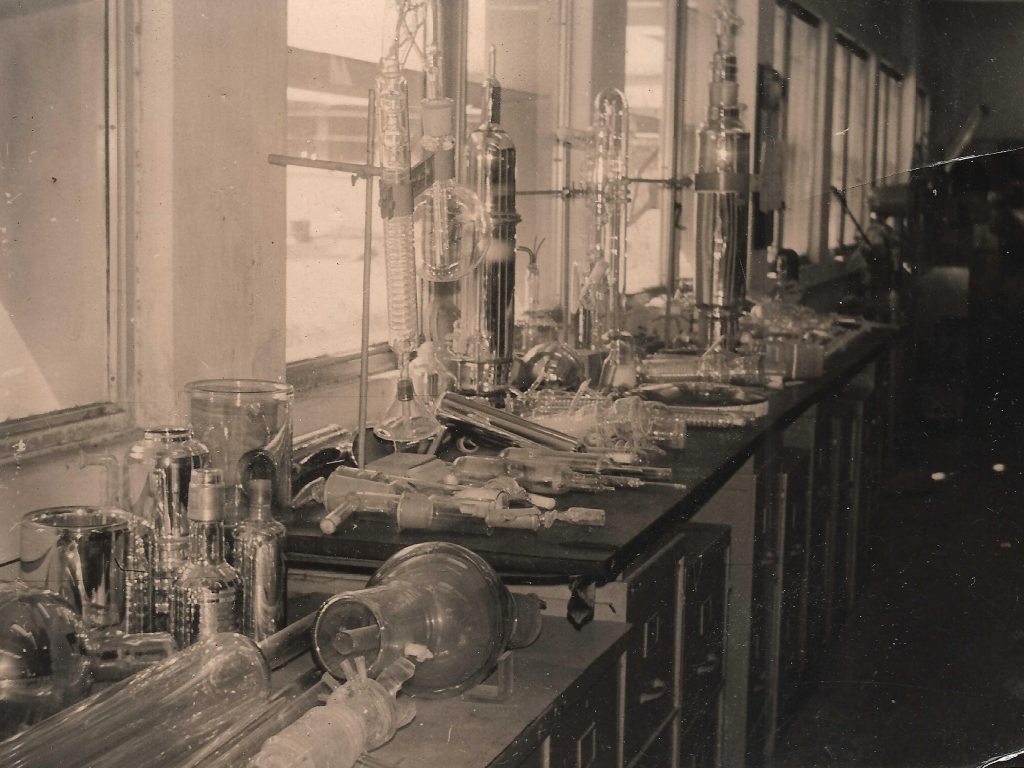 What did your work involve?
I started my career at the ECE department as a Glassblower under Prof M Satyam and was later promoted to Principal Glassblower. We would make scientific apparatus from pyrex and quartz glass. We would melt the glass using table-top oxygen and butane burners – or hydrogen burners when higher temperatures were required – and blow and reshape it to required specifications. Pyrex is typically used to make apparatus like beakers, while quartz can be used to make tubes for semiconductors in which samples can be heated to around 1000°C, since it has a very high melting point of around 1715°C.
Until around 1984 I was doing specialised glassblowing and quartz blowing to make items with hermetic [airtight and watertight] seals and glass-to-metal seals, and equipment such as Dewar flasks [a kind of vacuum flask used to store cryogens like liquid nitrogen], distillation apparatus, oil diffusion pumps and mercury diffusion pumps, and other things used in vacuum systems. In those days, entire vacuum systems were made of glass, so a lot of interesting work used to come our way. I was involved in other glassblowing-related activities for many departments including ECE, Physics, IPC and Aerospace Engineering, as well as other scientific processes such as metallisation and photolithography.

Over a period of time, perhaps after 1985, this work became redundant. I also didn't want to continue as one reaches saturation point very quickly. Glassblowing is very physical and it can take a toll on your health, especially as you get older.

I was interested in learning more. At ECE, I worked under Prof Satyam, who I consider my guru – he was a very nice person, always laughing – as he encouraged me to study further. I soon went from glassblowing to maintaining semiconductor equipment and solid state devices.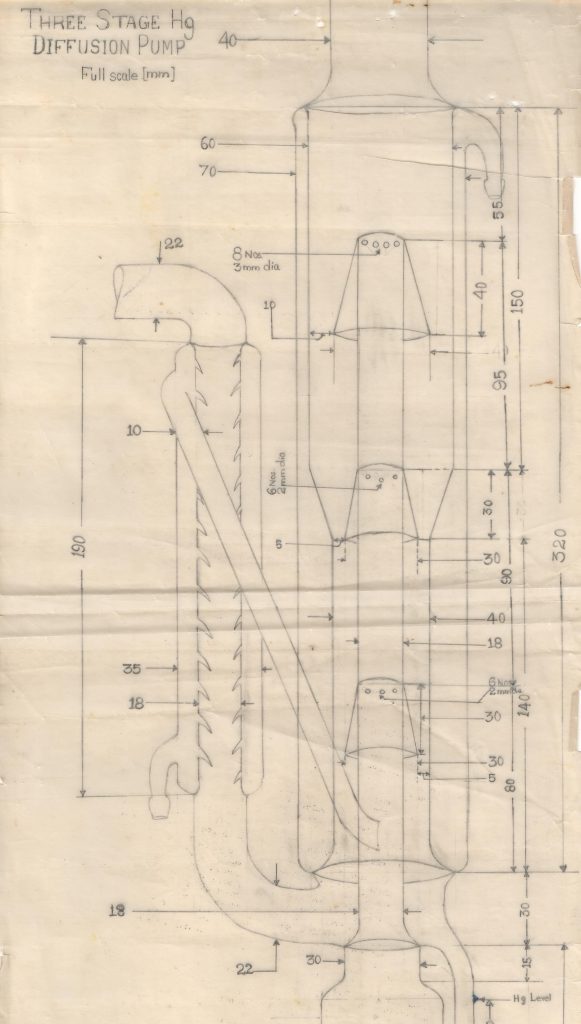 What did you enjoy the most about working with glass?
Glassblowing is an art; one can create such beautiful designs out of various glass materials.
Did you ever make any artwork out of glass?
Yes, every time a friend or colleague retired I used to make them a gift – usually a glass swan or a lamp. I have one or two remaining items from my glassblowing days at home, a couple of lamps.
In 2013 I visited the Corning Museum of Glass in the USA. It was wonderful, and I saw that there were even women glassblowers there, creating so many beautiful designs. I was amazed to see this. I also visited Dubai and saw glassblowing techniques used in academic institutes there.
Did you enjoy maintaining machines and equipment after you stopped glassblowing?
Yes. I love to work with equipment. I worked with Prof Satyam at the Devices Lab until he retired in 1996. In 1999, Prof Navakanta Bhat joined the Institute and formed the Microelectronics and Photonics lab. I have been a part of it and have worked with him since day one. In early 2004, we built a cleanroom for work on nanotechnology behind the ECE building and in 2012, we moved to a new building and CeNSE was formed. I have been working as a Technologist at CeNSE since its inception.
What would you describe as your technical achievements, and which are the most memorable?
I started working in an era of vacuum tubes and continued into the era of semiconductor devices. After I moved to solid state device processing, I worked in the cleanroom facility. I maintained and operated high vacuum equipment, furnaces, lithography equipment, and many other machines. I made an evaporation tool dedicated to organic materials, and remodelled a thermal evaporator into an electron-beam evaporator. In 2007, I had the opportunity to receive on-site training in Germany at Raith [a company that makes equipment for nanotechnology research] for an electron-beam lithography tool. Today, this is the most sophisticated tool in our cleanroom.
Though we have new equipment as well, we are still maintaining decades-old processing equipment which continues to function wonderfully.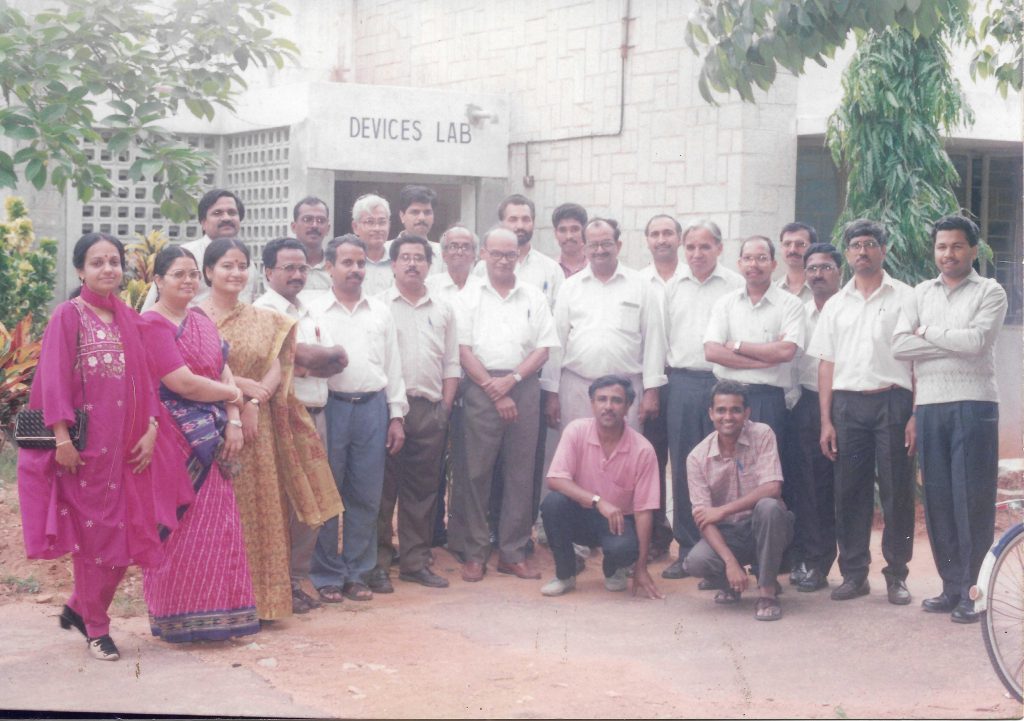 What led you to continue working at IISc even after retiring in 2010?
I like working on machines. Sometimes I have worked till midnight or even till 2 am. I never want to sit still, moving and working is my habit. Continuing to work keeps me healthy. I am interested in upgrading my knowledge in the area I work in – things change every day.
We have many industry collaborations and many students come from INUP [the Indian Nanoelectronics Users' Program] to use the facilities. It is challenging work that interests me a lot.
What did your father do at the Institute – can you tell us more about him?
He was a foreman in the Department of Biochemistry for 12 years starting in 1949. He managed the workshop and laboratory there. He worked under Prof KV Giri and had immense respect for him – he hung up a large portrait of Giri in our house, along with a large photo of IISc's Main Building.
His hobby was photography. He took several pictures at the Institute on many occasions, including during a visit to the Biochemistry Department by C Rajagopalachari [India's first Governor-General after Independence] in 1952.
Due to my own interest in photography, I too got a chance to capture photos of the dignitaries who visited our department over time. I have met many eminent professors, two Presidents and a Prime Minister.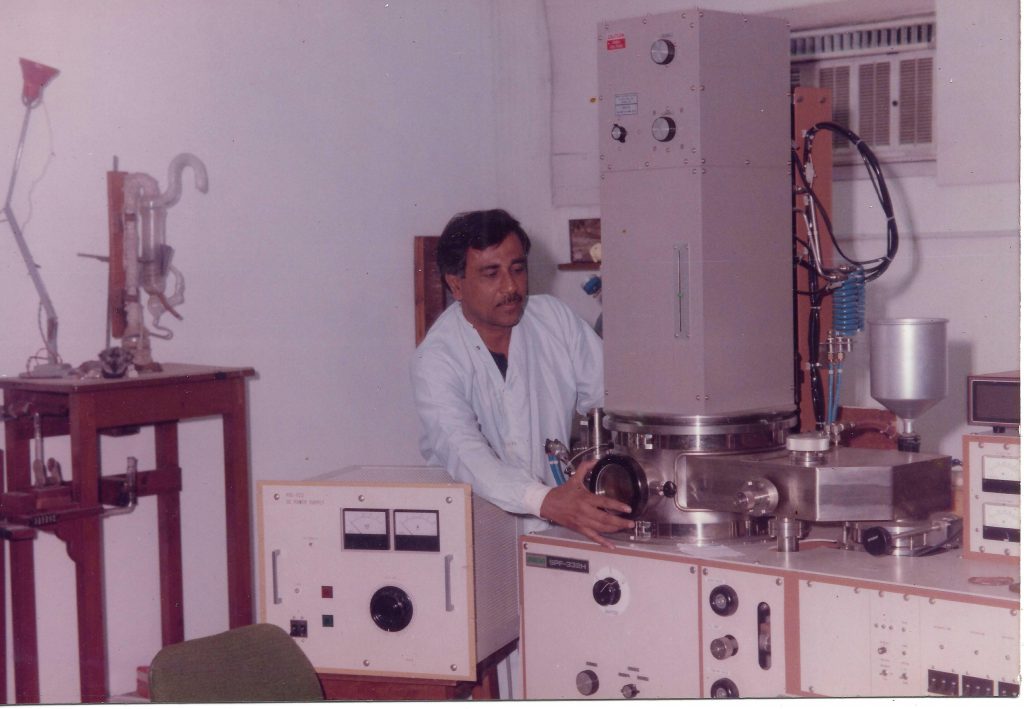 If you couldn't come to campus anymore, what would you miss the most?
I would miss the people, and all my equipment! My favourite is the Anelva Sputtering Unit – with which thin films of various materials can be deposited on substrates when a high voltage is applied between two electrodes. It is a Japanese system we have had for over 35 years, it still works so beautifully and we have hardly had to spend on its maintenance.
Apart from the opportunity to work with machines, I got to work with wonderful people here. All the professors, students and staff here at CeNSE as well as ECE have made this journey very memorable for me. I would like to specially mention Prof Satyam. After him, Prof Navakanta Bhat encouraged and supported me a lot in every task that I did. Even after retirement I continue to work with him. It is because of their motivation that I reached this stature in my career.

I wish to state that all the Chairs of ECE from 1984 to 2007 encouraged me, and apart from my work in the lab, there was also other official work. I was happy to take up any responsibility that was given to me and any type of work. I helped to develop the garden in front of the ECE department, for which everyone encouraged and appreciated me. I took a personal interest in the department and its surroundings, as if it were my home.
IISc is a very nice place to work, there are so many opportunities for advancement here. As soon as I enter campus I feel like I'm in heaven. Of course that may not be the case for everyone – it depends on where you
work and the people you work with!