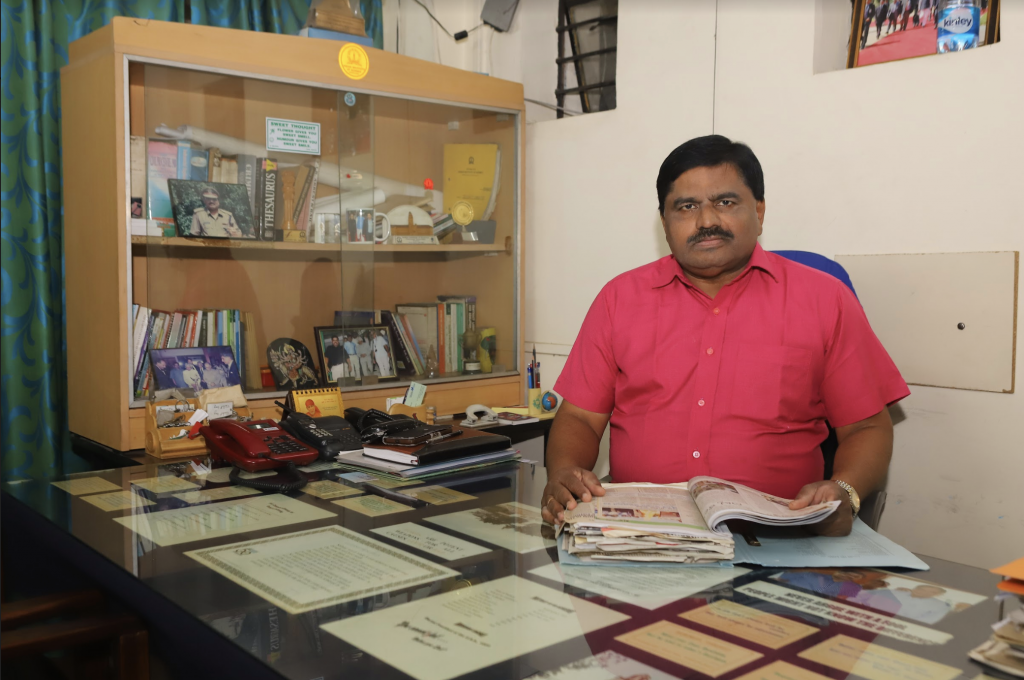 MR Chandrashekhar was IISc's Security Chief for nearly 30 years from May 1989 until his retirement in May 2018. Before joining the Institute, he had been in the Karnataka State Vigilance Commission as a Class II Gazette Officer posted to the Sericulture Department, and had been deputed as an Intelligence Officer to the HMT Watch Factory. Now serving as IISc's Security Advisor on an extension, he says he's seen it all – from protests, terrorist acts and instances of crime to VVIP visits and suicides on campus. He spoke to Connect about the highs and lows of managing security at IISc, the elaborate arrangements that may be required on campus, and the lengths that the security team sometimes goes to, even outside the campus, to keep the IISc community safe.
What does the job of a security officer involve?
A security professional's prime concern should be prevention of crime and providing security. Security is not only restricted to physical security – it should also be extended to the mind. At an institution of higher learning like ours where we have intellectuals, it is the duty of the security department to provide the necessary support to create an atmosphere conducive to research and free from fear.
Being physically fit, tolerant, and having good communication and interpersonal skills really helps when you work in security. You have to be ready to tackle any situation and be able to join hands with the community when taking measures to improve safety. For example, when we designated the entry and exit gates a few years ago it was met with opposition from the campus community because it restricted their movements. We did it as a proactive step to minimise the number of entry points, and not as a punitive action. Ultimately, it was only possible for us to pull it off with community awareness and support.
Over the years, safety has improved considerably on campus. We have over 100 CCTV cameras, and have increased the number of personnel and level of patrolling and surveillance. These are continuous processes; if the need arises we adopt new methods to handle the situation, and ensure we take the community into confidence! It is common for people to feel that security checks are a little cumbersome and time-consuming, but when compared to other places like airports, for example, it is easier to manage here. And of course, there is always scope for improvement.
Do special visitors require special measures?
We do have to take extra measures during VVIP visits. We first assess the nature of the event – we assess the threat perception depending on the profile of the visitor. We screen the entry and exit points, and record contact details of all those who enter campus. We arrange to depute our security personnel during such events.
In my 30 years of service, three Prime Ministers and four serving Presidents have visited IISc, and each such visit requires close coordination by the security personnel. We also need to liaise with the police and service providers like BESCOM, BSNL and others. Following strict protocols during such visits is very important.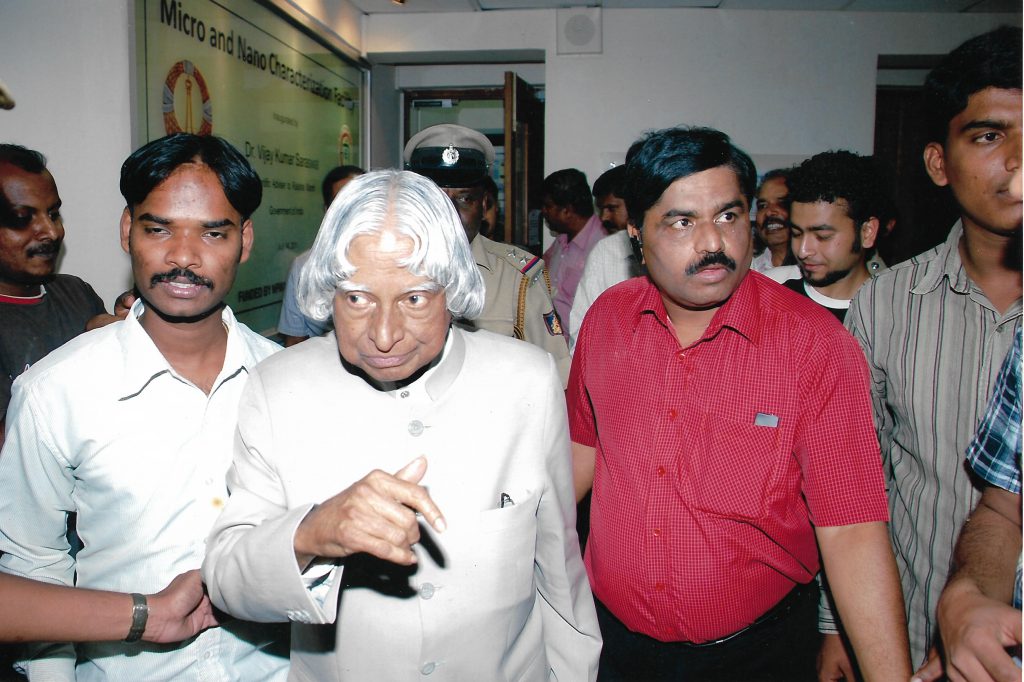 What about when Nobel Laureates come to IISc?
When Nobel Laureates visit, we term them 'unobtrusive visits'. We usually deploy security personnel in civilian clothes to make the visitor feel comfortable. We ensure that the visitors are well taken care of and leave no room for shortcuts or negligence.
Have there been any serious security threats in your time?
Yes, as everyone knows, in 2005, during a conference held at the JN Tata Auditorium, we heard the sound of bullets being fired and a commotion, and subsequently we came to know that it was a terror attack. In this incident, a Professor Emeritus from IIT Delhi, MC Puri, was shot in the neck and died before we could reach him to the hospital. No one would normally expect a terror attack on an academic institution, and it was a big challenge for us and the police. Investigations and inquiries went on in the campus for over six months. Since I had a good rapport with the local police authorities in all the cadres there were no serious inquiries made into the campus community in connection with the attack. It was an eye-opener for all of us and showed that we needed to improve our security system in many ways.
Another incident happened in the same year when the Chinese premier Wen Jiabao visited the Institute on April 10. As is usual with such a visit, media coverage was planned. Before they entered the Main Building, we suddenly saw pamphlets falling from the Main Building's tower. Someone had climbed up and we had to immediately get up there and bring him down with the help of the police. We found out that he was not from the Institute [he was the Tibetan writer and activist Tenzin Tsundue] and had come to the campus two days before to protest the policies of the Chinese against Tibetans. This was such a security breach that we immediately received a message from the Prime Minister's Office asking for an explanation. We have to be level-headed and patient to overcome any complications arising out of such incidents.
Your department sometimes has to deal with unusual incidents that aren't always related to campus security. Could you tell us about some of them?
It is a very painful experience for me to attend to a situation in which a student has committed suicide. There have been more than 15 suicides during my service and I have been involved in the inquiries that follow. In some incidents, I have been the first witness when we have to break open the door of the hostel room. I have always gone out of my way to support the families of such students; it is a very painful job for us to inform the parents about this news.
It is a very painful experience for me to attend to a situation in which a student has committed suicide
I wish to recall one incident that took place in 1990 on Christmas day. A student (I remember his name) from Andhra Pradesh took his life and left a note in his room saying that he was sorry and had been unable to bear the pressure. He wrote that his parents were very poor, and he had saved Rs 5,000 from his scholarship. He requested that the money be given to them. It was very hard for us to find his parents' contact details, because there was no proper address in the Institute's records. Finally, through my contacts, we were put in touch with the Hyderabad police and we located his parents. I went personally to that place, which was in a slum, and found his father, a tailor who earned Rs 30-40 a day. This student was very meritorious and had studied hard to win a scholarship. There have been several such incidents when I empathised with the concerns and deep feelings of the parents.
But one thing I can proudly say is that my team in the Security Office has saved countless more students from committing suicide. We try to keep track of students, either through their friends or hostel staff, and when we come to know that such an incident may happen we immediately take action. In a few cases we have also been able to save students' lives by rushing them to the hospital in time. Even though several years have passed in some cases, a few of the students we were able to save have come back to talk to me when they visit the Institute. I feel really honoured and thank God for giving me the opportunity to serve people in this way.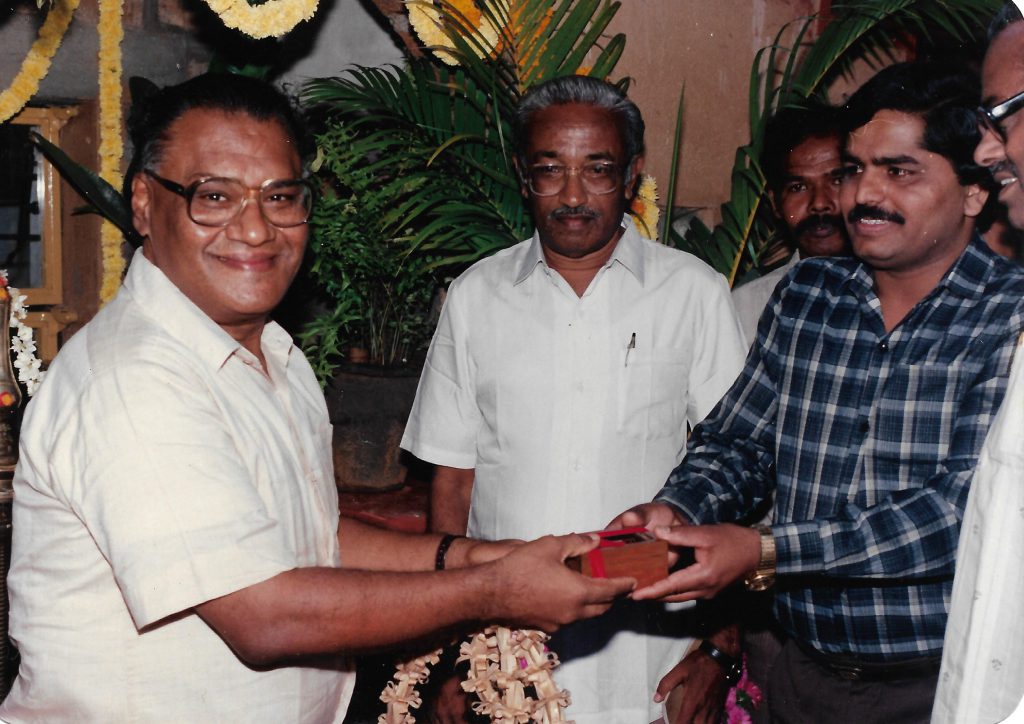 There was an incident in 1993, when one of our students went trekking alone to Kumara Parvatha in Coorg and he lost his way. We were able to locate him seven days later through my contacts within the Police and Forest Departments. We sent one of our security guards, Mr Bhyrappa, who was from that area, to track him. He found the student weak and lying by a river bed, his legs covered with leeches and other insects. We brought the student back and got him treatment and he survived.
I should also recall something else: There have been more than 10 incidents where we have caught people involved in sandalwood theft on campus. The Police Department has acknowledged our efforts.
We've heard that you maintain a record of newspaper articles about the Institute. Is this true?
Yes, I cultivated this habit right from the time I joined this prestigious institute. Whenever I saw news published about IISc I would feel as if it was my own achievement – that's how I started collecting the newspaper clippings. Over the years, I continued doing it so that I could refer to them if any data was required, because in those days, there were no computers or Internet to help with this. Whenever I am free I look back at those clippings and I recollect my earlier days attending to these incidents and seeing many achievements at this Institute, such as faculty receiving honours or awards.
Is there anything related to the Institute that you think people would be surprised to find out about?
That the research done here is a matter of curiosity in other parts of the world. Some time back there were attempts at hacking, so when we received information about it from intelligence agencies we took corrective steps at the right time and were able to save a lot of data and ensure that safety was not compromised. We need to take care of the confidential/sensitive work done here in collaboration with many defense establishments.
What is your most memorable event in connection to the campus?
Apart from our professional duties, I wish to share many proud moments such as knowing Prof CNR Rao who received the Bharat Ratna, many Padma Bhushan awardees, and so on. I feel very proud that so many people from one place have received so many prestigious awards and that I have interacted with them very closely during my 30 years of service. I have also been able to interact with many VVIPs like Dr APJ Abdul Kalam, four Presidents, and three Prime Ministers of this country. Many artistes have also visited, like Hariprasad Chaurasia, Pandit Ravishankar, Kavita Krishnamurthy, M Balamuralikrishna, Gulzar, and others, and I have seen many dignitaries from all walks of life. It has been a great privilege. I am thankful to this Institute, which has given me so many opportunities. I have never missed attending a lecture that caught my interest. So, sometimes I feel like I have become a Jack-of-all-trades. This is a great temple of learning.
My children were born and brought up on the campus, and are now well settled. I have spent my best years here as Security Chief.