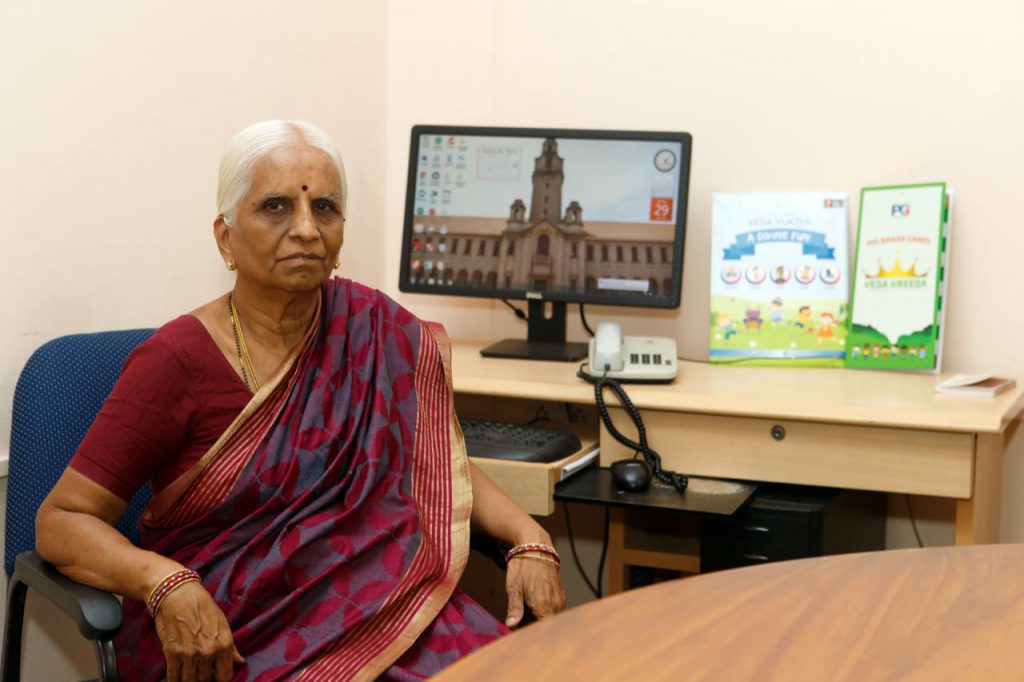 Polamada Lalantika worked at the Institute for 29 years. She joined on 21 June 1973, at the age of 27, working as a Stenographer, Supervisor and later Superintendent until her retirement in 2002. She worked through an era of advancements in technology, moving from typewriters to computers, Gestetner-cyclostyling machines to Xerox machines, and even sent out the very first emails to be exchanged at the Institute! Here, she recounts her work and experiences at IISc.
When and why did you choose to join IISc?
After my diploma in Secretarial Practice at Kamala Nehru Girls Polytechnic, Hyderabad, I worked for a year in my college. I first came to Bangalore in 1966 and got married here. I started practicing shorthand with a certain Rao's Institute, Malleswaram to improve my skills.
I joined IISc because my batch mate in the shorthand class, who was already employed here, suggested that I apply for Stenographer positions which were advertised at that time. My husband, Adinarayana Setty, was working at Kendriya Vidyalaya, Malleswaram, and we were staying in Malleswaram, which made it convenient for me to join this place. By then I had had two children too.

I started my career at the Institute as Stenographer with Prof PK Bhattacharya in the Organic Chemistry department and worked with him for about six years. Immediately after I reported for duty, the first question Professor asked me was how I could write 80-100 words per minute! He must have seen it on my shorthand course certificate. I informed him it was possible because shorthand is based on phonetic sound and that it is written using signs and symbols.
What was your experience working with Prof PK Bhattacharya like?
Prof Bhattacharya was known as a walking computer as he had a terrific memory. He was working on penicillin allergy. I still remember typing recommendation letters for his students for jobs abroad, which had chemical names that were two or three lines long. The students used to give me a treat when they were offered a job and Professor used to join us. After dinner, he would often drop me home and, being fond of drinking tea, would stay for a cup with us.

Professor was a member of the Indian Science Congress, which needed a lot of secretarial support, and I assisted him in this job too. One of his visitors, the late Prof Cyril Ponnamperuma from the University of Maryland, once visited the department and gave his letters dictated on a dictaphone (an early audio recorder) for me to use, which was fascinating. In those days, this instrument was new and was very useful.
Did you work in departments other than Organic Chemistry?
Yes, I was transferred to the RIC and CISL (Regional Instrumentation Centre, and Centre for Instrumentation and Services Laboratory, respectively, later merged to form what is now the Department of Instrumentation and Applied Physics). I was handling the portfolio of training programmes for teachers and employees of different universities, which were funded by the UGC, in addition to secretarial work to both chairmen.

Later, I was promoted to Supervisor and posted to the Centre for Theoretical Studies (CTS). I was the first Stenographer to get this promotion in the Institute's history (at the time) of 75 years. The main programme at CTS was the Visitor's Programme. I had the opportunity of meeting, among others, Prof ECG Sudarshan, the renowned theoretical physicist who was invited by Prof Satish Dhawan to found CTS. He had organised a conference which was attended by many distinguished scientists. I met many eminent scientists from all parts of the world at CTS during the five years that I spent there.

In 1990-91, I remember that computers were introduced in the office, and all of us were thrilled to work on them. Using computers (from Electronics Corporation of India Limited) helped us prepare documents, especially drafts of manuscripts for books and journals, and it made our work easier. The transition from using typewriters, and mathematical typewriters which have scientific characters, to using computers was a big one. And during lunchtime, we enjoyed playing chess on the computers, which was mind-blowing! In the same period, a Xerox machine was made available in place of the Gestetner, a cyclostyling machine for making copies, which required us to prepare stencils before making the copies. If there were any errors on these stencils, we had to use pink correcting fluid.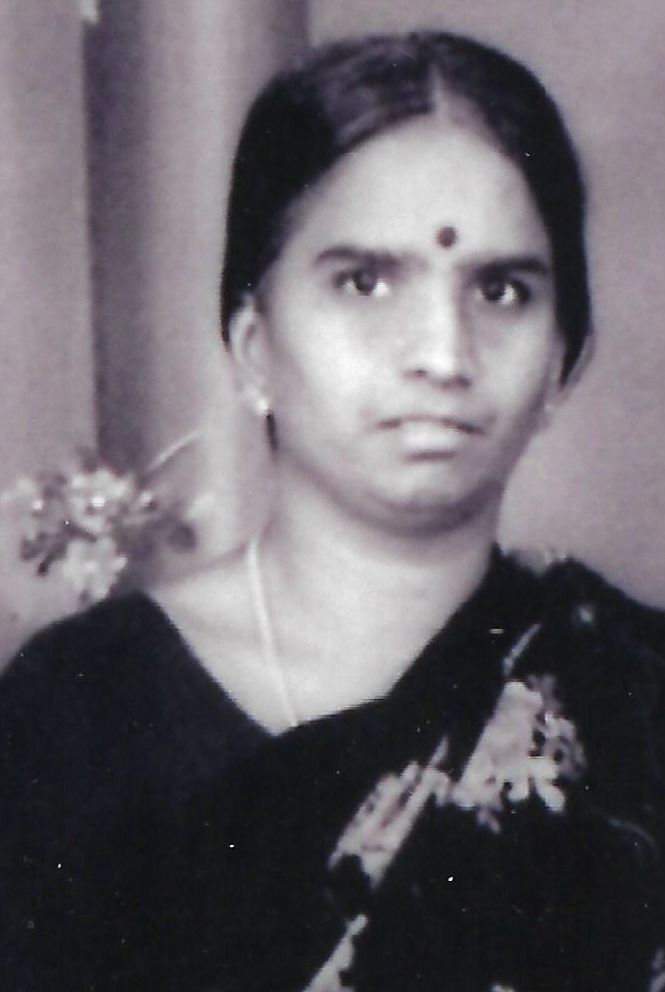 What are your best memories of your time at IISc?
The first emails at the Institute were exchanged between me and my colleague Mrs Leelavathi at the ECE (Electrical Communication Engineering) department. There was another new concept introduced at the time, of using floppy discs to send documents between departments.
While working, I decided to pursue graduation, and along with my elder daughter I completed BCom. This led the IISc administration to post me to the Finance and Accounts department where I was part of the Scholarship and Cash sections. During this period I had the opportunity to go abroad to visit my daughter. I went to a bank where I saw a star mark at the working table of a woman employee. I came to know that it was a recognition for her sincere work. So I started a similar practice to motivate my staff here by providing snacks and small gifts on the last day of the month, but this continued for only a few months as it created some discomfort among people in other sections.
Once, in 1975, I had the opportunity to meet Prof Satish Dhawan at the Organic Chemistry department when he visited all the departments to convince employees to withdraw their strike. The employees were agitating against the administration's move to abolish the evaluation system in the Institute after implementing the 3rd Pay Commission. The evaluation system at the Institute was unique, giving employees higher grade/scale even without a change in their designation. The Institute staff were happy to see Prof Dhawan's simplicity and generosity.
I was involved in promoting the Women's Club (currently the Women's Forum) along with my colleagues, Mythra, Mallika, Suguna and others, which is now included in the Institute Great Day Committee (which organises celebrations on Republic Day, Founder's Day, Independence Day, Kannada Rajyotsava, Gandhi Jayanti and International Women's Day). Every year on International Women's Day, we collect funds to provide books and uniforms to the top 10 female students of government high schools near IISc.
Prof Sulochana Gadgil was Chairperson of the Pre-Preparatory Programme (PPP) for the benefit of children of the Institute community. This school was helpful to children who later joined Kendriya Vidyalaya for Class I. She also initiated a baby crèche at IISc, and Prof CNR Rao inaugurated it. The crèche was a great help to all the employees, especially women employees. When I joined the Institute I wished there was such a facility to take care of my son, but it took several years for it to happen. On the day of its inauguration Prof CNR Rao told me I could leave my son in this crèche, and I had to tell him that my son had actually started college that day!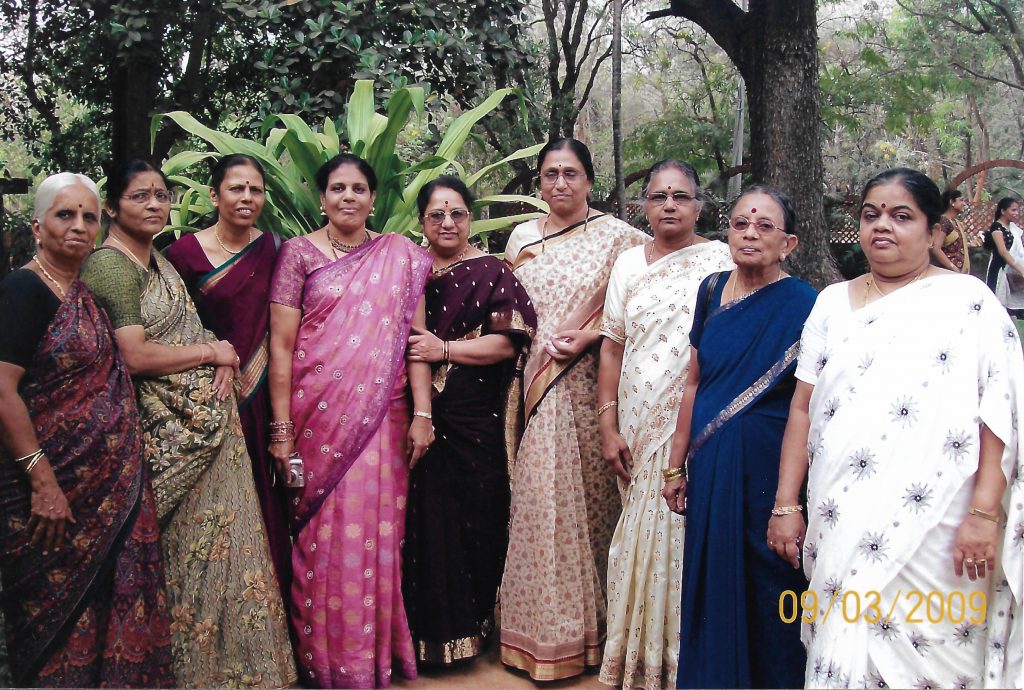 Is there anything else you wish to share with us?
Through CTS I was involved in typing (using a typewriter) the manuscript sent to the printer of the first book about IISc's history, In Pursuit of Excellence: A History of the Indian Institute of Science by BV Subbarayappa. Many versions were prepared and whenever the author sent us corrections, we (myself and Mr Fernandez from CTS) had to retype those pages on the typewriter. Mr Janardhan used to take Xerox copies. We are thankful to the author for acknowledging us in his book.
Working at the Institute gave us recognition, which I experienced during a visit abroad. In a shopping mall, seeing me wearing a saree, somebody called me over to find out where I am from and showed me a picture of the IISc Main Building to find out whether I can recognise it. When I told him that I was working at that place, he was very happy and stood up to show his respect for the Institute.
I am thankful to my family, especially my father-in-law who supported and encouraged me to join this temple of education. I was promoted to Superintendent and took voluntary retirement in 2002, in the first group of people to avail themselves of the Special Voluntary Retirement Scheme (SVRS).
How do you spend your time after retirement?
I keep myself busy. I was the first woman Board Member of the Pensioner's Association, IISc, and served for 10 years. I have developed a new concept of designing Vedic games basing on our epics to create awareness about our culture, and this has become my hobby. I am also interested in summarising
books, aimed at inculcating a reading habit among children. I have around 10 books on distinguished people, spiritual readings, etc. For example, a book on Dr BR Ambedkar, which had more than 200 pages, was condensed to 15 pages. I also worked on a book on Sir M Visvesvaraya, and after reading the smaller version, children in our neighbourhood were impressed and wanted to visit his birthplace in Muddenahalli, which we did.