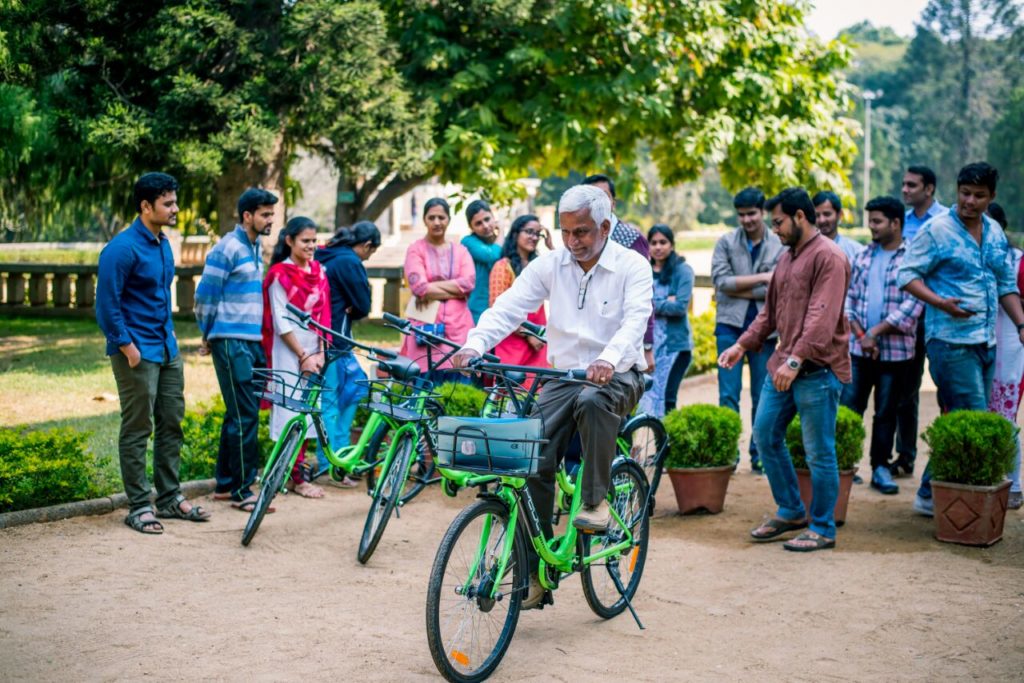 Over 100 shiny green cycles around campus are part of a smart cycle-sharing initiative called PEDL – a renewed effort to make getting around campus easy without motorised vehicles.
A collaboration between the private vehicle rental company Zoomcar and Ashish Verma's lab in the Department of Civil Engineering, the new system is meant to provide users on campus with a smooth experience and a sustainable, eco-friendly mode of transport.
"There are 125 cycles at 27 designated locations on campus," says Verma, who is Associate Professor, Transportation Systems Engineering at the Department. "It is one step towards a long-term vision of decongesting the campus."
The cycles can be unlocked using one's smartphone, and rides cost Re 1 for every half hour of usage, which can be paid through Paytm (soon, payments by card and Unified Payments Interface – UPI – will be enabled too). More information on PEDL and how to use it can be found at www.pedl.in.
"Zoomcar shares the data with our lab, and we provide substantial input in terms of planning and analysis," says Verma. He describes PEDL – dockless, ccashless and easy to use – as the "third generation" in cycle sharing systems. Long-term denizens of IISc may remember Namma Cycle, a cycle sharing program by the Ride-a-Cycle Foundation launched on campus in 2012, which fizzled out. Verma sees it as being "first generation" – the cycles could be removed from a docking station by registering for a card and swiping them at the station. He describes the adorably named Trin Trin, a cycle-sharing system launched in Mysore that requires registration and a smartcard to use the cycles, as "second generation".
Verma sees PEDL as being particularly appealing to young users: "It's tech savvy, it's cool and trendy, and it comes with a fashion quotient." The cycles certainly have proven to be popular in their short run so far. In the first month after it launched on January 8, more than 9,500 trips had been made, with each cycle having made around three trips a day.
Sriraksha Srinivasan, a final semester MSc student at St Joseph's College, travels to IISc regularly for a project she is working on at the Solid State and Structural Chemistry Unit. She first noticed the cycles around two weeks ago, and soon became an enthusiastic user. "It's convenient because of the many locations at which they're available. It's pretty easy to figure out," she says. And they're clearly in high demand: "Earlier, you could see around five cycles at Tata Book House when you arrived," Srinivasan says. "Now, it's nearly zero."