A deep dive into one day in the life of Aparna Kandi, a former navy officer and current Deputy Registrar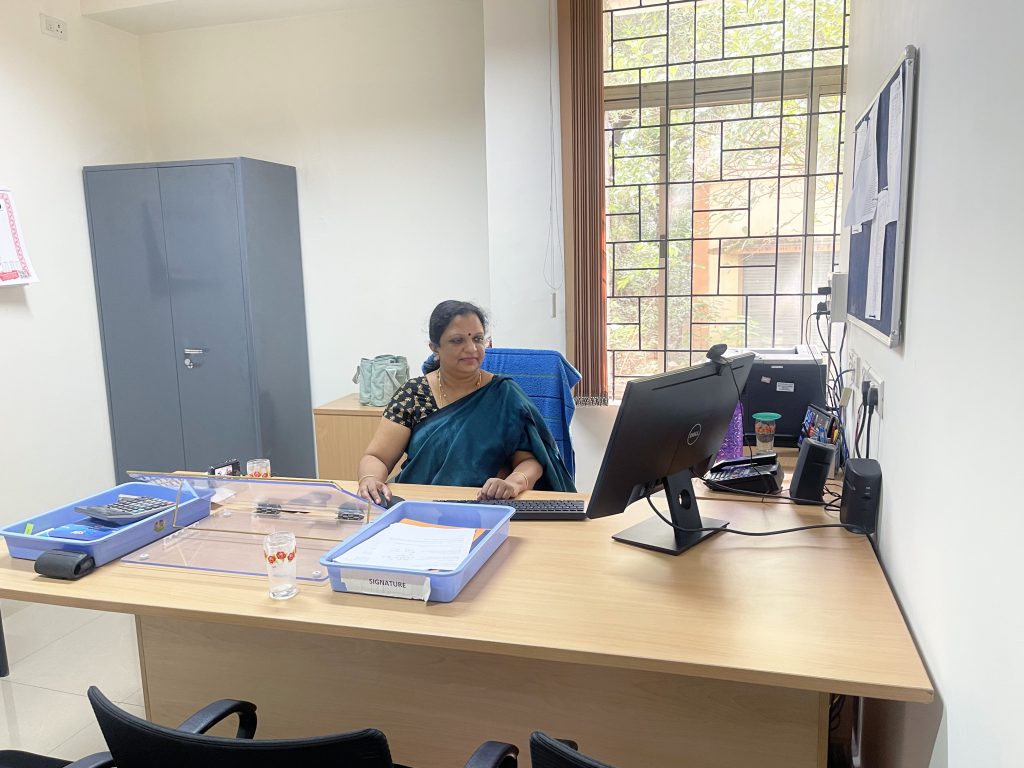 It is a quiet April morning at the pale cream-coloured administrative building at IISc, close to the main gate. On the ground floor are offices of the Finance and Accounts (F&A) section as well as the Purchase section. From outside, the latter looks empty but on passing through, people can be seen bent over their desks, softly clacking away at their computers. At the far end of the room are a few individual offices, one of which belongs to Aparna Kandi.
Aparna is one of four Deputy Registrars in the administrative section. In 2021, after 10 years of working at F&A, she was put in charge of overseeing all purchases at the Institute as well as the Central Stores.
Today, Aparna's first meeting is with colleagues in F&A at 9 am, to discuss the transfer of a 40-year-old piece of research equipment to another institute. She is part of the committee that overlooks the entire process and paperwork involved.
In one corner of Aparna's office sits a monitor with multiple displays of live video feed from security cameras. Each display focuses on a particular portion of what looks like a scrapyard containing old machines. Managing the scrapyard on campus takes up a big chunk of her responsibilities. When Aparna joined the office, she had cameras set up around the area to keep an eye on the material in the scrapyard.
"Scrap" is the term given to all the old, obsolete equipment at the Institute that are no longer in use or in working condition, from old computers to scientific equipment like fume hoods – used for ensuring safety in chemistry and biology labs. Aparna explains that these obsolete items also have some value, and their parts – like the copper wiring or magnets – are auctioned off via the central government's MSTC e-portal.
At the Purchase section, one of Aparna's main responsibilities is managing purchase committees, which are set up every time a faculty member wants to buy equipment for their lab. This committee oversees the entire purchase process, and includes that faculty member, the Chair of their department, another faculty member from a different department who has similar equipment, and a purchase officer – usually Aparna.
One of Aparna's main responsibilities is managing purchase committees
Central government rules require that before the purchase of any expensive machinery, a tender has to be circulated to local business vendors (called domestic tendering). If the bidders don't qualify, then the tender document is sent to the Ministry of Education (MoE) for approval, after which it is opened up for international bidders. It is Aparna's job to guide the faculty members throughout this process. Which is why on this day, she asks Puja Choudhury, the administrative assistant in her office, to collate the Global Tender Enquiry (GTE) documents – all tender requests that need to be sent to the MoE on the 10th of every month.
Her current job may involve procuring research equipment, but growing up, dinner table conversations at Aparna's house usually revolved around acquiring weapons and warships.
From sea to IISc

Most of Aparna's family members had served in the armed forces. Even though she was part of an army family, nobody initially expected that she would join too. "I was very happy in the world of Enid Blyton," she explains. But eventually, after completing her engineering in electronics and communication, she applied to the Service Selection Board (SSB).
The five days-long SSB exam consisted of physical tests, group discussions, personal interviews and group tasks. Psychologists observed the candidates' behaviour and interactions with others. On passing the exam, she was sent to Mandovi, Goa, for six months of training. "It was very, very tough," Aparna says. The training also strengthened her spirit, she adds. After completing her training, Aparna worked as a Short Service Commission Officer in the Indian Navy for 12 years. By then, she had two children and wanted to put down her roots in one place for their education. She, therefore, handed over her papers, moved to Bangalore, and joined IISc in 2012.
Aparna says that her training and experience in the armed forces helped her tremendously during the first wave of the pandemic. When the first COVID-19 lockdown was announced in March of 2020, it was the yearly closing period at F&A. Aparna was told 'come hell or high water' to office and close the financial records for that year. She called other colleagues, but couldn't reach many of them. Some of them were reluctant to come. Others managed to come to the office, but were stopped and some were even roughed up by the police. Aparna points out that everyone was scared because so much about the virus was unknown. Her family was also worried about her going to the office. "After three days, I built up courage. All those days in the navy had trained me to fight a war with a known enemy. But I had never fought a war with an unknown enemy."
So, she marched to her office, broke open locks on the drawers, took out the papers, and started clearing all the bills. Those first few weeks were difficult, as everything was delayed or slowed down, from clearing cheques at the bank to even getting petrol for her bike to come to the office. Her experiences during the pandemic as well as in the navy have helped her become rigorous and meticulous in her work, she says.
She welcomes the challenge of taking charge of something she is not familiar with
At IISc, officers like Deputy Registrars are appointed at different administrative offices irrespective of their background. In Aparna's case, she comes from an engineering and military background but was asked to take charge of finance and purchase-related operations – all alien areas to her. Not one to be discouraged, she took them all in her stride and used them as opportunities to learn and improve her skills. She welcomes the challenge of taking charge of something she is not familiar with, she explains, keeping herself updated by reading a lot in her spare time. She points to some of the books on the office shelf behind her chair – titles that include Swamy's Compilation of General Financial Rules and Manual for Procurement of Works.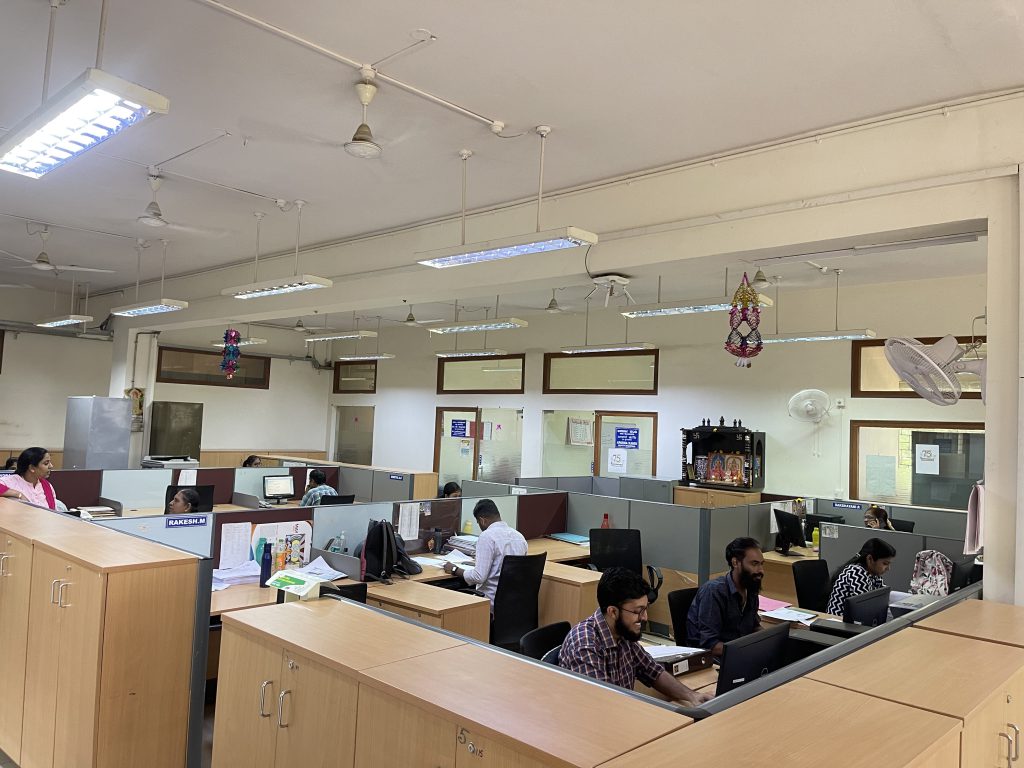 Around mid-day, as Aparna steadily works on clearing papers and bills, she gets a phone call from one of the faculty members who wants clarity on customs clearance – a procedure required for importing any goods into the country. It needs several documents to be prepared and submitted to the customs department, in order to ensure that no illicit or restricted goods enter the country. The central government collects taxes and duties on every item that is imported. As a scientific research institution, IISc has a tax exemption certificate called the DSIR certificate, based on which the Institute only pays 5.5% of the entire customs duty.
The person who called Aparna wants to know if an outside agent – someone not under contract with the Institute – can get a tax exemption for the imported goods if they claim it on behalf of IISc, to which Aparna politely says that it is not possible. Fielding such calls is a part of Aparna's routine. IISc has a Customs House
Agent (CHA) or a clearing agent who works on the Institute's behalf to clear the customs duty on any purchase from countries outside India. The vendor who supplies the equipment intimates both the purchase office and the clearing agent when the item is going to arrive at the airport, so that they can prepare the documents and the payment for clearing customs duty.
All this, she explains, needs to be done within a day or two of the items arriving to prevent the Institute from being fined. Then, the purchase office makes sure that the item is transferred to the respective department without any damage. "This has to be done with a lot of due diligence – for example, noting down the right item description and numbers – everything has to be clear so that we don't incur any penalty from customs," she says. The items imported can be anything from scientific equipment to perishable items like proteins, viral samples and reagents (these are stored in dry ice and need to be shipped within 48 hours) to lab mice, radioactive materials, and chemicals.
Aparna stays in the campus quarters opposite the Department of Electrical Communication Engineering. She drives her lavender Scooty pep back home at 1.30 pm every day for a quick lunch. Today, this consists of lemon rice (Chitranna) and curd rice with a side of tomato chutney and mango pickles. On this day, her two daughters are also home during lunch. Aparna's elder daughter is making dosas for herself; she offers some to Aparna. This daughter is really keen on joining the armed forces after completing her engineering – just like her mother. The younger one has just finished her 10th board exams.
Keeping alive a legacy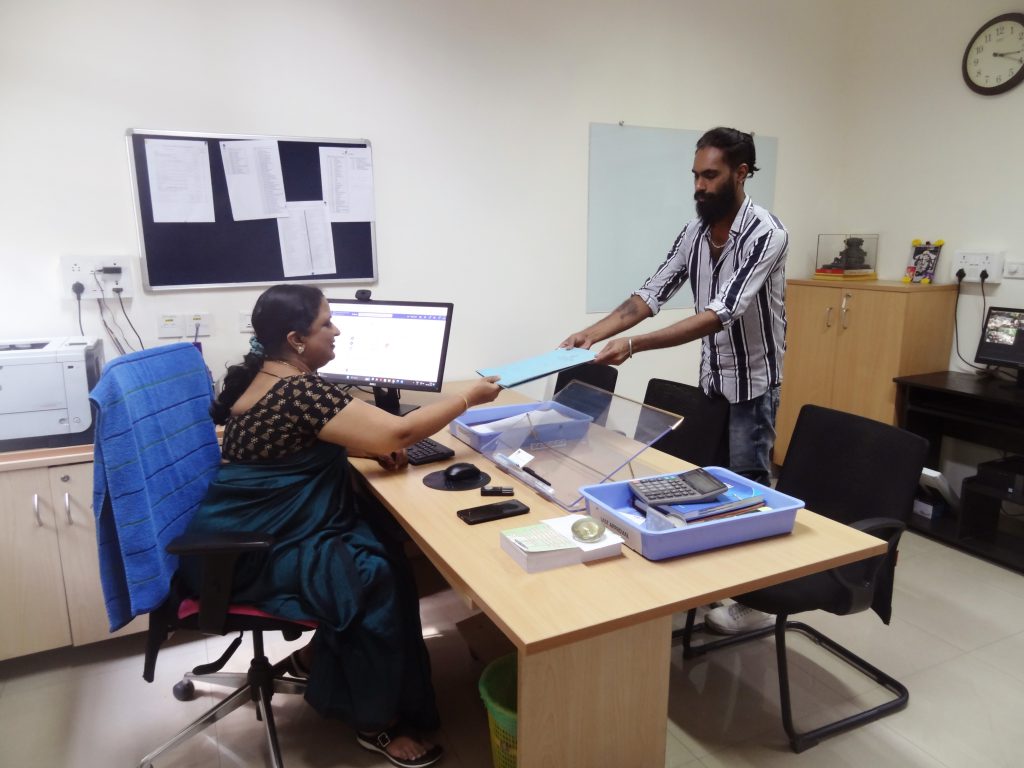 Back to work at 2.30 pm from her lunch, Aparna starts going through the tender requests that faculty members have submitted via the SAP portal. There is a flurry of activity in the afternoon as administrative assistants Rakesh V and Mareena Jerson come into her office to verify older documents that are stored in the cupboards, as well as to get clarity from Aparna for stock verification. Aparna elaborates that stock verification is an annual operation during which all items at IISc's Central Stores are reviewed.
The Central Stores building is located beyond the old physics building, on the corner where Gulmohar Marg and the Students' Council road intersect. This was once the most happening place in the Institute, Aparna recalls. It was a centralised procurement centre from where all items were bought for the entire Institute and distributed to relevant departments. This included office consumables, electrical hardware, chemicals, and furniture. That was 10-15 years ago. As the Institute expanded, individual departments and faculty members got more funding, and therefore started procuring items themselves.
Today, Aparna keeps the Central Stores open by stocking office consumables such as copy paper, pens and other stationery, and files and folders for administrative departments. She has streamlined the purchase process for the stores and made it mandatory to buy items only through the GeM portal, an online central government marketplace built to ensure efficiency and transparency. She also sends broadcast emails about the items available in the stores to all departments every two weeks so that people can send in their requests.
The GTE report reaches Aparna's inbox around 3.30 pm and she verifies it. After the pandemic, all approvals and signatures are online, enabled by Adobe Acrobat software. So, all she has to do is digitally sign the document, and after a final check, she emails it to the Director and the Dean of Administration and Finance (A&F) for their signatures.
At 4 pm, Aparna joins a virtual meeting of a purchase committee that has been set up to help an assistant professor in the Division of Biological Sciences purchase equipment for his lab. They are joined by two other faculty members in the same division, one of whom has similar equipment in their lab. The assistant professor who wants to purchase the equipment proceeds to open the three bids received from potential vendors. Each bid has two separate parts – technical and financial. The technical bid contains the specifications of the equipment that the bidder owns, whereas the financial bid lays out the pricing.
The faculty member reads out the technical specifications and lets the committee know if those specifications match the tender put out by IISc. Only if the technical specifications match, the financial bid would be opened. In this way, they go through the three bids and at the end, none of them meet the criteria for the specifications listed by IISc. They wrap up the meeting, concluding that the tender will need to be sent out again.
At 4.30 pm, the signed GTE document is sent off to the MoE. Today has been a relatively busy day at the office, Aparna says. As is her custom, she wraps up work around 5 pm, clears her desk, and leaves the office to ride her Scooty back home, where she will spend the evening taking a stroll with her daughters.