Mythra Gangadharaiah joined IISc in 1969 and worked at the Institute until she took voluntary retirement in 2003. She initially worked in Unit III, the postal section in charge of sending and receiving the Institute's correspondence with the outside world. After two years, she was posted to the office of the JRD Tata Memorial Library, where she spent the rest of her career. Mythra spoke to CONNECT about her life at the Institute and the experiences she has had during the 34 years of her service.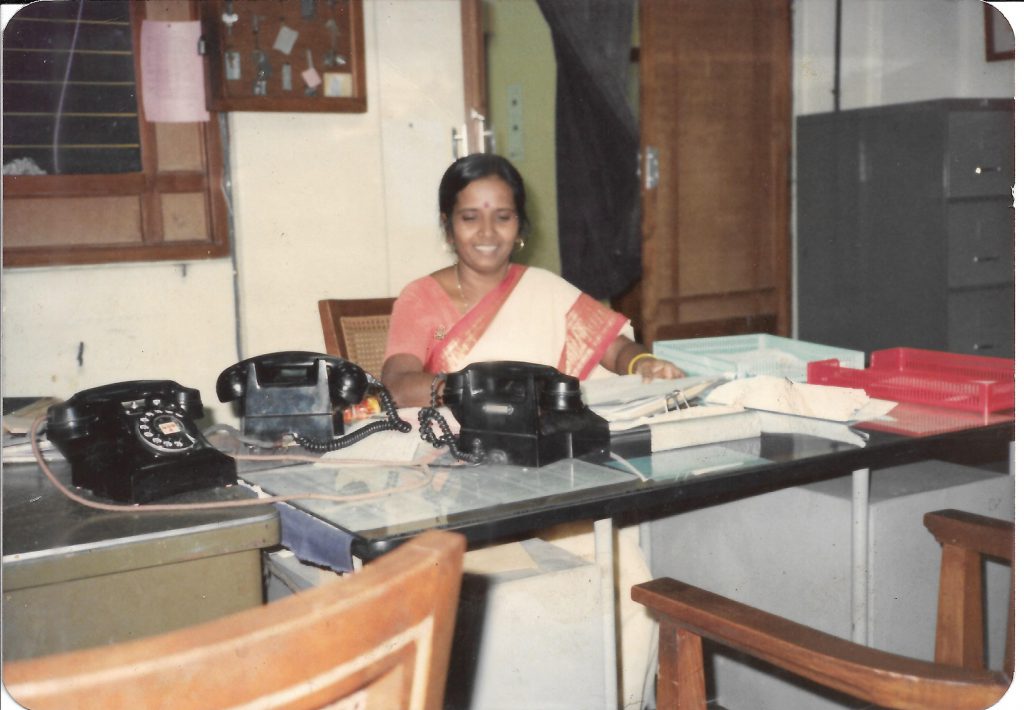 Can you tell us about your early life and education?
I was born in my mother's native place – Banavara, Arasikere Taluk, Hassan District – and completed my school and college in Bangalore where my father was employed.
Although my father wanted to stop my education after SSLC, my school teacher met with my parents and urged them to send me to college as I was good at all the subjects. In those days, girls from orthodox and traditional families were scared of stepping out of the house for either studies or a job, as it would lead to unnecessary remarks from outsiders. I swore to my mother not to commit any mistakes that would bring embarrassment to my family. After this, my father permitted me to study Home Science from the VHD Central Institute of Home Science.
Since I had studied in the Kannada medium in higher secondary school, I found it a little difficult to follow the subjects in English in college. I had to read all the books from secondary school in English. I completed my BSc degree in 1968 and simultaneously joined a typing and shorthand course after completing the respective exams. Later, in 1987, I also pursued an LLB degree while working at the Institute from Sri Renukacharya Law College, Bangalore.
How did you come to know about IISc? What made you join IISc and when did you join?
As soon as I completed my degree along with shorthand and typing in 1968, I registered my name at the Employment Exchange and immediately started getting calls for interviews from many departments. I also got an appointment order from BEL (Bharat Electronics Limited). One of my father's friends was working at IISc. He got me an application form for the Lower Division Clerk and Stenographer position. I applied for it and attended the interview. My father advised me to join IISc since it is an educational institution and not a factory like BEL.
I was eager to join IISc, but I initially didn't get any response to my application. I waited for three months, and then one day, I decided to meet the Registrar of the Institute to enquire about my appointment. Mr GD David, Personal Assistant to the Registrar, was kind enough to permit me to meet the Registrar, Mr SS Prabhu.
The Registrar asked me why I needed the job. I informed him that I wanted to help my family and support my brother's education, as he had to stop his studies and take up a job due to financial constraints. I felt that I needed to support my father financially. After hearing me out patiently, the Registrar issued an appointment order, and I reported to the Assistant Registrar of Unit III as a Lower Division Clerk (LDC) on 3 September 1969.
How many departments have you worked at? What was the nature of your work in the Institute?
I worked in only two departments at the Institute – Unit III for the first two years, and the rest of my career was spent in the JRD Tata Memorial Library. Both were in the Main Building. In Unit III, I was assigned the job of dispatching letters received from all units and departments of the Institute. It was a good opportunity to learn about all the correspondence being sent from and received at the Institute. All my colleagues in Unit III were very friendly. After two years, I was transferred to the JRD Tata Memorial Library as a Stenographer Grade II and I reported to Prof ES Rajagopal, the Librarian in-charge in 1972. I still remember how he welcomed me with a nice smile. I worked in the library for 31 years till I retired as a Personal Assistant in 2003. I have worked with Mr TKS Iyengar, Mr Malwad, and many professors who were temporarily in-charge of the library.
Since you have spent most of your career at the library, can you tell us about the changes that you see now as compared to the earlier days?
The Institute's library is (and was) one of the biggest and best libraries in the country. Started in 1911, as one of the first three departments in the Institute, it has become a national resource centre in science and technology. The library completed its centenary year of establishment in 2011. Initially, it was housed in the Main Building; it moved into its present premises in January 1965. In 1995, the library was renamed as the JRD Tata Memorial Library (JRDTML).
When I was working at the library, the number of permanent staff members was nearly 70 including the librarian, three deputy librarians, assistant librarians, copy machine operators, binders, helpers and the editor of the Journal of the Indian Institute of Science.
As a stenographer, I was also a personal assistant to the Librarian and assisted him in all the administrative work, organising daily schedules and appointments, arranging meetings, answering and routing phone calls, taking messages, preparing meeting agendas and minutes, and so on. If there was any request for books from the Director or Divisional heads, I would issue those books. I also processed the approvals for library reference requests that we received from all over the country. Readers from many universities, colleges and companies used to come to the library for reference work, so my job also involved helping them find the reference material they needed. The work at the library was challenging, and I loved the job.
What were some of your memorable experiences at the Institute? Did you get the chance to meet with any famous personalities?
Some of the unforgettable experiences were attending a conference on science and spirituality, participating in the Gandhi Jayanthi celebrations, and participating in cultural activities organised by the Ladies Club at the Institute. I had the privilege of meeting Dr Raja Ramanna, Prof Satish Dhawan, Prof Ramaseshan, Mr JRD Tata, Prince Charles, and Mr Ratan Tata. I got to see them up close at the Institute.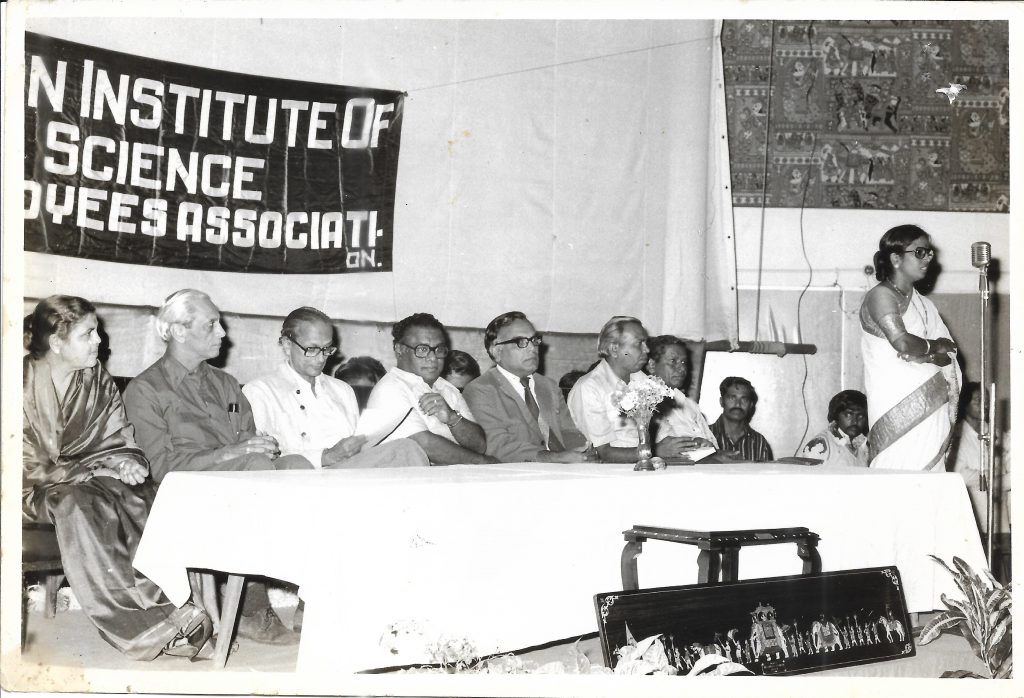 Other than work, were there any other activities that you participated in?
Twenty five years ago, a few colleagues and I formed a Ladies Club, which is now called the Women's Forum. This was made possible with support extended by Ms Uma Chandran, Assistant Registrar and Dr Thilagam, Hindi Officer. Gradually we were able to expand the club and organise many activities. These included lectures from eminent artists, celebrations on International Women's Day, various classes on Saturdays and during the lunch hours, and so on. We would have lunch quickly and run to attend classes in singing, drama and so on, and we enjoyed practising and performing at various events on campus. These events brought together most of the women staff members on campus.
How has the Institute changed since the time you joined?
When I joined the Institute, it had only a few women staff members. Now I see that the majority of the supporting staff members are women.
I have personally seen Prof Dhawan, Prof Ramaseshan and many others coming to the library to look up some references. Now, we hardly see readers in the reference area, and the number of staff members has also reduced considerably due to digitisation.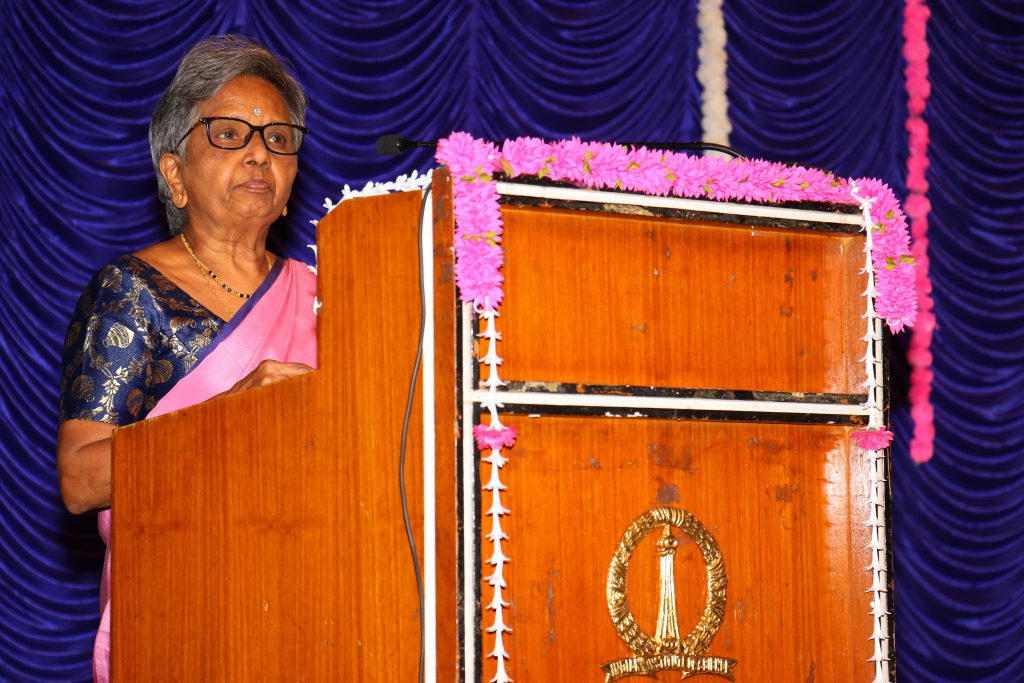 Can you tell us about your family?
I was born in a lower middle-class family with strong values. I have four brothers, and all of them are well settled. Although my mother didn't have much education, she had a wonderful memory and was very business-like. She struggled hard to bring us up and educate us. In the 1960s, there was no gas or electricity for cooking. She used to cook using charcoal or firewood. Her health deteriorated because she was asthmatic, and this spurred me to start cooking at the age of eight. We could eventually get her proper medical treatment. My father was a simple and spiritual man. He first worked at Binny Mills and later joined Hindustan Machine Tools (HMT). He was also a devoted Rashtriya Swayamsevak Sangh (RSS) worker.
In 1972, I got married to Mr Gangadharaiah G who was working in All India Radio. He was a resident of Yeshwanthpur, and while riding the cycle to his office at Raj Bhavan Road, he used to pass by the Institute and look at it with admiration. After our marriage, he told me that he felt overwhelmed to marry a woman working at the Institute. He then got a job at the National Aerospace Laboratories (NAL), Bangalore, as a Senior Technical Assistant in 1975 and retired as a Technical Officer Grade III in 2001.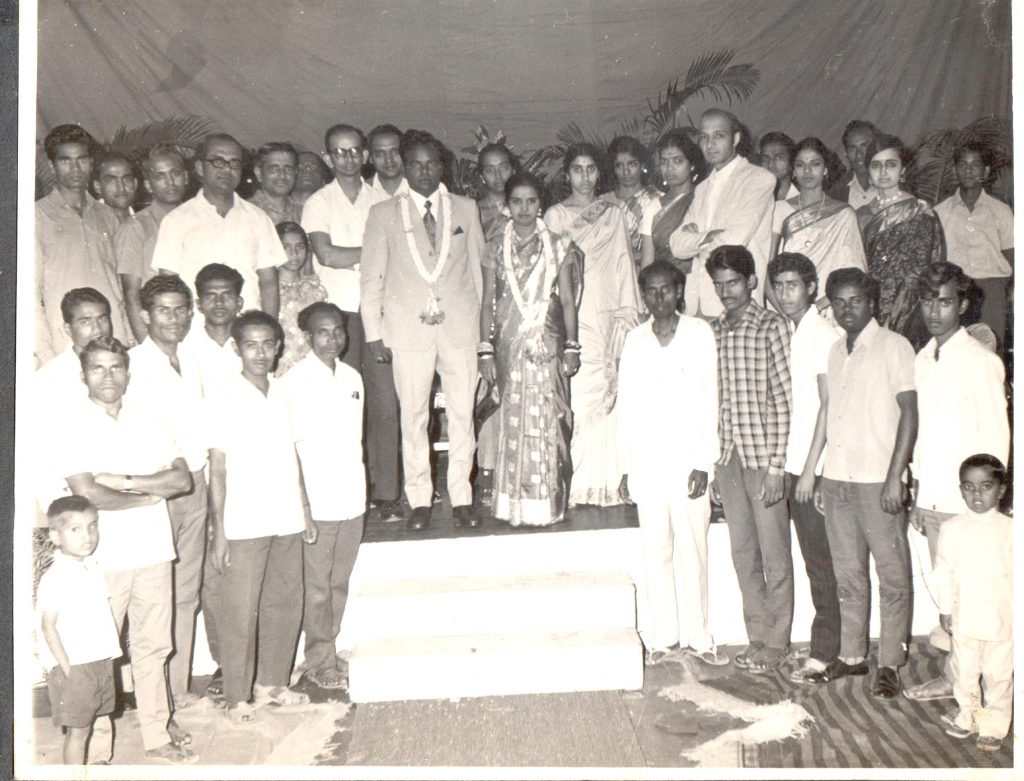 I have two daughters who are well settled. They studied at the Kendriya Vidyalaya school in IISc since I was working here. My first daughter, Dr Manjula Meda, is working as a Consultant, Clinical Microbiologist, and Infection Control Doctor at Surrey Hospital in the UK. My second daughter, Dr Divya G Nallur, is a Clinical Director and Senior Consultant Psychiatrist at Amaha Health. I am now retired and living comfortably in Tatanagar, Bangalore, in a residential layout created by the Institute staff.
How are you spending your retired life?
I learned to play the veena, and I love to sing, especially devotional songs. Ms Dharma, the wife of Prof V Rajaraman, is my teacher. She is a perfectionist, and I am lucky to learn from her.
During the COVID-19 lockdown, I attended many online classes on meditation and yoga, which keep me healthy and happy as I grow older. I also served one term as an elected committee member of the Residents Welfare Association at Tatanagar. I interact with my colleagues online and offline, and also visit a nearby home for the elderly with my friends to help.
With wonderful weather and lots of greenery, I have never felt the heat of summer at any time while on campus. IISc has provided me with all that I dreamed about in life. It has been a great honour to serve at the Institute.
Kavitha Harish is Personal Assistant to the Assistant Registrar (HR, Council)