Most gardens on campus are looked after by the IISc Nursery, but some office staff have taken it upon themselves to add their own green touch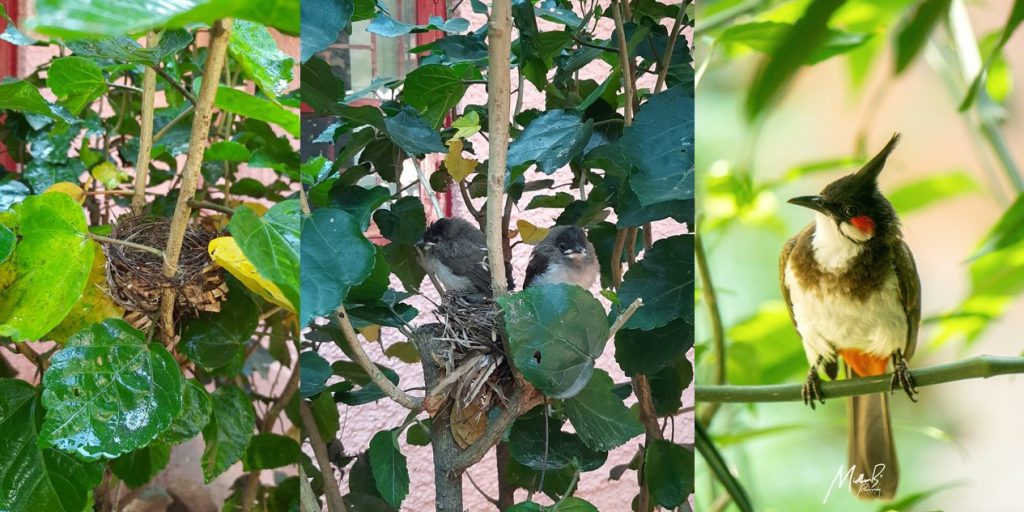 If you visit the Office of Communications (OoC) at IISc in the sultry months of April and May, you'll probably notice the bright and colourful flowers in the verdant courtyard. But you might miss the bulbul in her nest, ensconced in the Thunbergia vine. She comes from several generations of bulbuls that have raised their brood here since 2008, when Sampangi Ramu joined the Office as a helper (Multi-Tasking Staff or MTS). Since then, he has spent his free time turning the Office and its surroundings into a green haven. "There was space here, so I thought of developing a garden. I started small, by planting a few cuttings and was supported by the Chairpersons, and so have continued to maintain the garden till today," says Sampangi. Other than the fresh and clean air, he adds that the garden also provides a safe space for birds and other creatures to make their homes.
He attributes his love for plants to having grown up on campus. His father, Ashwath Narayan, worked as an attendant in the library, and he remembers having hundreds of pots at their home in the staff quarters. "Once, I had kept a pet rabbit, and one night, it ate up all the plants. We didn't keep any more plants after that," he rues.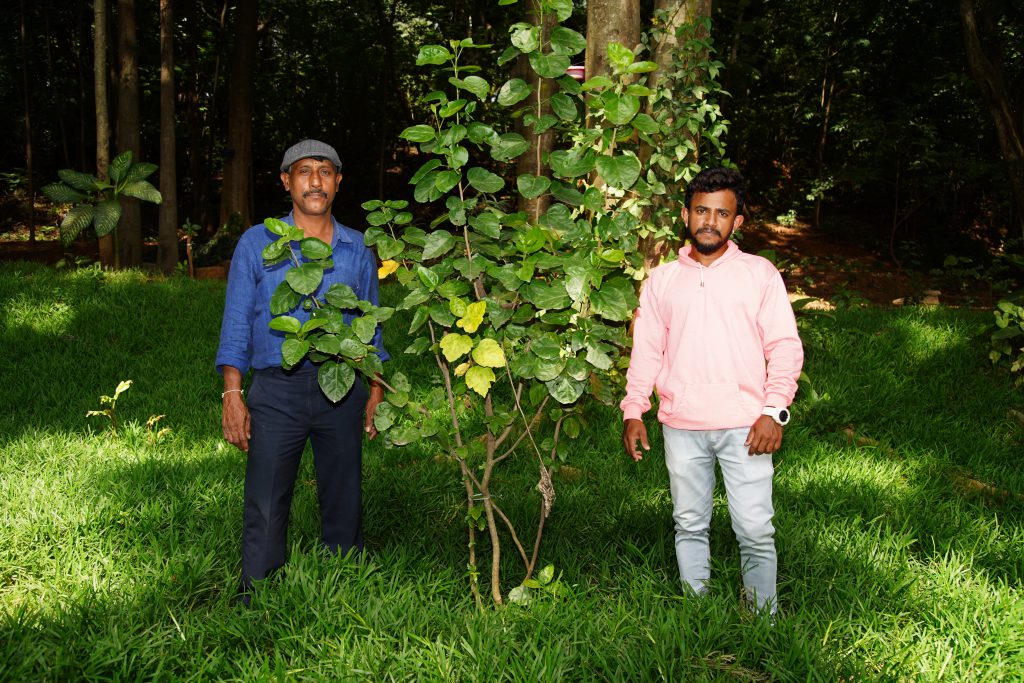 His favourites are the flowering plants, especially roses and hibiscuses. "I want to add more flowers – I'm not satisfied yet," he confesses. He has also planted several fruit trees at the back of the Office – pomegranate, butter fruit, sweet lime and guava.
Like Sampangi, Kumar H also nurtures a passion for all things green. Also an MTS, he has been looking after the sizable gardens of the Department of Electrical Communication Engineering (ECE) for 23 years. His father too was an employee of IISc – in the Gardens and Nursery Section – and when he passed away, Kumar got this job. "I'm an all-rounder – I help with all sorts of jobs in the Department, but I am also in charge of the garden. I feel happy when I water the plants," says Kumar. He adds that he often talks to the plants and plays music when he is working on his own in the garden. His favourite is the Cypress tree; "the leaves are very fragrant," he explains. He has also planted different varieties of grass such as Bermuda grass, Mexican grass and Elephanta grass. "Students come and sleep on the soft and spongy Mexican grass, especially in the summer," says Kumar. Like Sampangi, he has also planted fruit trees – guava, badam, banana, papaya and chikoo. "There is also a jackfruit tree and mango trees. We distribute the fruits to everyone in the Department," he adds. Kumar's favourite spot is under the jackfruit tree. "ಸ್ವಲ್ಪ ರೆಸ್ಟ್ ಬೇಕಾದ್ರೆ, ಅಲ್ಲಿ ಹೋಗಿ ಕುಳ್ತುಕೊಂಡು ಬಿಡ್ತೀನಿ, ಮರೆ ನಲ್ಲಿಇದೆ [It is slightly secluded and I like to sit there whenever I want to rest a bit]," he says.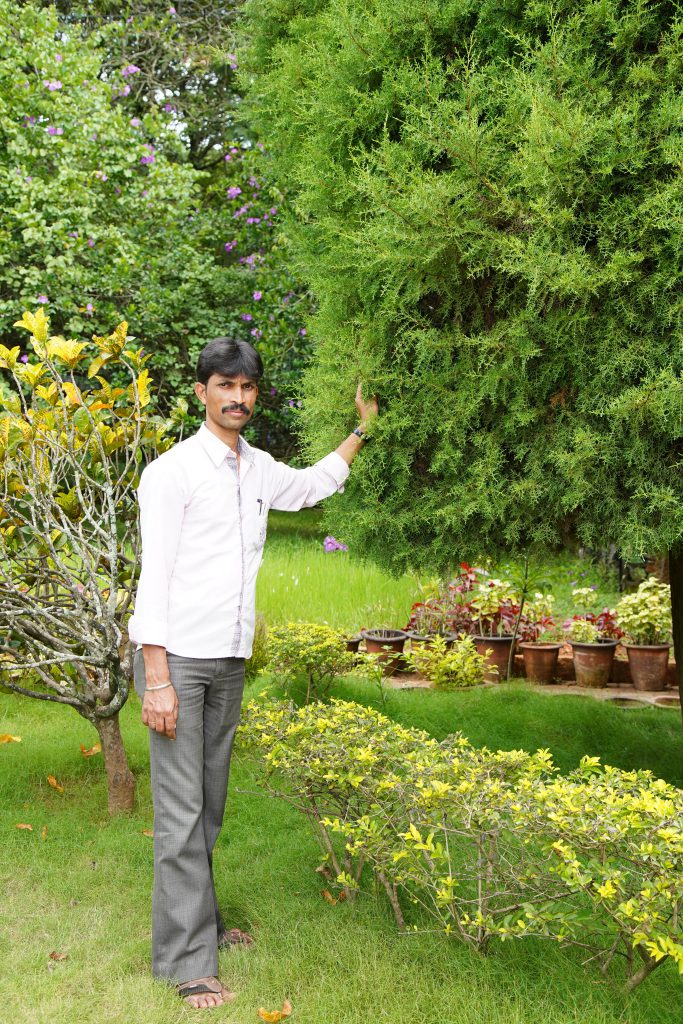 A home garden away from home
For Deepak Shetty, a field assistant in Sumanta Bagchi's lab at the Centre for Ecological Sciences (CES), the motivation for tending to plants is different. His green space is a vegetable garden that spreads over a third-floor balcony of the B wing. "I live in a rented house and there isn't any place for plants there. Since I'm from the coastal belt of Karnataka, ಬಸಳೆ ಸೊಪ್ಪು[Basale soppu or Malabar spinach] is one of our staple foods. So, I grow it here," says Deepak. He also grows Mangalore cucumber, ginger, turmeric, two varieties of tulsi and ಪಲಾವ್ ಎಲೆ [Pulav leaf or Pandanus].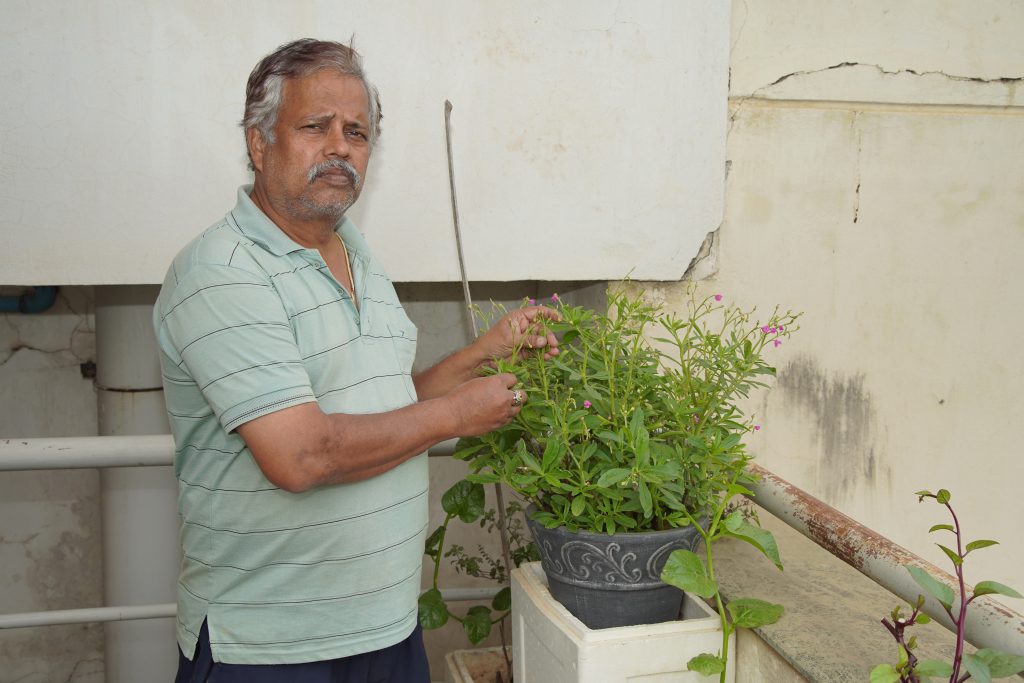 He has been with CES for 31 years, of which 24 were spent at the Sirsi field station. He feels that his long stint there instilled in him a fondness for plants. "I joined as a field assistant with Madhav Gadgil's group. No one else in my family has much knowledge about plants. Perhaps I was influenced by the ಕೈ ತೋಟಗಳು [kitchen gardens] which are common in the Sirsi-Malenadu region. We used to grow many vegetables there, and hardly ever bought any from the market," says Deepak.
Large gardens like the ones at OoC and ECE need a lot of maintenance – regular watering, weeding, trimming, repotting, and so on. Sampangi is assisted by his colleagues Gowtham and Deepak whenever they are free, and another hired help, Chikanna, who comes every Sunday. Kumar is also assisted by Manjula, Lakshmamma, Devamma and Venkatamma, who join him in the garden every day from 4 pm to 5.30 pm, after finishing their housekeeping tasks in the Department. Both Sampangi and Kumar use compost made in-house from leaf litter for their plants and trees. The fallen leaves that are swept everyday are collected into a pit in the ground, and turn into compost in three to four years. The Institute established several such pits on campus in 2017.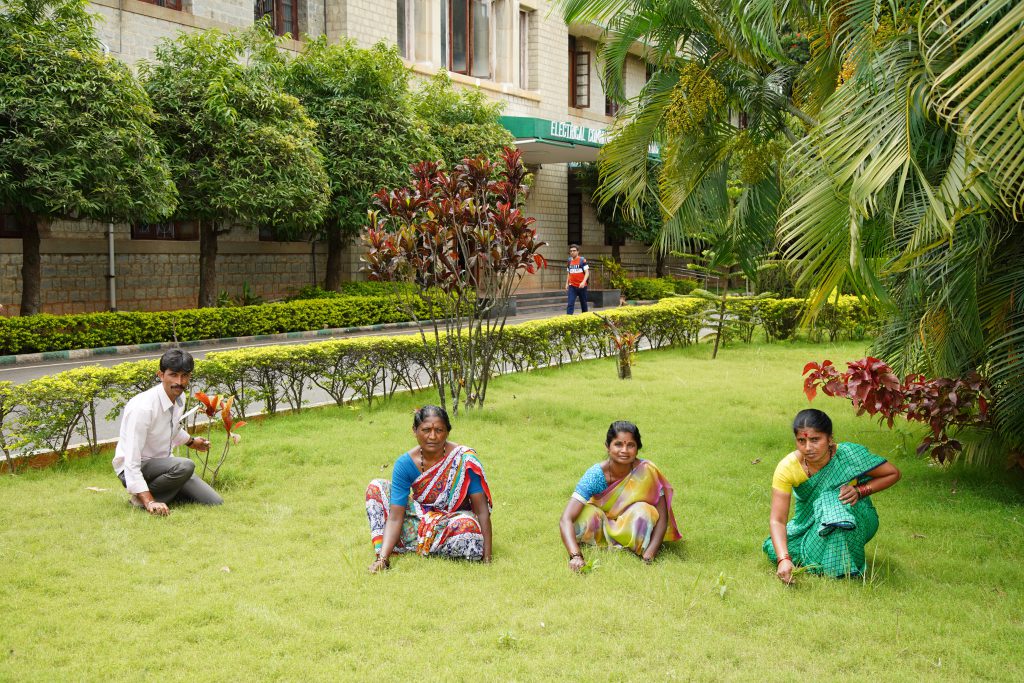 "We have a lot of space, and many people have appreciated the garden at ECE. Visitors from abroad have taken photographs too. This is a great environment to work in, even though the salary is a bit low since I am a contractual employee," says Kumar. Sampangi, who has five years left to retire, shares this sentiment. "People who come from outside should feel happy when they come here [to the OoC]. That is my motivation — to create an environment where people feel: 'ಪರ್ವಾಗಿಲ್ಲ, ಐದು ನಿಮಿಷ ಕೂತ್ಕೊಳ್ಳೋಣ ' [Not bad, let us sit here for five minutes]."