AL Narasimhan joined IISc in 1965. At the time, he was 25, had just completed an MSc degree in statistics, and had also just fled from a job in Gulbarga, Karnataka, after only a month. Despite this false start, he got the chance to join IISc, and begin a lifelong career in administration. During the 36 years of his service, he handled large responsibilities such as admission, academic and student-related matters as a Deputy Registrar, and worked on activities related to the GATE exam, IISc's programmes for continuing education, and IISc publications. At the same time, he even served as an umpire in international cricket for over two decades! Now 82, Narasimhan spoke to CONNECT about the many roles he has juggled over the course of his career. What brought you to IISc?
My first job was in the Karnataka government's statistics department, and I was posted to Gulbarga. I found the climate severe, and I was unwell, and within 30 days of reporting, I left for Mysore, my hometown. On the way, I stopped to visit my uncle in Bangalore. He informed me that a letter had arrived for me from IISc, calling me for an interview for the post of Junior Scientific Assistant. I had already written the test for this post. Unfortunately, my cousin had misplaced the letter, and the last date for the interviews had already passed. I felt dejected that I had lost the chance of appearing for the interview. My uncle encouraged me to approach the concerned person at IISc about it. Initially I was hesitant, but due to the persistence of my uncle, I came to the Institute.
I met Mr Vaidyanathan, who was the Assistant Registrar, Students Section. He is practically responsible for my joining IISc. He told me, "What is this, I say. We were searching for you, we also sent one person (Mr Ananthapadmanabhan, the supervisor) to your address twice; there was no response! The interview date is over … Okay, now that you have come, don't go anywhere, there is a canteen, go have your food and come back. Don't run away." Remembering those words now makes me emotional. An interview was arranged for me immediately (although the initial selection committee meeting was over, no candidate had been selected). The next day, I met with the new selection committee headed by Prof Satish Dhawan, who was the Director, and other stalwarts of the Institute such as Prof Arcot Ramachandran, Prof PL Bhatnagar, and Prof PS Sarma.
The big interview was over and I came out. Again, Mr Vaidyanathan said, "Don't run away, stay here till I return." Then he asked me to come the next day and issued an appointment letter signed by Prof Satish Dhawan. I was Junior Scientific Assistant, Statistics, assisting with admin work. I was later selected as Assistant Registrar.
What was it like working as an Assistant Registrar?
When I became Assistant Registrar, I first reported to the Council Section and then to the Admissions Unit as Deputy Registrar (Academic). My team and I had a huge responsibility – we had to create a timetable to manage the entire admissions process carefully. We would release the advertisement for admissions and send it to newspapers and other institutions, as well as print the Admission Brochure, Scheme of Instruction, Student Information Brochure and Handbook of Information. The last three publications would have to be ready in order to hand them over individually to all students at the time of admission.
We had to arrange for the IISc entrance exams in centres across the country. We would have to arrange for the printing of question papers, coordinate with faculty members, and maintain confidentiality, which was very challenging. We had to assign and depute faculty members and officers for the exams. In those days, examiners were sent by train with big sealed trunks carrying printouts of question papers. It was only much later that we started sending our academic staff by flight. Then, we'd have to collect the answer sheet checklists and keep them safe, and when it was time to evaluate the papers, we'd have to send them in sealed covers to the concerned faculty. If boxes with answer scripts ever went missing from the examination centres, we had to face severe consequences.
Finally, the results would have to be communicated to students and they would be called for interviews via postal mail (from 1972 onwards, we did this via Telex).
Back then, everything was manual, and the selection of students through the joint faculty meetings was a major task. Those meetings would stretch from 8 in the morning till 9 at night. I have seen the admissions process at other institutes, and I have to say that the cooperation between the academic staff and faculty members of our Institute was unique. I remember Prof CV Joga Rao, who was the Dean at the time, for his enthusiasm – he would remain till late in the section and help with the process, guiding staff and officers when the team had to work until 9 pm and beyond.
Computerisation has made all of the hectic tasks we went through for admissions very easy nowadays. But despite everything we had to go through at the time, we always ensured that we met the deadline of 1 August, when the academic year would begin.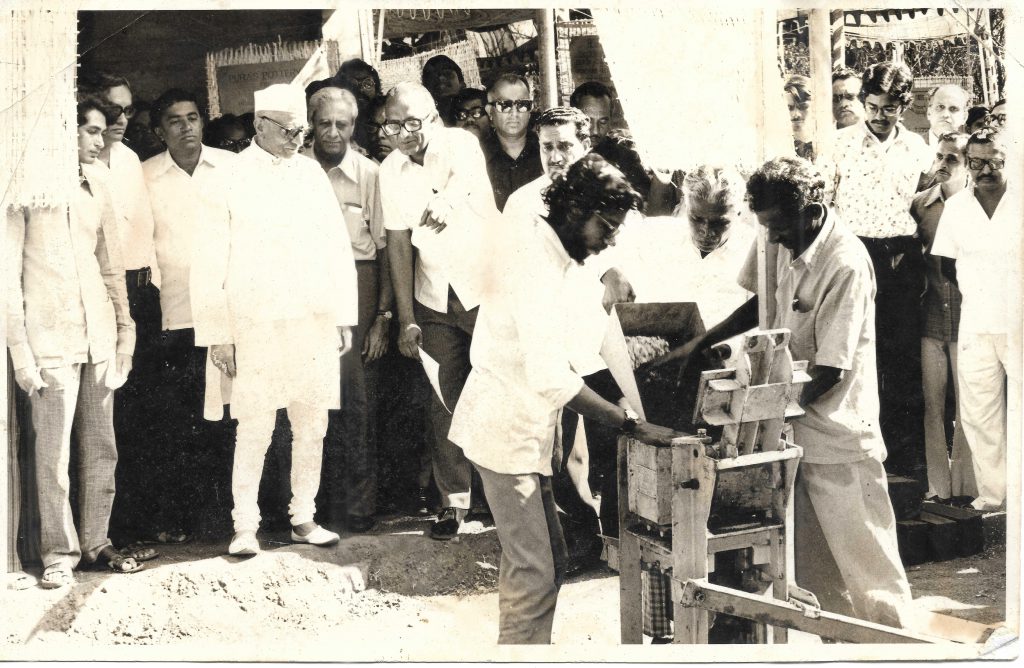 Was it challenging handling student matters at the Institute?
The hardest was dealing with suicides. During Prof CNR Rao's time, a committee was set up to handle these serious problems, and I was a member. Handling enquiries by the police and witnessing the emotions of affected families were quite tough.
Did you work at any other departments?
I worked in the Council Section for five years, handling the Council and Court meetings, and other important meetings of the Institute such as the Investment Committee and Finance Committee meetings. In those days, there were two Court meetings in a year; now we only have them once a year. I also served as the Secretary at the GATE exam office for seven years.
I was a Liaison Officer for three years, Assistant Registrar at the Centre for Continuing Education (CCE) for five years, and Officer-In-Charge of the Hindi Cell for a couple of years. I managed the translation of the Annual Report and Annual Accounts in Hindi, sometimes with the help of my sister, Dr A Janaki, a Sahitya Akademi awardee. I also headed all the Institute publications during my tenure.
I feel I have many achievements over the course of my career, but I wish to particularly mention my involvement in faculty appointments and the streamlining of the procedure, and managing the sabbatical leave of faculty members to avoid misuse of the leave in some cases. You mentioned that you also had an interest in teaching. What courses did you teach?
With IISc's permission, I taught business statistics and applied statistics as a faculty member at St Joseph's College of Business Administration (evening) from 1971 to 1983. I have taught students of business administration, production management and marketing management classes.
At IISc, for six years, I also taught employees Hindi as part of the in-service training programme.
How did you end up as a cricket umpire?
I was fond of cricket, but I could not play the sport, as according to our belief system at home, we were not supposed to wear pants.
I was born and brought up in Mysore, in an orthodox family. My ancestors were priests and academicians. Our family culture was strict; we were not supposed to drink tea or coffee until we were 20 years old. If we had to go to the temple, we were not allowed to wear slippers to get there – we had to walk barefoot. You won't believe it, but I never wore trousers, only dhotis, until I got into my MSc course! I got my first pair of pants tailored then, and I got my first pair of shoes so that I could attend my MSc convocation at Mysore University.
My interest in learning cricket and going for professional training wasn't nurtured when I was young. But I was so keen on the sport that I started the Jai Hind Cricket Club in Mysore in 1959, when I was 19 years old. I played against BS Chandrasekhar, EAS Prasanna and GR Vishwanath while playing First Division league cricket. And in order to remain involved in the sport by any means, I decided to try and become an umpire. I stood first in the country in the written exam conducted by the Board of Control for Cricket in India (BCCI). In 1992, I was one of the umpires nominated from India for the World Cup conducted in Australia and New Zealand. I made my Test cricket debut as an umpire in Ahmedabad in 1993-94. I am proud to say that I was the one who said "Out!" when Kapil Dev took his 432nd wicket in 1994, which made him the world's highest wicket-taker at the time.
I officiated in Test and One Day International matches between India and visiting teams such as the West Indies, England, Australia, South Africa and Sri Lanka. I also officiated in major national tournaments such as the Irani, Duleep, Ranji, Wills and Deodhar trophies and others.
I officiated as a match referee and as an umpire coach for the BCCI. I was the Founder Member and President of the Association of Cricket Umpires, Karnataka, and Member of the Board of Examiners for Cricket Umpires, Karnataka State Cricket Association. I also served as a cricket commentator – I've had the opportunity of interviewing cricketers GR Vishwanath and BS Chandrasekhar on All India Radio.
Members of the Institute were most encouraging of my role as an umpire. The Director, Prof G Padmanaban, and the Registrar were very happy for me on my Test debut. Before Choksi Hall came up, people used to play cricket on the open ground that used to be in its place. I have played cricket with Prof Satish Dhawan, who was the captain of my team, and Prof Padmanaban as well.
Being an umpire means making quick decisions and maintaining composure even under tense situations, a quality which greatly helped me interact with my staff and successfully manage my office.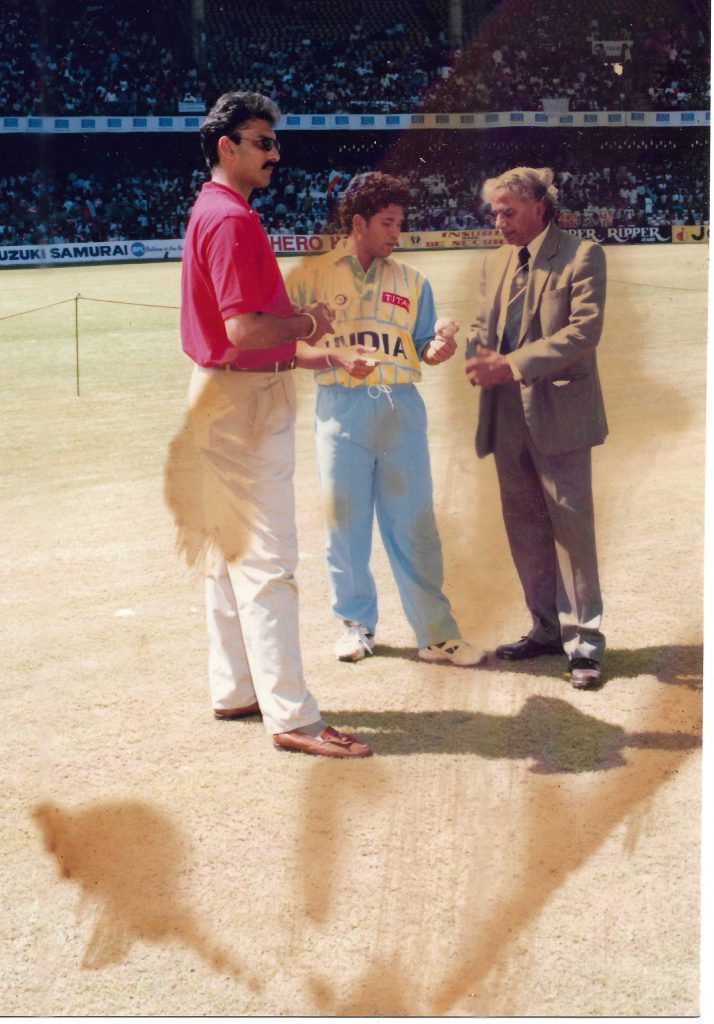 What are your best memories of IISc?
I shouldn't forget to mention the day I was felicitated on my retirement. The staff of the Admissions and Academic units expressed their respect and affection, writing a song about me and singing it on that day, which was very touching.
The Institute is a wonderful place to work; I was very lucky to have gotten in. Right from the top management to all the staff, all my work interactions were memorable, though at the end of my career, I did feel that a lot of things changed, and I miss the culture of unity we once had.
I lived on campus until 2000. There were 16 Officer's houses behind Canara Bank, where the hostel blocks are now. All of these were independent houses with a big compound. During festivals, all families would gather, exchanging sweets. We would have musical events once a month. We invited Prof G Padmanaban, the Director at the time, for Krishna Jayanthi. He attended along with his wife, Mythili, and sang for half an hour during the event. If I had had the opportunity to take a video of it the way we do now, I would have cherished that video.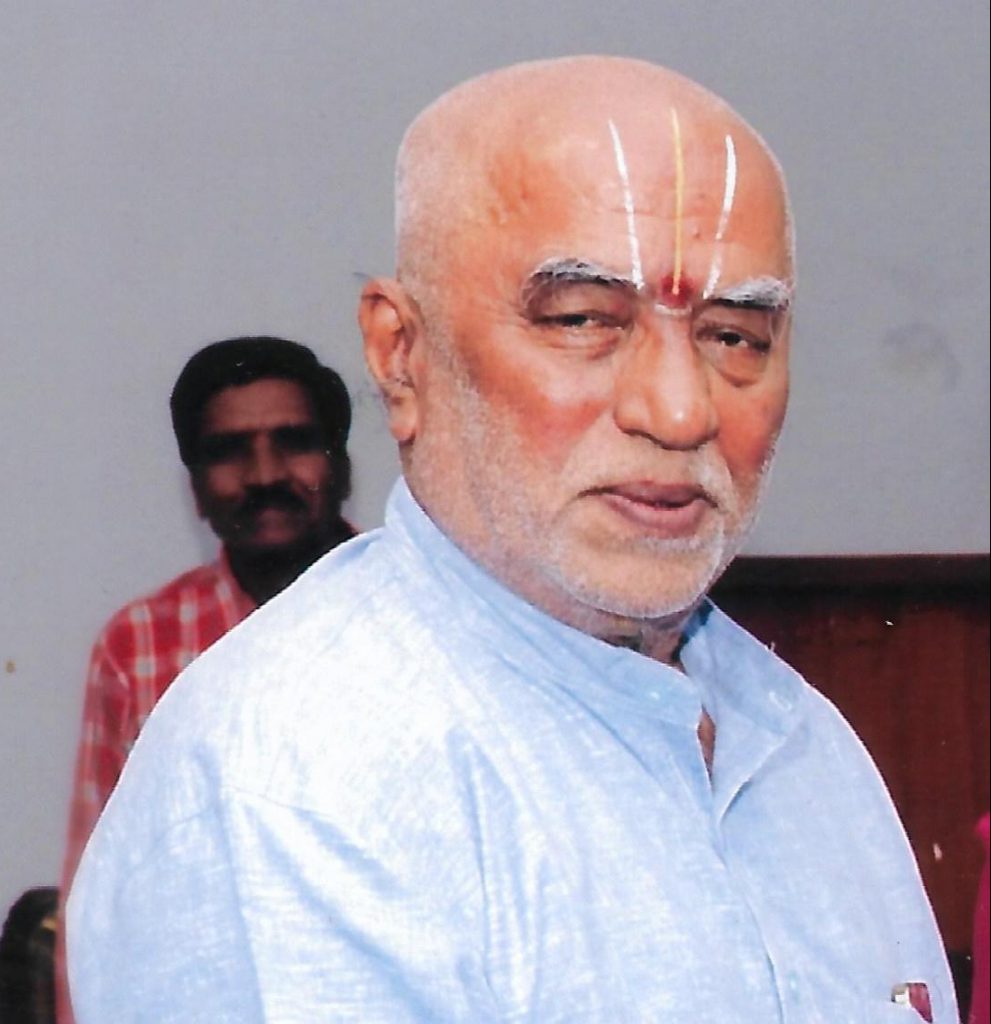 After such a busy career, what is retired life like now?
I am a practising Vedic scholar. I conduct discourses and organise bhajans and keerthanas at gatherings of friends and family. All these activities keep me mentally positive and enthusiastic even now. My senior acharyas call me 'Cricket Narasimhan'.
Looking back, I think I have attained everything I desired in my life. IISc is a nice place to work and I was fortunate to have spent my lifetime in the IISc administration as well as on its beautiful campus.
Kavitha Harish is Personal Assistant to the Assistant Registrar (HR, Council)