Promoting peaceful human-animal coexistence on campus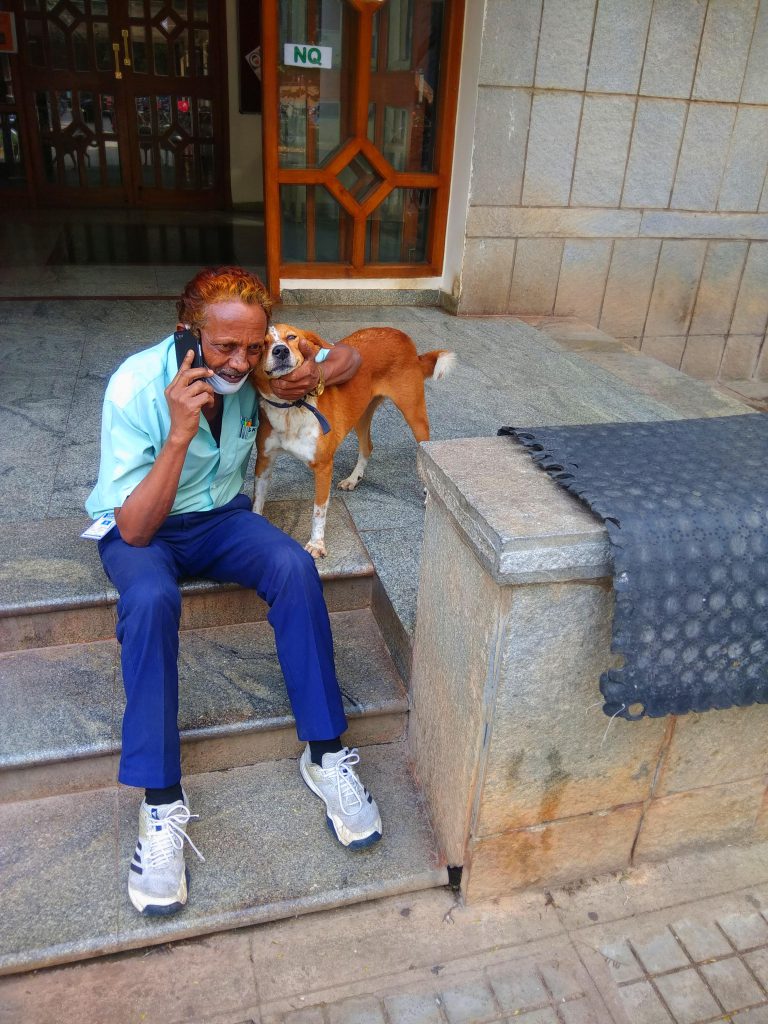 On a clear sunny morning, beside a small pond and in the pleasant shade of large trees, Ipcy was treating herself to a nap in front of one of the vintage buildings of IISc. It was around 10 am, and everyone in the building was starting their day's work. Students were arriving, some on foot and some riding bicycles. Among them were some of Ipcy's friends. Whenever one of them passed her, she acknowledged their friendship by lazily opening her eyes and gently wagging her tail. She was happy to see them, but also knew that this was no time for play, and continued her mid-morning slumber.
Ipcy is one of the many stray dogs living inside IISc. She was named "IPCY" after the Department of Inorganic and Physical Chemistry (IPC), where she came one evening, to take shelter from heavy rain. "Unlike most other dogs who come to take shelter, [she] wanted to interact with humans," recalls Saheli Chakraborty, a former PhD student of the department. "Back then, I used to consider dogs as animals that would bite me, but she changed my perception. She used to look at me with persuasive puppy eyes, wag her tail, and try to communicate. One day, I tried my luck and patted her gently." Saheli fondly recalls this first interaction with the dog, which eventually developed into a beautiful friendship between the two.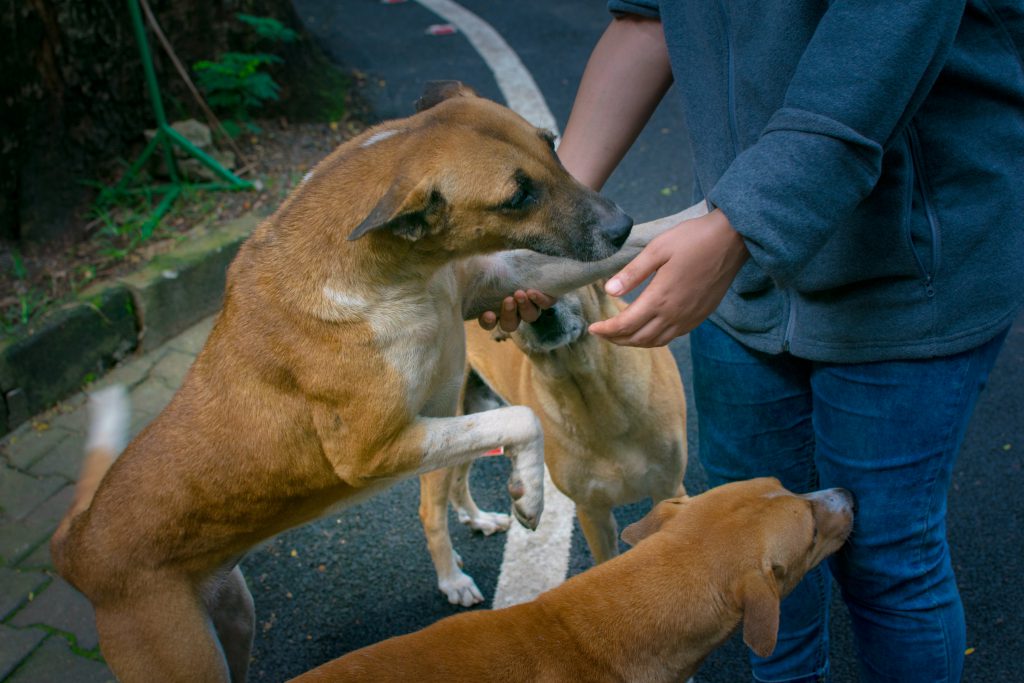 There are many such stories. The Institute is more than just a place where people come to study or work – they live here too. It is also a place to meet new people, make friends, or find companions. For some, these interactions are not always restricted to fellow humans. Like Saheli, they make new furry friends as well.
But coexisting with animals, especially stray ones, is not always easy and many of the campus residents have had unpleasant encounters too. In IISc, the Animal Welfare Group (AWG) – a primarily student-run voluntary initiative – is trying to assist in the peaceful coexistence of humans and animals on campus.
Why AWG?
The group was formed in early 2018, when the Institute was actively trying to cope with the growing population of stray dogs and cats on campus. Complaints about the 'dog menace' – dogs chasing humans or walking inside classrooms – were increasing. V Rajarajan, who was the Registrar at that time, convened an open house to discuss ways to deal with these issues. Sudha Narayanan, founder trustee of Charlie's Animal Rescue Centre (CARE), and HD Lohith, a leading veterinary surgeon in Bangalore were invited to share their advice.
Human-animal conflict often evolves from being one between humans and animals, to one between two groups of humans – those who love being around animals and those who do not. Nitin Balajee, a PhD student who attended the open house, recalls a lot of heated arguments between the two groups. Rajarajan and the experts present in that meeting proposed the formation of the AWG. Nitin, who had worked with CARE earlier, along with a few others, volunteered to take this up.
Human-animal conflict often evolves from being one between humans and animals, to one between two groups of humans – those who love being around animals and those who do not
Currently, the AWG has more than a hundred volunteers, most of whom are students. Along with taking care of the animals, the group has also become a point of contact for any animal-related issues that campus residents face. There is an AWG WhatsApp group where people share their concerns. The administration also consults the AWG in dealing with issues related to animals. The AWG website contains information on how to deal with animals in distress, and also educates people on how to minimise conflicts with dogs and what to do if chased or attacked.
Animal birth control
"[The] Indian constitution guarantees the right to life to stray animals as well. In the context of conflict with stray animals, one immediate suggestion many people give is to relocate the animal. Now, doing so is unconstitutional. Relocating a stray dog, for example, invites huge penalties from BBMP and the police," points out Nitin. "Considering all the laws concerning stray animals, we concluded that responsible animal birth control (ABC) was the only legal solution."
And so, the first round of the ABC programme was initiated by the Institute. A temporary animal shelter equipped with the required infrastructure was set up, and a team of vets from CARE conducted the vaccination and sterilisation of the strays. Meanwhile the AWG, which was coordinating the programme along with CARE, had new volunteers joining the group. "Almost all dogs on campus are vaccinated and sterilised, and the AWG volunteers ensure that the dogs receive the booster doses in time," says Jyotirmoy Paul, another PhD student and member of the group.
Veeranna Kammar, one of the Deputy Registrars, explained the challenges the administration faces in controlling the dog population on campus. "Firstly, because of both the vastness of our campus and the presence of a lot of forest areas, it is very difficult to catch the dogs – they easily escape into the forests." He also points out that there are increasing instances of people from outside secretly abandoning their dogs inside the campus. A general perception of the campus being animal-friendly might be encouraging such activities. Veeranna adds that stray dogs from outside often enter the campus on their own, and since there are people on campus who feed them, these dogs mostly stay back, contributing to further increase in their population. "Carrying out the ABC programme at regular intervals is the only humane and legal way to control the dog population," he emphasises.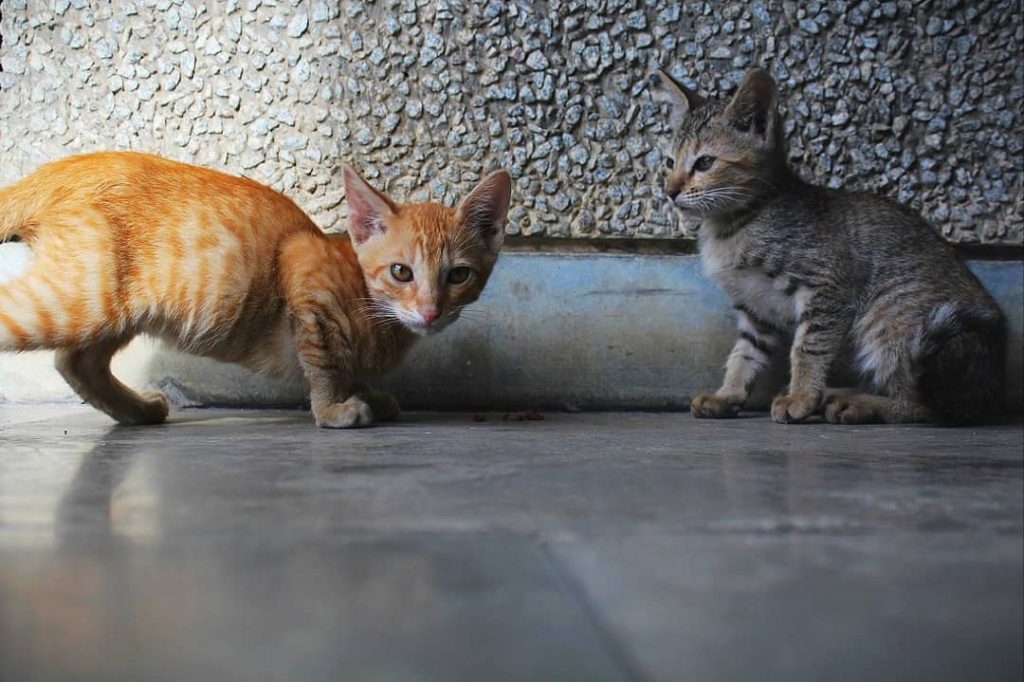 Cats, unlike dogs, are not as visible on campus and are mostly found near the hostel areas. "[The] problem with cats is that they become sexually mature at a very young age, and they give birth to big litters," says Nitin. Jack D, an alumnus and another founder member of the AWG recalls how they took care of Ghost – a white female cat who roams the New Girls' Hostel at night – and her kittens. "The AWG had put in a plan to ensure that she is sterilised, and that all the kittens get adopted. We had to keep her in an enclosed place overnight to make sure that she did not run away or eat anything before the surgery. Many cats have been sterilised and the kittens given for adoption," says Jack.
From conflict to coexistence
Both Nitin and Jack emphasise that even those who identify themselves as animal lovers need to be educated about pursuing animal welfare in a responsible manner. "We always discourage random feeding of strays by students. Also, there should be separate feeding spots for different packs of dogs," says Nitin, while explaining how fights over food between two packs can often become nasty. Such unpleasant fights can generate or enhance fear among people. "I do not hate dogs, but when I see dogs running and barking, I get scared," says Rinshad VA, a PhD student who had a traumatic experience during his childhood. He was around six years old, and one day, while trying to escape a dog chasing him, he tripped and fainted. These situations can also lead to accidents and injuries. "One early December morning last year, I was going to my lab, and suddenly found myself surrounded by a pack of dogs. They gathered around me, and almost jumped over me. I fell down and scratched my legs. Luckily, another person was passing by who somehow managed to disperse the dogs," recalls a PhD student who prefers to remain anonymous.

Even those who identify themselves as animal lovers need to be educated about pursuing animal welfare in a responsible manner
Understanding the inconveniences that many campus residents encounter due to the presence of stray animals is vital to ensure peaceful coexistence. So is being compassionate towards those who face these difficulties. Jyotirmoy points out that working with the AWG has helped him understand these issues better. "Human-animal conflict, especially with dogs, happens primarily because most of us are not aware of their [the dogs'] psychology," he suggests. This lack of awareness also applies to people who are fond of animals. "A main motto of the group is to educate and assist people who love animals as well as those who are not as tolerant to having animals around them. We prefer to avoid the term 'animal haters' because it has a negative connotation to it," explains Jack. "We did not want to identify ourselves as 'animal lovers' either. It creates a divide. Our goal is coexistence," adds Nitin.
The AWG faced an unprecedented challenge during 2020, when the Institute was closed, and most students had to leave the campus prior to the nationwide lockdown due to COVID-19. Upasana Gupta, a visiting PhD student who is currently handling finances for the group, was also one of the very few students who stayed back at IISc then. "The dogs were following me in search of food. I felt very bad, and I started feeding a few of them," she recalls. That was how her association with the AWG started. With support from the IISc administration, the group planned a feeding programme during that time which continued till people started returning to campus. "The AWG is mostly a donation-run group. One big round of donation was made during the pandemic – a lot of people who had to leave campus donated to the feeding programme at that time," adds Upasana. Jack, who stays in Bangalore, obtained emergency permission from the authorities to visit IISc regularly and feed the animals once a day. "It was really nice that the administration considered our concern and helped us," says Jack.
Some of the AWG members highlight the importance of companionship that animals often provide to students on campus. Upasana is the daughter of a veterinary doctor. Having been around animals since childhood, she points out that spending time with animals can be beneficial for the mental wellbeing of people. Pritha Ghosh, another PhD student and AWG member, remembers how the dogs near the hostel helped her when she was under tremendous stress while trying to meet her thesis submission deadline. "I would be awake the entire night, working, and extremely exhausted. But, on my way to breakfast, I would meet Pogo, a little puppy. My exhaustion would vanish. There were also Rubenstein, Battery, and Bhodor – I played with them. It calmed me down every day," she adds. Nitin also says that before the AWG was formed, he volunteered with CARE, and that was his way of coping with the stress of doing a PhD.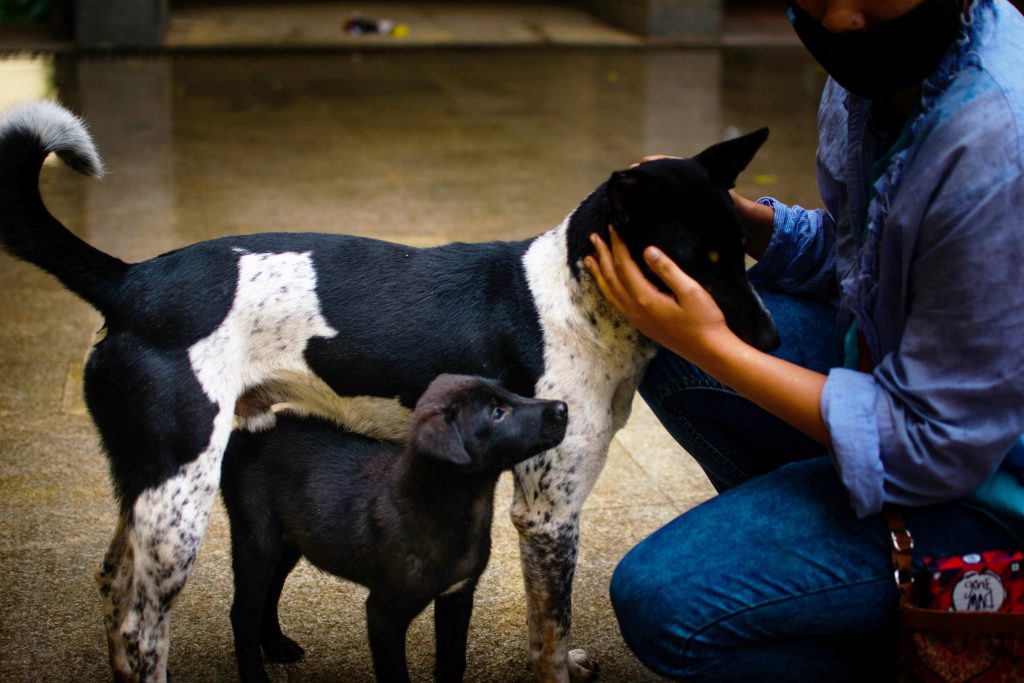 Within the large green campus of IISc, there possibly exist many small ecosystems, and the animals on campus are a vital part of those. Nitin spoke about a few interesting patterns they have observed. For example, hostels where residents are tolerant of the presence of dogs have fewer monkeys entering inside. Another hostel, where there were no cats, witnessed bandicoot problems. "So, what we found out was that having a controlled population of all types of animals is beneficial. I agree it does cause inconvenience to some people, but it keeps things stable in the long run."
Sritama Bose is a PhD student at the Department of Inorganic and Physical Chemistry, and a former science writing intern at the Office of Communications, IISc