Developing COVID-19 solution hasn't been easy for researchers working since the pandemic began, as well as for those who jumped into the foray recently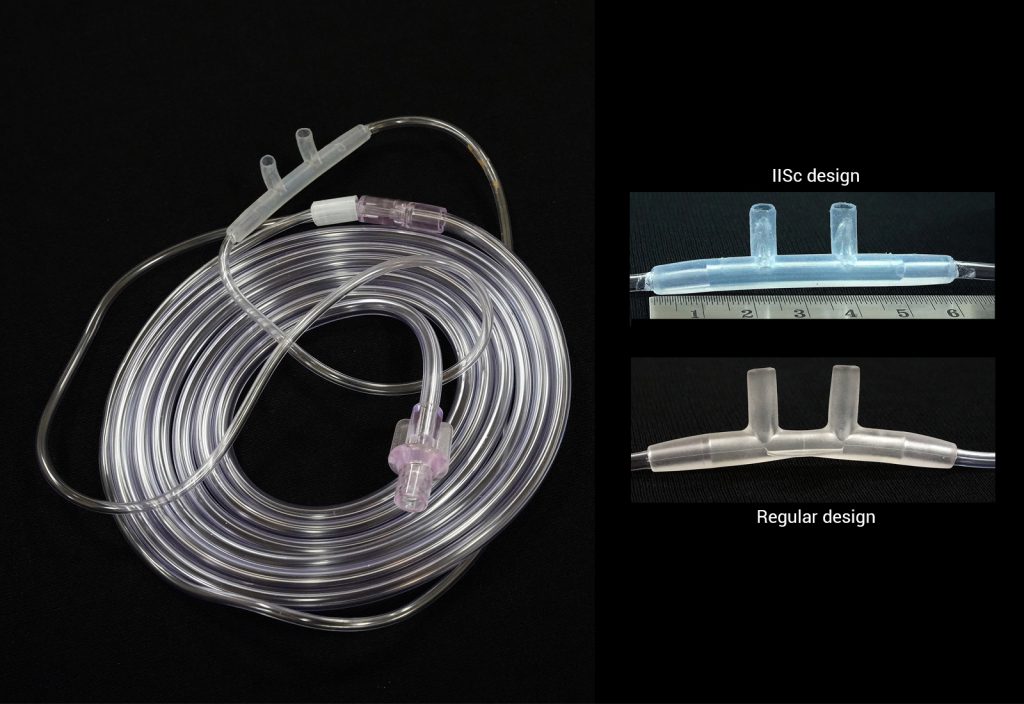 When the country was rocked by the second wave of the COVID-19 pandemic in early 2021, oxygen conservation became a prime concern. As hospitals designated for COVID-19 became swamped, patients struggled to find oxygenated beds and started pouring into smaller private hospitals seeking care, according to a physician at the ESIC Medical College and PGIMSR, Bangalore.
To tackle this issue, a team of doctors from the Rajiv Gandhi University of Health Sciences (RGUHS) approached a research team at IISc led by Pramod Kumar and Srisha Rao, associate faculty members at the Interdisciplinary Centre for Energy Research. They asked the IISc team if it would be possible to come up with an innovative device that would reduce the consumption of oxygen, without affecting the patients' need. They zeroed in on a nasal cannula, a tube-like structure that is inserted inside the nostrils to help deliver oxygen. A patient on oxygen support needs a lot more oxygen while breathing in than out. The team, therefore, came up with an idea to develop a nozzle that would be combined with the regular cannula, and vary the oxygen supply during inhalation and exhalation. Pramod explains, "When a person inhales, there is a pressure drop, so more oxygen will enter the cannula and thus the nose. Exhaling would be against the flow of oxygen from the cannula, so the flow would actually reduce. This would reduce the oxygen wastage during exhalation, which can be as high as 30%."
To make it comfortable for patients to use, the team decided to develop a secondary nozzle out of medical-grade silicone, as small as a fingernail, which was flexible and could fit the nostril shape. They studied samples of a silicone-based cannula used in neonatal care to re-engineer it. But it wasn't easy. The nozzle is so small that it cannot be added as a separate piece to the nasal cannula as the pressure from breathing could dislodge it, making it a medical hazard. It had to be bonded to the regular nasal cannula. The lockdown during the second wave didn't help either. They faced trouble transporting samples back and forth from the hospital. "The doctors were able to send us samples through Swiggy, Dunzo and such delivery services,"
recalls Pramod. The nasal cannula they finally developed is now undergoing academic clinical trials at three medical colleges – ESIC Medical College and PGIMSR, Bangalore Medical College and Research Institute, and Sparsh Hospital. The researchers say that the preliminary results have been encouraging, with the subjects preferring the newly developed cannula as compared to the existing design.
Although the nasal cannula is a recent example, there are many such solutions that IISc researchers have been working on since the start of the pandemic. And many have faced similar challenges.
Entering the COVID-19 arena
The pandemic pushed a lot of researchers into new arenas, forcing them to explore out-of-the-box solutions. Two teams, for example, started developing indigenous ventilators from scratch – a daunting prospect. Sushobhan Avasthi, Associate Professor at the Centre for Nano Science and Engineering (CeNSE), who currently leads one of them, recalls how they hit upon the idea. CeNSE mainly works in semiconductor research and one of the areas they cover is building equipment, often involving pneumatic systems which use pressurised gas or air to move mechanical parts. "When the pandemic started last year, everyone realised that ventilators would be required, and we got into the field because it would require a pneumatic system," he says.
Building critical care devices that demand high accuracy and reliability poses several issues, Sushobhan points out. "We realised it was more complicated than we thought. A ventilator needs to have alarms to see if valves and sensors are working or if the pressure is too high or low, and needs to detect when the patient is trying to breathe on their own. [Also], lungs come in different sizes and pathologies, so the ventilator should work well for a wide range of lung types." After working on it for more than a year, they managed to develop a full-fledged, microcontroller an microprocessor-run system which is very close to what a standard ventilator looks like. The device has been tested and approved by an external agency, and is now on its way to large-scale manufacture.
Other research groups also had to adapt or expand the scope of their ongoing work. For example, PathShodh, a start-up founded by Navakanta Bhat, Professor at CeNSE and Vinay Kumar, an alumnus, changed direction from non-infectious diseases like diabetes to the infectious COVID-19. Earlier, they had designed a novel testing device using technology called electrochemical biosensing. Their "Lab-on-Palm" is a handheld device that can be used to check for and monitor various non-communicable diseases like diabetes on a single platform. When the pandemic broke out, there was a huge demand for efficient diagnostic tools for COVID-19, so they decided to develop one using their existing platform.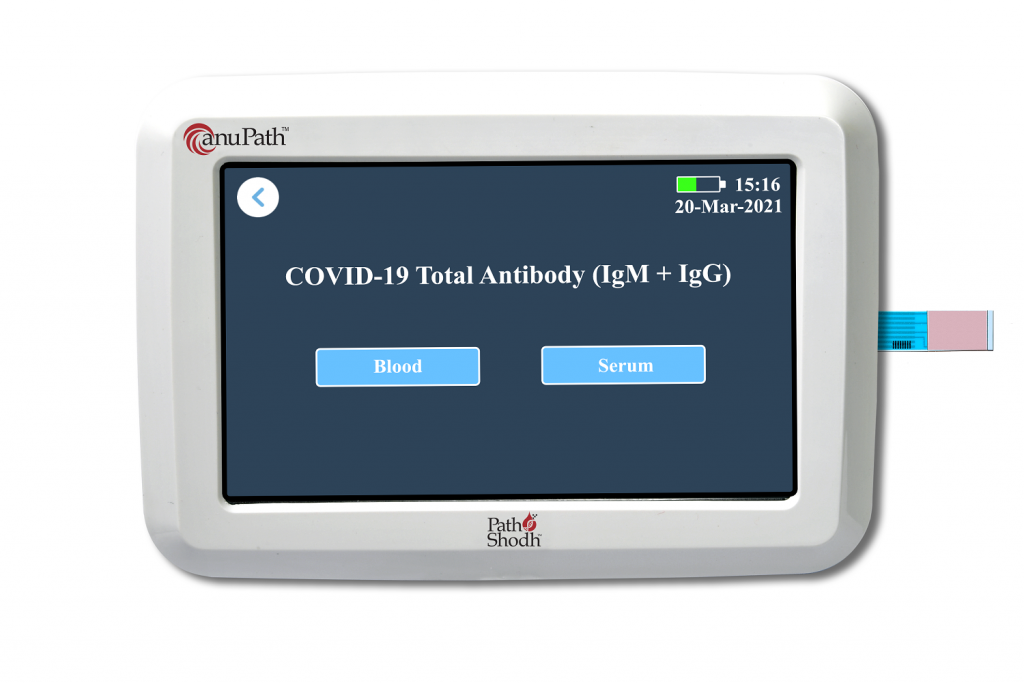 Currently, there are two types of serological tests available in the market. One is a lateral flow ELISA where a small drop of blood and reagent are put on the test strip; if a coloured line appears after a few minutes, it indicates that the person has COVID-19 antibodies. This test, however, is not very accurate and will not show the actual concentration of the antibodies. There are also lab-based serology tests, where large optical analysers estimate the exact antibody concentration, which is more accurate. Bhat elucidates that their electrochemical immunosensing test combines the best of the two – the former's simplicity and the latter's accuracy – and can therefore be taken even to remote corners of the country. Since it indicates one's immunity level against the virus, such a test could also help policymakers decide when a booster vaccine dose would be required.
Waxing and waning interest
For some projects that started last year, another issue was that interest from industry and the general public waxed and waned with the two waves. For example, an indigenous high-performance oxygen concentrator developed by a team led by Praveen C Ramamurthy, Professor in the Department of Materials Engineering, and Bhaskar Krishnaswamy was ready in August 2020 itself. However, during the first wave, there wasn't much commercial interest since there were many imported oxygen concentrator systems in the market. Praveen says that this has changed over the last few months, triggered by the country-wide oxygen shortage. "On interacting with doctors over the last three to four months, we were told that many of the imported concentrators in the market were able to produce 90% oxygen concentration only at 1 litre per minute (LPM). When the oxygen flow rate of these systems is increased to even 4 LPM, the oxygen concentration drops to as low as 35-40%, which makes it difficult to use. The systems end up providing only air, not oxygen, which will do more harm than good."
The concentrator developed at IISc continues to provide oxygen at high concentration (95%) even at a flow rate of 10 LPM. It was also clinically tested and validated at the Bangalore Medical College Research Institute (BMCRI). Now the technology has been transferred to 24 companies and a few of them have already started producing the system; one of them, Reveron Industries, founded by a former PhD student from the same department, has distributed about 35 units to various hospitals in the Tumkuru district. Recently, the Government of Karnataka's Department of Health and Family Welfare has issued an expression of demand to procure about 5,000 units for all primary health centres, Praveen points out.
Like the concentrator, an oxygen generation system was also developed last year itself by an IISc team led by S Dasappa, Professor at the Centre for Sustainable Technologies. The team used their prior expertise in multi-species gas separation to conceptualise the design. The first plant built using this design was established recently at the Pobbathi Medical Centre, Bangalore, where it is expected to generate oxygen at 50 LPM with about 93% purity.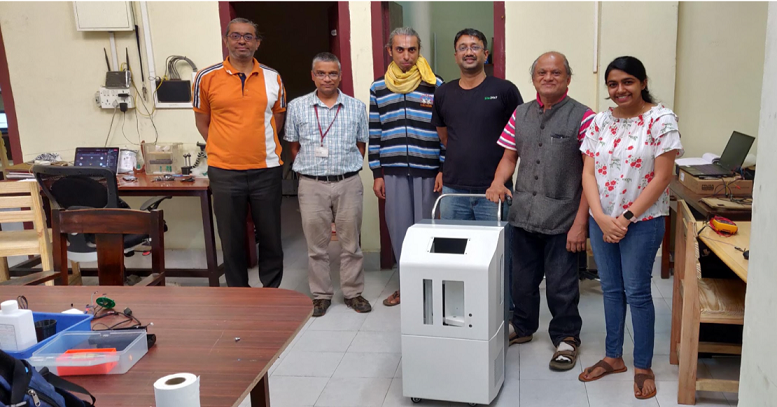 A similar trend was seen even in the development of a COVID-19 vaccine by researchers in the Molecular Biophysics Unit led by Raghavan Varadarajan and IISc-incubated start-up Mynvax. Raghavan points out that after the first wave, people thought that the severity of the pandemic would reduce. Additionally, the general attitude was that vaccines would be easily available since large manufacturers were involved. However, this turned out to be untrue; vaccine shortage became a burning issue during the second wave. "We were able to raise significant investment from private investors only after the severity of the second wave," Raghavan says.
Overcoming challenges
Raghavan also points out how logistical issues have persisted from the first wave to the second, compounded by the multiple lockdowns. Movement of lab supplies and import of materials were restricted. Essential steps like gene synthesis were slowed down. Sameer Kumar Malladi, a PhD student in his lab, adds that there were delays in shipping and getting approvals for many essential materials such as culture media and antibodies, which are used to produce and test vaccine candidates. However, these problems reduced during the second wave, once cargo flights started running.
Supply chain problems also affected the researchers at PathShodh; sometimes delivery of even lab consumables like pipette tips was delayed. "However, the situation has mostly improved now, since the companies which supply raw materials now have a system in place. Even the earlier problems of getting clearance for imported raw materials at customs have been resolved after we explained that they were needed immediately for diagnostics," explains Vinay.
They also had to go through many stages of sensor development while validating the test since the chemistry with actual blood samples was quite different from the standard spiked samples. After suitable optimisation and modifications, the test was fully validated at an ICMR-approved laboratory, and the manufacturing license was issued by CDSCO. PathShodh has now started manufacturing the tests in their own ISO-certified facility.
The lockdowns also posed problems for the other ventilator project, PRAANA. Duvvuri Subrahmanyam, Assistant Professor in the Department of Aerospace Engineering, who was a part of the project, recollects how they practically lived in the lab during the first wave. They also faced difficulties in procuring components. "It was a challenge to get parts from even another part of the city, but we got a lot of help from IISc, the Karnataka government and the Bengaluru police. They issued us emergency passes [to carry out the research] during the lockdown," he recollects. "There were times when we had to go to a distributor's house with a police escort, pick him up and go to his godown, where he would open his shop and give us the components we needed."
The CeNSE team working on the ventilator, for their part, tackled the unavailability of components in-house. "When some components like flow sensors weren't available, our team designed and 3D printed them to integrate with the system. When we did not have access to calibrate oxygen sensors, one of my colleagues, a postdoctoral scholar, calibrated the one we had using their own gas calibration system," he explains.
Despite all these challenges, the researchers say that their motivation to contribute has remained high
Despite all these challenges, the researchers say that their motivation to contribute has remained high. Some had their own 'Eureka' moments. Sameer recollects that when they were testing molecules for vaccine candidates, they found that one of them could stay stable at 100°C, a huge breakthrough for the 'warm' vaccine. "It was a breathtaking surprise."
Even people who were not directly working on the projects were keen to help out in their own ways. Pramod points out how some local manufacturers agreed to make prototypes of their nasal cannula at minimum cost, and how the doctors they worked with showed continued enthusiasm and support. "We were able to set up meetings, often late in the evenings with them, within half an hour despite their being so busy," he says.
Praveen also highlights the support they received from various quarters – particularly from the Society for Innovation and Development at IISc – to procure components, reach out to companies, raise funding, and license their technology. He recalls how the Director of IISc also motivated their team to move forward even when they had just a couple of oxygen concentrator units ready. "He told us to at least get those out into the field, because if we could use them to save even one life at a time, that would be fantastic."
Anoushka Dasgupta is a freelance science writer for the Office of Communications. She has a Master's in Biotechnology from Savitribai Phule Pune University