The Office of Laboratory Safety and Environmental Health (OLSEH) at IISc, barely three years old, is on a mission to bring the 111-year-old Institute's safety practices up to global standards. CONNECT caught up with the Chair of OLSEH, Sushobhan Avasthi, Associate Professor at the Centre for Nano Science and Engineering, who spoke about the setting up of the office, teething troubles they faced, learnings from the 2019 accident, COVID-19 and more.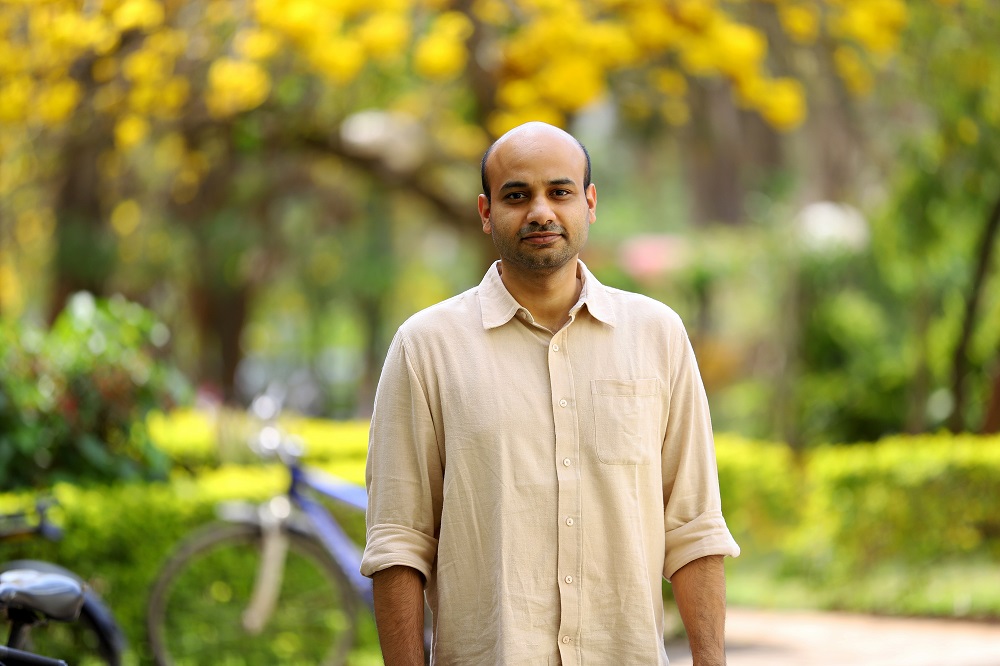 What prompted the setting-up of OLSEH?
It was a realisation that safety was an issue. It was highlighted in several ways, the starkest was the accident that happened a few years ago when employees of a start-up company were injured and there was a fatality.
A lot of foreign collaborators, especially students, also mentioned the lack of safety standards as one of the deterrents for visiting IISc. These systemic issues needed to be addressed.
What caused the explosion? What are the lessons learnt?
The Institute formed a committee under the leadership of Prof Vikram Jayaram [to investigate]. The short version is that there was a cylinder with a mixture of oxygen and hydrogen that exploded. There were several oversights.
An important lesson that the Institute learnt was that policy is important. Until then, IISc did not have a safety policy. If something is being done in an unsafe manner, who is responsible? Where does the buck stop? What are the rights and responsibilities of the student who is doing the experiment? What are the rights and responsibilities of the faculty member, the Institute and the administration? Now, there is a safety policy. It also provides authority to OLSEH to prevent unsafe practices.
Secondly, safety was not part of experiment design. At best, it was just an afterthought. There were issues at the department level also. For example, certain departments did not have any safety equipment, fire alarms and fire detectors. There are some newer buildings that have these systems, but nobody was identified to maintain the equipment. Several of these lacunae have been addressed.
What were the challenges that the office faced while it was being set up and what continues to be a challenge now?
No such office existed in any other academic institution in the country, at least not with such a wide scope. There was no blueprint per se, for setting up OLSEH and for what its structure should look like, what its methodology should be. We didn't even have a clear idea of how many safety officers we would need. We started with three.
We had to hire people who had worked in the industry. The problem is that industry safety standards and related issues are very different from that of an academic campus. For a business, the possibility of an accident is built into their business plan. An industrial workplace is known to be a risky environment. As an academic institution, our risk appetite is much lower because we are dealing with students. When people seek admission in IISc, they don't expect any risk.
Once the office was set up, we had to figure out the Standard Operating Procedures (SOP). For a 111-year-old institute that has not looked at safety very closely, there was a lot to do. Where do you start? Everything you pick up can be its own thing. So, we had to prioritise.
One of the more successful initial efforts were the self-audits. The faculty members were required to submit a checklist of what labs they have, what are the various hazards in these labs, whether these hazards were addressed or not, and what it will take to address them. This data was collected, and we realised that we have a little over 600 labs on campus with more than 400 Principal Investigators (PIs), each with multiple issues.
The self-audits highlighted the two biggest challenges we had. One is fire safety and the second is gas cylinders. Those two became the priority items and we started from there.
Does the office conduct department or lab audits? How often?
We have started doing comprehensive division-wise audits. These are organised by OLSEH but done by an external agency. We hired a company called Luxa Control. They have audited the divisions of Biological Sciences, Interdisciplinary Sciences and Electrical, Electronics and Computer Sciences. We are going to start with the Division of Mechanical Sciences soon.
We also do internal audits where the safety officers themselves conduct spot inspections of various labs. We adopted a targeted approach where we identify the priority – say, gas cylinder safety – and we audit that. We go across the entire campus. We did this exercise over one and a half months and fixed all the major issues regarding gas safety. Then, we do the same thing with chemical safety. In that manner, we pick a mission, as we call it, every month and we focus on it for a month. As the office grows and the number of hazards comes down to a manageable level, we will conduct an OLSEH audit every six months to a year, and an external audit once a year.
What were some of the findings of these audits? Were there any patterns that emerged – similar things that most departments did or didn't do?
There were many fire safety violations. We have 8-11 fire hydrant systems and out of those only two or three are functional. All the rest have issues, are completely defunct or in various stages of disrepair. The fire panels, which connect to fire detectors, were functional only in one or two departments. Individual faculty members had sometimes taken the initiative to do ad-hoc things in their own labs, but at the building level there was only one functioning system.
The second pattern is gas safety. For instance, if I ask a community member, "how many cylinders does your lab have?" in general, people underestimate that number. Six months ago, it was very common to find gas cylinders not chained or restrained as they are supposed to be. I am happy to say that when we now visit labs, 80-90% of the cylinders are restrained and labelled. Gas cylinder safety has improved significantly.
The other thing we realised is that personal protective equipment (PPE) – safety glasses, goggles, face shields, gloves, and so on – are invariably underutilised. We are trying to fix this by educating people about the importance of PPE. The safety policy currently states that the PI of the lab is responsible for safety in that lab. He or she establishes a rule and students are supposed to follow the rule. While this is clearly mentioned in the safety policy, I don't believe that the community has digested that completely. There is a school of thought that safety should not be the responsibility of the PI but of OLSEH or the Institute at large.
There is a school of thought that safety should not be the responsibility of the PI but of OLSEH or the Institute at large
How often does the office conduct safety training/awareness sessions and safety/fire drills?
Right now, we organise a safety lecture every time new students come in. However, once per student is clearly not enough.
We are in the process of starting an online safety test. Currently it is in the pilot stage; you can find it on our website. This safety test will be required for anyone who wants to enter a lab. It will have different modules depending on what hazard you expect in the lab. Fire drills are an important part; they are currently not being conducted because there is no infrastructure. We are trying to create that infrastructure. Once it is in place, we will conduct fire safety drills more actively.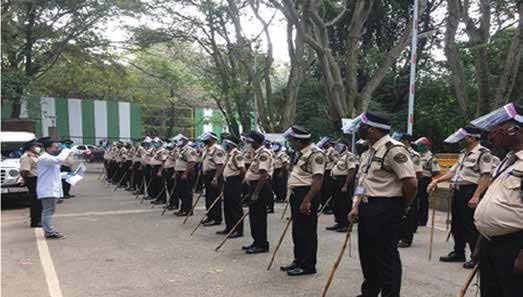 As a research institute, IISc is likely generating a large amount of research-related waste each day. How does the Institute ensure that this waste is disposed of responsibly?
Before OLSEH got involved, the waste management system was completely ad-hoc. In the new system that we have implemented, the waste is only sent to vendors who have a certificate from the Karnataka State Pollution Control Board (KSPCB). That is how we ensure that it is disposed of responsibly and does not harm anyone down the line.
At IISc, there is a heterogeneity of waste. It is not easy to find a vendor who is qualified to manage all types of waste. So, we have to collect over multiple trips. Some waste, like radioactive waste, is not easy to dispose of. Thankfully, we have a very good system in place for it. It is collected on a dedicated landfill. We make sure it has gone beyond its half-life and is not active anymore and then it is disposed of.

There is waste we cannot dispose of responsibly, for example, toxic gas cylinders. Apparently, we can get toxic gases in cylinders, but there is nobody in India capable of disposing empty cylinders carrying toxic gases.
What role has OLSEH played in helping the IISc community deal with the COVID-19 pandemic?
The Security Office and OLSEH are the two executive arms of the Institute to implement things on the ground. There is a COVID-19 committee that comes up with the policy and framework, but somebody has to be on the ground to implement them. For quarantine facilities, a lot of the procedures for collecting and disposing of their waste were written by OLSEH. Similarly, for labs, the initial drafts outlining the requirement for how many people can be there in a lab, what should be the social distancing norm, and so on, were done by OLSEH. OLSEH conducts spot inspections for quarantine facilities. One of the safety officers regularly goes to these facilities and makes sure that things are being done according to policy.
Training of the people in those facilities itself was challenging. We had to teach people the protocol for going into such a facility – how to wear PPE, and where to dispose of used PPE. We also gave training to security personnel on how to manage their personal safety while they are dealing with COVID-19.
OLSEH was also involved with the COVID-19 testing centre at CIDR (Centre for Infectious Diseases Research). We do weekly audits. The safety officer goes there to make sure that CIDR is working in a manner consistent with the protocols.

What new plans are the office working towards?
A lot of problems have accumulated over many, many years and the only way to resolve them is to tackle them one at a time.
We are developing a protocol for emergency response; it will take some time because there are several levels to it. All the fire infrastructure is now the responsibility of OLSEH. Everything will be under a maintenance contract so that they are functional and well-maintained.
With waste management, we are almost there – about 80% of the way. We will have centralised waste sheds. We will soon have a streamlined SOP for hydrostatic test of gas cylinders.
We are also coming up with a definition of high-risk labs. After defining them, we will come up with procedures for these labs and audit them frequently.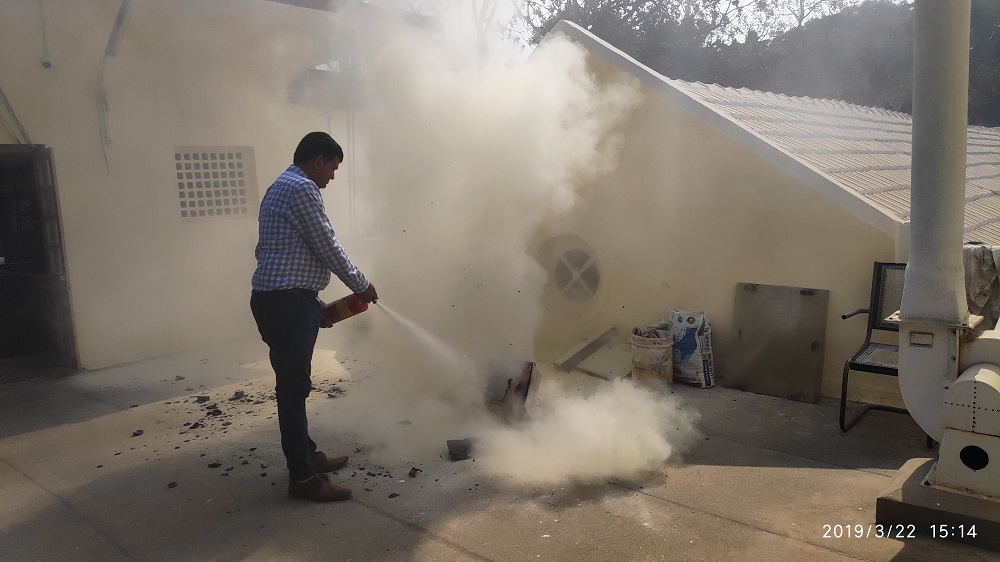 What should one do in case of a major fire or a lab incident?
Assess the severity. If the problem is beyond your capacity to contain, just get out safely and inform the Security on the emergency number 5555 [080-22935555]. This connects you to the control room of the Security Office. Else, contact a security guard, they will inform the central control room. The control room will react and if needed, call an ambulance and fire truck.
If the problem is beyond your capacity to contain, just get out safely and inform the Security on the emergency number 5555
Emergency response is something that we are in the process of improving, on a priority. OLSEH coordinates with two other offices: Health Centre and Security. We have recently started informing the Health Centre about the hazards on campus so that they can stock the requisite first aid. Independently, the Health Centre has hired a new fully featured ambulance: "ICU-on-wheels". The ambulance has a trained paramedic who can assess the situation, provide immediate medical intervention, and if needed, directly go to a trauma centre. The Health Centre has also drafted a new SOP to manage medical emergencies. We are assessing if more equipment or infrastructure is needed. Special thanks to Dr Satish and Dr Neethi for helping us in this effort.
The Security Office is also part of the emergency response. Initially, department guards had no way to communicate with the Security Office. They now have access to walkie-talkies and phones. We didn't have an emergency number, now, we have one. Next week we shall visit the local Fire Station with Mr Jayaraj, Assistant Registrar (Security), to discuss responses from the Fire Department. We shall soon conduct training for basic emergency procedures, like CPR. We will also draft an emergency response team from the personnel in the Security Office.