Owners, students and faculty share their stories of IISc's eateries

Anindo Roy stood aghast as the excavator pulled down Prakruthi Veg, considered by many an iconic canteen in the campus. "It didn't feel good. It was like the main building suddenly disappeared," the PhD student of Materials Engineering says. "All the alumni I speak to ask about Prakruthi. It was a landmark." Roy is not alone. Many students in IISc echo his sentiments.
In a research institution, where life can get pretty hectic and sometimes monotonous between taking courses, performing experiments, discussing projects, writing papers and applying for grants and fellowships, one thing that adds flavour to life is a place to speak your mind while treating your taste buds. The eateries in IISc provide just the right ambience for such a union.
From sipping coffee on a rooftop while discussing a project to laughing over a plate of pakoras till your stomach hurts, the cafés and restaurants on campus offer a range of experiences and choices. These eateries are also spread out across the campus, making it easier for people in different parts of the campus to catch up.
On the south-western side of the campus is the Sarvam complex, which has a bakery, a vegetarian café, a juice centre, and a restaurant. On the north-western side are tea stalls located in different buildings – CeNSE, Biological Sciences and Physics – and a canteen near the Department of Aerospace Engineering. A few yards east from these is a newly constructed building which currently houses a supermarket, a bakery, a tea stall and a restaurant. The newest addition to the campus is the IDC mobile canteen located at the southern end of the campus.
Just like how these eateries are located in different parts of the campus, different people have their own go-to place for a quick escape from their lab work or to unwind after a hectic day. These are also great places to share thoughts, discuss ideas, foster collaborations and troubleshoot experiments.
Many students whom CONNECT spoke to agreed that apart from being places to socialise, these eateries have also provided a space for discussions that have helped fix problems they faced in their experiments.
Apart from being places to socialise, these eateries have also provided a space for discussions that have helped fix the problems they faced in their experiments
A PhD student in chemistry explained that just talking about experiments in a non-work setting can provide a different perspective. "Many times, the solutions click as you articulate the problem, even without others' help," the student adds.
"Interactions over chai or coffee have been crucial in building a good rapport with the lab members," says Mohit Kumar Jolly, Assistant Professor at the Centre for BioSystems Science and Engineering. "It also provides a much-needed mental break."
Dipankar Nandi, Professor at the Department of Biochemistry, concurs. "I prefer such settings, as lab members and colleagues are more comfortable discussing non-science matters outside the lab – it can be revealing as well as therapeutic," he says.
Yadla Shree Chaitranjali, an integrated PhD student in the Division of Biological Sciences, says that these eateries are "the only sociable places for our socially challenged community." With COVID-19 and the lockdown forcing many of the eateries to shut shop, she points out how the pandemic has taken away even these social experiences.
People behind the places
Before COVID-19 forced many places shut and turned the campus into a quieter place, it had many eateries. While most of these cafés and restaurants are run by individuals or families, some of them are units of corporations. The people and the organisations behind these eateries are also quite diverse.
The Sarvam complex, which opened in 2019, is now the largest food hub in the campus with four eateries spread across a food court overlooking a lush green space canopied by trees. This is now the place where most students come to unwind. It helps that it is located close to the hostels.
While SAANVI Star – the veg and non-veg restaurant in the complex – is an outlet of a corporate chain of restaurants and catering services, Sai South Grand – the veg café located just a few steps away – is an entrepreneurial venture.
When Ramesh T, who was working with SAANVI Star in Mumbai, decided to move to Bangalore, the restaurant's director asked him to run the operations in the city. Currently, the only branch is the outlet in IISc. Ramesh comes to the campus at 8 am and leaves after closing the restaurant at 10 pm. The restaurant serves delicious vegetarian and non-vegetarian dishes from North Indian and Chinese cuisines.
"Most of our clients are corporate companies and banks," Ramesh says. "IISc and IIT Bombay are the only educational institutions where we have a presence now."
A few steps away from here is Sai South Grand – a new venture run by Parikshith MS, a corporate employee-turned-businessman. "I must say that I am blessed to be able to open a café in IISc," he says. "As my first venture in the food business, this has been a place of learning for me: interacting with customers and delivering what they need." In contrast to his mundane life in the corporate world, Parikshith now has his hands full running this café and two other canteens that he later opened in a neighbouring institution. His morning routine involves visiting the kitchen in IISc before the café opens at 7.30 am, then going around to the other canteens and seeing if the operations are smooth, and returning to IISc to shut shop at night. At his cafe, ginger tea and masala dosa are the favourites, he says.
He is all praise for the campus community. "The customers in IISc are a class apart," he says. "The students are prompt. They never fail to pay for the services. Even if, for any reason, they are unable to complete the payment on a given day, they come back and ensure that they complete it the next time they visit the café." Parikshith also says he feels proud to be of service to some of the "unsung heroes" of the country – scientists who are stalwarts in their fields – who walk into the café for a cup of chai or a snack.
On the other side of campus, in the first floor of the new building housing the supermarket, is Bun World bakery – part of a chain of bakeries in Bangalore. Sheshadri, a 77-year-old who has been in the bakery business for a long time, started this branch three years ago. "All my children are settled and well-to-do. I run the bakery here to keep me occupied in my retired life," Sheshadri says. He resides in the campus with his son and family. This is one of the few places that was permitted to reopen early on after the lockdown was relaxed.
For Sheshadri, customers are like family, friends and well-wishers. "I don't run the bakery just as a revenue generating business," he says. "I care for the people who come here and I think they care for me too." Echoing Parikshith's thoughts, he is all praise for the members of the community for their promptness with the payments.
Along with Sheshadri works Kumar, a helper at the bakery who greets customers with his broad smile and brightens their day with chai or snacks. He has been working with the bakery chain for nearly 20 years now.
Hit by the pandemic
Just above the Bun World bakery, on the second floor, is Tattvah – a restaurant run by Abdul Khalid and Shakun Rakheja since 2018. "Back then, we were the only restaurant on campus apart from Prakruthi (Nesara was shut for renovation at the time), and business was good," Khalid says. But as several other eateries opened up, life became difficult for them. The business initially started taking a hit, but the conferences and seminars that were organised on campus kept them afloat. Besides, they would manage with profits from their catering services outside the campus.
"Then, COVID-19 came along and we were asked to shut down. And now that has taken our lives back by about 15 years," Khalid says. They hope that they will get permission to reopen soon and, when they do, some support from the institution in the form of a discount on rent or increasing the cap on the menu prices.
COVID-19 came along and we were asked to shut down. And now that has taken our lives back by about 15 years
A short walk from this building, next to the Department of Aerospace Engineering, is a canteen run by Venkatesh. "I used to work in a company that was catering for different events in IISc. So, I have been associated with IISc since 1997," he says. Eventually, he started his own venture, and two years ago, the aerospace canteen. "Although it is difficult to run the canteen paying the kind of rent while keeping a cap on the menu prices, the catering services during seminars and conferences are really helpful," he says.
The canteen seems to have been a hit among the students in this part of the campus until it was forced to shut down due to the pandemic. The aloo paratha and mini meals were the best sellers. "We used to discuss problems related to turbulence there," a PhD student of Aerospace Engineering says. Venkatesh, too, hopes that he will be able to reopen the canteen soon.
Another eatery that has suffered because of the pandemic is the tea stall in the Biological Sciences building run by CB Veeresh, who has a long association with the campus – about 18 years – and his wife Jyothi CB.
He came to IISc as a helper at Janata Bazar bakers. Shortly after, he started his own venture when he was asked to set up the Tata Nandini Milk House, where he delivered milk from door to door and served tea and coffee at the shop. Then he got married to Jyothi, who hails from Byadagi, and together they expanded their business over time.
When the new Biological Sciences building opened, Veeresh and Jyothi saw the opportunity to expand further. "We saw that many students relied on snacks for breakfast, and even lunch sometimes, and we started to prepare some food at home and bring it over," Jyothi says. The unseen hands that prepare the delicious idlis, paddus, tamarind rice and pulao are those of 'Ajji' (Jyothi's acquaintance). These dishes are a lifeline for those who have skipped breakfast to attend to experiments in the morning or couldn't pack lunch for the day because of a hectic morning schedule.
The patio where their cart is set up also seems perfect for the students in the building to catch up and discuss their work. "Before the lockdown, we used to have long discussions about our projects over a few cups of tea or coffee," Upasana Gupta, a visiting PhD student in Biological Sciences, says. "It was much easier to get in touch with people who could help us out in our project, especially during peak tea-times when many students from different labs were out. Just a 'hello' and small talk could set the ball rolling.
But with the lockdown forcing them out of business, Veeresh and Jyothi headed back to their hometown and long to return and resume their business.
"Life was good in IISc," Veeresh says. "Aadre Corona bandu yella haalaagi hoythu [But then, coronavirus came and everything got ruined]." To make things worse, their son had to undergo an expensive surgery in November last year. Thanks to some well-wishers who shared their burden, they could get the surgery done and return to their village.
Memories of old eateries
Even before the lockdown forced people like Veeresh and Jyothi to close down, the number of places to eat on campus was already dwindling. Students who have been in IISc long enough will tell you of a campus with more vibrant canteens and great food. They miss the old places – Nisarga, Kabini, Prakruthi and the Gym café, all of which are now completely shut down. Many favoured Kabini for the budget-friendly food that wouldn't drill a hole in your pocket if you missed a meal in the mess.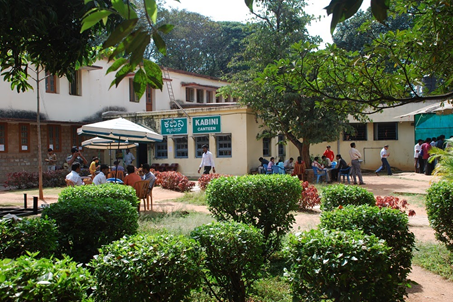 "I remember my initial days at IISc when places like Kabini and Nisarga were still functional. Catching up with lab mates over a meal was like an icebreaker. Being outside the lab, especially over an hour-long lunch break, somehow brought out the casual sides of even the most reserved of us," Gupta says.
The two places that top this chart are Prakruthi and Gym café. "The first thing that comes to mind when you think of Gym café is the birthday bangs," says Chaitranjali. "It used to be 'the spot' for cake cuttings. Besides, its location was ideal to feed all the hungry souls coming from the gymkhana and the adjacent grounds, especially for those who would indulge in extra play time and miss out on mess dinner.
Many students also miss the Gym café mainly because it was the only eatery that would be open past midnight to satiate the late-night cravings of tea-lovers. The ambience was also quite lively with students singing and playing guitars, and the occasional game nights, while enjoying the food from the café.
"It was also the place where our campus 'Romeos' invited their crushes for a casual late dinner before they could gather some courage to ask them out," Chaitranjali says.
Sushma Indrakumar, a PhD student in the Department of Materials Engineering, recalls how they were the "lucky department" that was placed right next to Prakruthi. "I have had the fondest of memories there; from dragging friends for a break to striking deals over coffee, it was 'the place' to be," Indrakumar says. "Now that Prakruthi is gone, this is something I miss so much … having a place that truly serves the purpose and a place that we call our 'adda.'"
Joel P Joseph is a PhD student at the Centre for BioSystems Science and Engineering (BSSE) at IISc