On 14 December 1973, G Ambiga joined IISc's Health Centre as Staff Nurse, after serving in Tamil Nadu's Chengalpat Medical College Hospital and the Government Thiruvateeswarar Tuberculosis Hospital. She spent 28 eventful years at IISc, and is known for her outspoken nature and wealth of stories about her experiences working at the Health Centre where she was 'in-charge' for 16 years, her time as President of the SC/ST Employees' Welfare Association, and the famous people she met while working for the Institute – including former Prime Minister Indira Gandhi and Ramakrishna Hegde, the former Chief Minister of Karnataka. In this interview, she shares a few memories of her time at IISc.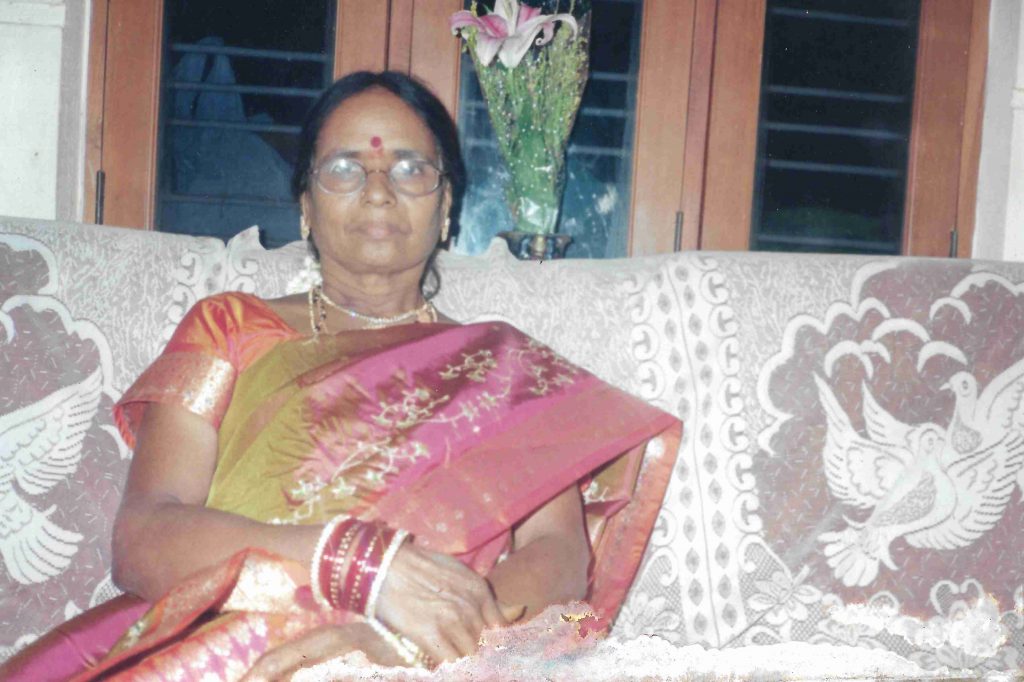 What brought you to IISc?
IISc had advertised for the position of Senior Staff Nurse, which required applicants to have experience of five years. Since I had the required experience, I applied and went through the selection process. Though I met the criteria for the post, the Institute offered me the position of Staff Nurse instead. I was disappointed initially. But later, I felt that this was an opportunity to serve a prestigious place, so I took up the job. I continued as Staff Nurse, thinking that I might get promoted to Senior Staff Nurse in a few months or a year. But no, that didn't happen. I was promoted much later – after 23 years, in 1996!
What did the Institute and the Health Centre look like when you joined? And how has it changed over the years?
Upon receiving my appointment letter, I was excited and I couldn't wait to join. IISc has a very beautiful campus: it was calm, green, and people were down to earth, especially students and faculty. This campus always looks good to me. Now, of course, we have more buildings and students. But the greenery still makes the campus pleasant.
Back then, the Institute allowed outsiders to enter with visitors' passes. I met Shri Ramakrishna Hegde, who visited the Institute regularly for morning walks, that way. I ran into him several times on the way to my morning shift. Since I lived in the quarters, I used to walk to work. I once asked why he came to Institute for a walk, to which he said, "IISc is such a beautiful place and everyone wishes to come here. It is the only place in the city where you get pure oxygen!"
When I joined Health Centre, it was much smaller: it was only half as big as it is now. TB Subba Rao was the Chief Medical Officer (CMO) at the time. We were all permanent employees then. Only in the last 15 years, the Institute began appointing people under contract or on a temporary basis, which I am against, because a place like this needs permanent staff. The Health Centre is an important part of the Institute and we need dedicated people working there. Students come from all parts of the country and live on campus. It is our responsibility to take care of them.
In those days we had only four boxes of medicine to treat people with. Now I see that the Health Centre has grown very big and looks very neat, with more doctors and facilities. It is cleaner after renovation and I like that they have expanded the in-patient facility for the IISc community.
I once met Shri Ramakrishna Hegde, who used to visit the Institute regularly for morning walks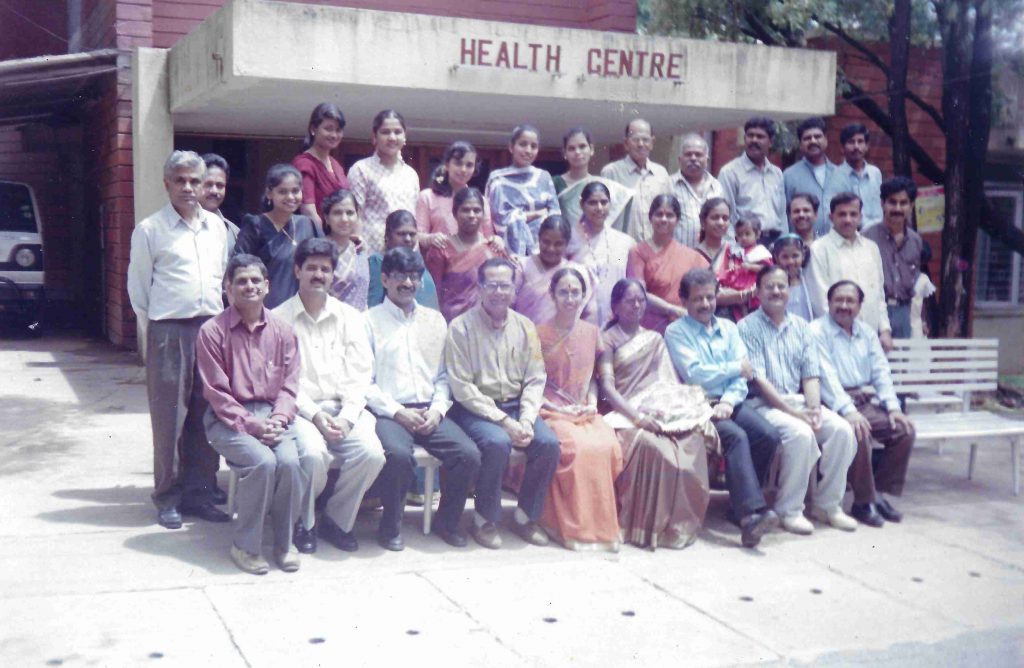 Is there anything in particular you remember from your time at IISc?
There were many things that were memorable. The Health Centre had barely any facilities then, especially for patients who were admitted. On my first day at work, I wished a patient good morning and asked him a few questions: "Did you sleep well last night? Did you take your medicines the previous night? Did you have breakfast and coffee? How are you feeling?" It was a practice I had picked up at my previous job. Immediately, the patient got angry and shouted at me, asking me why I was asking him so many questions. He later said that he lived near Nelamangala and that his daughter-in-law would be bring him coffee and breakfast by 11 am.
I felt bad, because the Health Centre didn't provide food to patients who were admitted. I later had a discussion with my colleagues because I felt that we should do something about this. And I started arranging for refreshments from my house: I used to bring coffee and tea. We didn't have many patients, only five or six at a time.
I wanted the administration to address this issue, and so I contacted them. I also met with the Director, Prof Satish Dhawan, regarding this. We requested the Institute to provide refreshments to patients admitted in the Health Centre. When we raised this issue, Prof Dhawan was surprised and concerned. Immediately, he visited the Health Centre and checked every facility there. He checked its cleanliness, including towels, drinking water, lab, syringe, handwash area and other things. He asked the officers concerned to immediately replace all these items with good quality materials. And Prof Dhawan asked the Hostel Mess to provide food and refreshment services to the patients admitted in the Health Centre. This was one of his best initiatives. I was touched by his gesture.
Could you tell us more about your interactions with Prof Dhawan?
I felt he took the Health Centre issue seriously. I wondered why the Director, who was also the Chair of ISRO, had come all the way to our Centre, when he could have easily asked the concerned officers to attend to the issue. He also used to visit each department personally. Despite being a busy man, he was concerned about many things in the Institute. Before he retired, he visited all the departments and spoke to all the employees. People remember him for that. He was such a great man. I am lucky to have interacted with him.
Prof Dhawan asked the Hostel Mess to provide food and refreshment services to the patients admitted in the Health Centre
What kind of ailments did you have to deal with at the Health Centre?
Once, a student had come to the Centre complaining of severe stomach ache. The doctors diagnosed him with appendicitis and chicken pox. The student's situation was complicated: we could not send him to any referral hospital as none would take him into the operation theatre because of the chicken pox. After discussing the matter with our Visiting Surgeon, our doctors decided to perform the operation to remove his appendix at the Health Centre itself, and we were asked to arrange for an operation theatre.
But our existing operation theatre was not suitable for surgery. My colleague, Sister Mara, and I both made the room ready: we cleaned, dusted and fumigated the entire room. The doctor appreciated our efforts.
One more incident I want to talk about is an accident that involved two students riding a two wheeler, near IISc's main gate. One student died on spot and the other was seriously injured. He was treated in other hospitals and when he was out of danger, he was nursed at our Centre for three months. We took good care of him, like he was our family member. We brought him liquid food from our homes to feed him.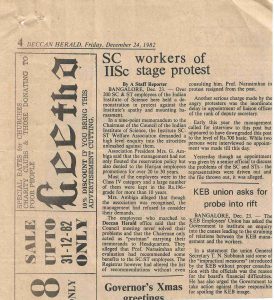 You were a part of the SC/ST Employees' Welfare Association. Was the Association actively involved in promoting the cause of SC/ST Employees?
Yes, I was a part of the SC/ST Employees Welfare Association, for which I had Prof Dhawan's support. I remember fighting for the cause of these employees. I asked the Institute to provide recruitment and better opportunities for them under the reservation policy based on the Government of India's rules.
I met the Council members during the Council Meeting that happened in the Council Chamber. Prof Dhawan didn't get upset about our protest and allowed us to speak with the Council Members. We handed over a letter stating our demands.
Through the Association, we visited the Prime Minister's office to address the issues of SC/ST employees at IISc, and we had a chance to meet Indira Gandhi. I had to face several difficulties during this period.
What were those difficulties?
A few administration officers were against us registering the Association and troubled us in many ways to stop our protest. But our team was strong. They also wanted me to resign as President of the Association. I was once attacked when I was going home after my night shift; somebody threw a stone at me and I was hurt. Prof Dhawan came to know about this incident and arranged for security near my house on campus.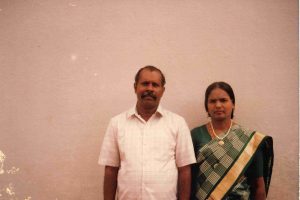 Did other members of your family work at IISc too?
Yes, my husband, TK Raja joined the PhD programme in the Department of Electrical Communication Engineering through Bharat Electronics Limited. He was also invited to serve as selection committee member for staff appointments as an external expert.
Did being here change your life in any way?
After meeting many students and watching them being so dedicated towards their studies, I felt the need to study further. I did a Master's in Sociology and other courses such as Nursing Administration, and attended many workshops on rabies.
I have noticed that once you are a part of the Institute you are recognised and respected. This happens especially when you go abroad. When I visited my elder daughter in the US, I was given special attention from many people. I had several such experiences during my visits abroad.