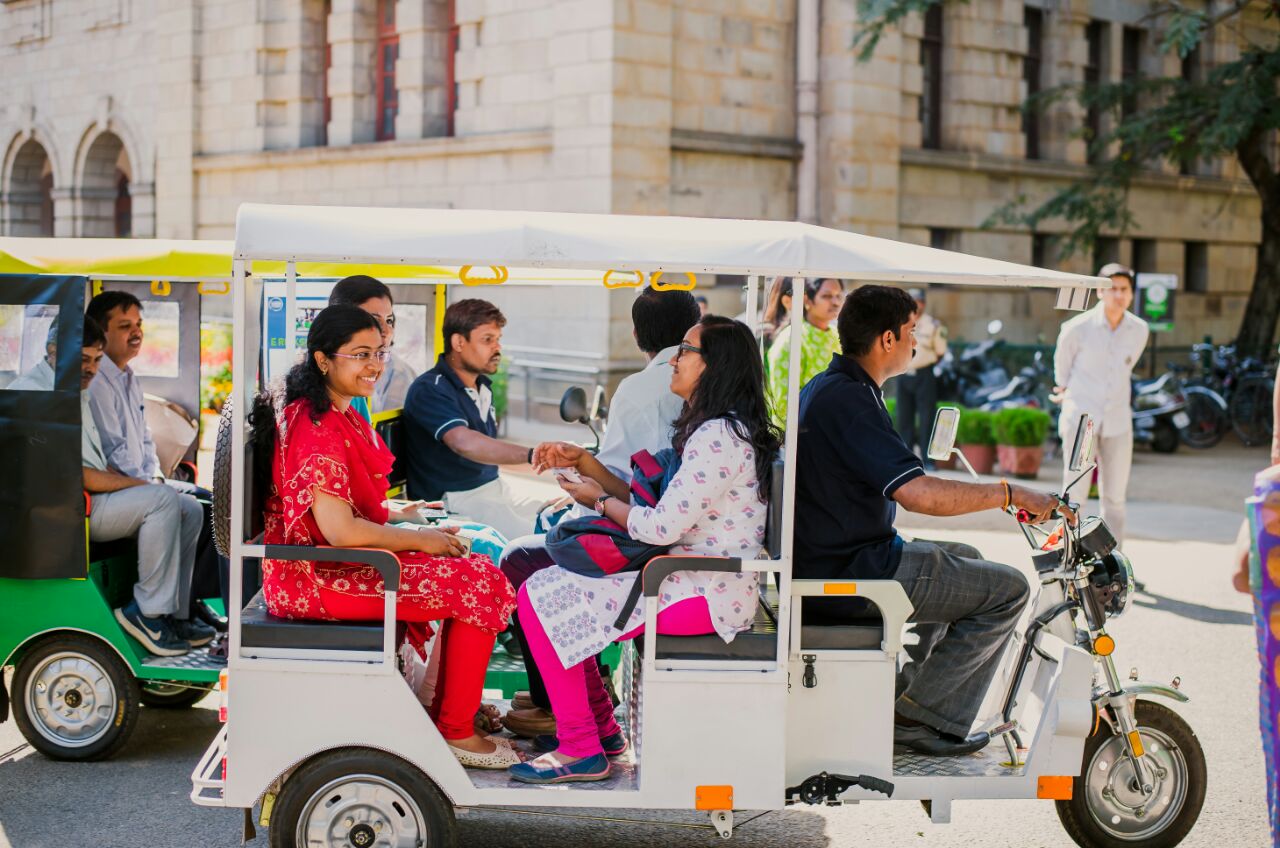 IISc is currently running a three-day trial using electric rickshaws as passenger vehicles on campus. The initiative, which began on 8 March, will continue until Open Day, when visitors to the Institute arrive in large numbers.
The e-rickshaws plying on campus are designed, manufactured and operated by Transvahan Technologies India Pvt Ltd. The vehicles are battery operated and can be recharged by plugging in to a regular electric point. They seat upto four people and run at slow speeds (roughly around 10-15 km/hr), meant for sustainable, emission-free transport within small areas such as the campus of an institution or tech park, or on the grounds of a hospital.
Each of the three e-rickshaws will run on separate identified routes, roughly every half an hour between 9 am and 6 pm (with a 45-minute lunch break from 1.30 pm to 2.15 pm). The trial service is free.
According to SR Venkatesan, the Managing Director of Transvahan, the vehicles are powered by conventional lead–acid batteries and can run for upto 75 km when fully charged. Currently, lithium ion batteries are not being used in order to keep the cost of the vehicle low for mass transport, he explained.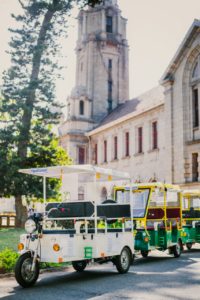 Ashish Verma, Associate Professor of Transportation Systems Engineering at the Department of Civil Engineering, says that his lab provided input in terms of identifying routes for the vehicles, and is collecting user feedback (which can be entered here) on the trial system, in order to move towards better modes of sustainable transport on campus. His lab is also involved in the vehicle rental company Zoomcar's initiative PEDL, a smart cycle-sharing service on campus.
"What I am trying to preach to the city, I want to showcase on our campus," says Verma. Keeping in mind the large number of visitors likely to visit the Institute on Open Day, Verma says 7 additional e-rickshaws will ply on 10 March, and 25 more PEDL cycles will be in use (currently, there are 125 on campus).
Currently, while the e-rickshaws are a greener alternative to vehicles such as cars that run on fossil fuels, they are not a perfect solution. Lead–acid batteries can be harmful to the environment if the lead components are not properly recycled or disposed of. Verma acknowledges that while emissions from electric vehicles might be low and the vehicles do not require fossil fuels in order to run, producing the electricity required to charge them can still require coal. "It is important to look at the entire life-cycle of vehicles, and ensuring complete sustainability raises unanswered questions that we need to think about carefully," he said.