A cell for the Application of Science and Technology to Rural Areas (ASTRA), now Centre for Sustainable Technologies (CST), was created at IISc in 1974 to initiate and promote work of rural relevance as a weapon against poverty. IISc's then Director, Satish Dhawan, who was deeply concerned about science and society, invited Amulya Reddy [a professor of electrochemistry who went on to found CST] to make presentations to the Senate Committee on Research and Academic Policy and design a multi-disciplinary centre which would draw expertise from the various discipline-oriented departments at the Institute.
True to its initial mandate, over the years, the technologies developed at the Centre have not only benefitted the community by building eco-friendly toilets, low-cost houses, providing clean drinking water, fuel-efficient cooking stoves or meeting needs of the farmers, but have also helped policy-makers frame policies at the global level.
To find out how these technologies developed at CST are helping the society, Megha Prakash travelled across villages in Karnataka and Tamil Nadu, where some of these award-winning technologies have been transferred and implemented in partnership with NGOs and the community.
Building technologies
Selva Rani sees the 2004 tsunami as a life-changing event. Before the tsunami, she lived in a thatched hut. But today, she has a comfortable life with her family in her house built using technology developed at CST. Rajendra and Lalitha, a couple who are among the many rehabilitated on the island of Kodiyampalayam, are happy too. They have recently painted their pad to welcome their son's bride. "Moving into this house solved our problem – the rains. Our thatched hut used to leak and the keet (palm-leafed roof) had to be changed once in a while," Rajendra tells me.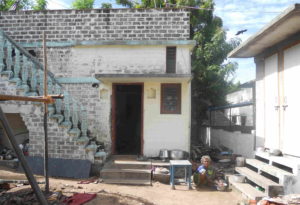 This is one such success story, where a technology that took over a decade to develop is helping the community improve their lives. In Kodiyampalayam, an island 20 kilometres off Chidambaram in Tamil Nadu, this housing and sanitation project was undertaken by CST in 2006. In all, 140 toilet units along with 140 housing units were built for the tsunami-struck fishing community. This project was implemented in partnership with an Ahmedabad-based NGO, Centre for Environment Education.
To scientifically develop this sanitation design for Kodiyampalayam, Monto Mani (Associate Professor, CST), first had to understand the problem. It was not just about building a toilet because the local topography, environment and other challenges on this island were different. The primary challenge was to design toilet units in crammed spaces where the conventional septic tank could not be built due to space constraints. Second, the drinking water table, unlike in coastal regions, was very high (3-4 ft) in this region, and hence the design had to be such that the water is not contaminated. After much thought and a year, a suitable toilet unit design was proposed.
What makes this design unique, according to Mani, is its functionality even in a flood-like situation. The toilet units are built on a raised platform, where the C-shaped septic tank is divided into two compartments – unlike in the conventional design. Also, these structures can be built in congested spaces using locally available construction material without skilled labour. "The design was scientifically developed to dissipate water close to the ground surface instead of into the ground where it risks ground water contamination", adds Mani.
This improved toilet design, which was patented, later received 'best practices' recognition and a letter of commendation from the Suez Environment-Water For All Foundation (a French multinational company) as one of the top four designs or technologies that support safe water.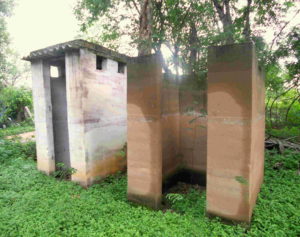 The housing structures, including the toilet units, were built using rammed earth technology developed by BV Venkatarama Reddy (Chairperson, CST and Professor of Civil Engineering). But designing was a problem because local construction materials weren't readily available, and because of salinity and coastal erosion.
To solve these problems, fly ash, a by-product from a nearby coal mine, was used as the material to build the blocks – minimising the use of steel and hence reducing structural corrosion.
The villagers were also trained to use the manual press machine to make fly-ash blocks and cure their own homes. As a result, each housing unit was built in 6-7 months. For all these reasons, Reddy says, the housing project in Kodiyampalayam is an excellent example of community participation.
But, because problems and requirements vary from region-to region and community-to-community, implementation becomes challenging. For example, the sanitation requirements of the villagers of Pallerayanahalli, a village close to Ungra in Kunigal taluk of Tumkur district in Karnataka, were different from those of the residents of Kodiyampalayam. Though the water table in Pallerayanahalli was low, the community wanted wet toilets. Based on this understanding, eco-san (a toilet technology) prototype was developed at CST's Ungra Extension Centre.
A hit among urban planners and architects
Since then, both the rural housing and sanitation designs developed at CST have been replicated and are being used by several eminent architects in the country. More recently, 350 villas in Good Earth's commercial venture, the Good Earth Malahar housing project in Bengaluru, were built using the stabilised mud block technology developed at CST. Besides the technology, the machine, ASTRAM-10, used for making the mud blocks is now commercially produced and sold.
According to Reddy, more than 100, 000 independent buildings have been built so far using this alternative building technology – resulting in 2.5 to 3 million tonnes of carbon savings.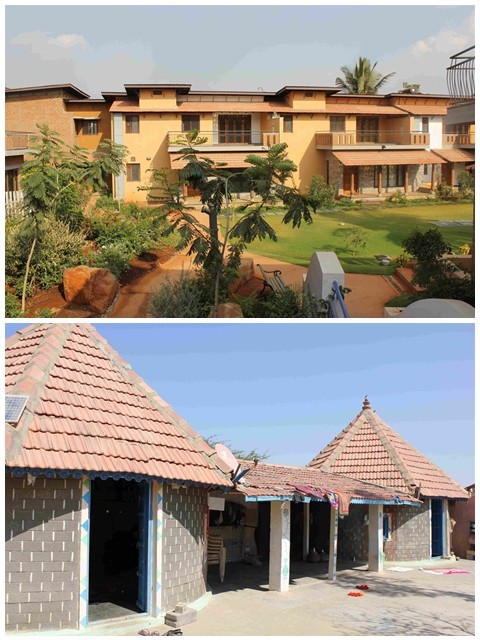 Bio-energy and gasification
Another area where CST has had expertise for long is bio-energy and gasification. In 2015, HN Chanakya's (Chief Research Scientist, CST) design of a novel biogas reactor gave further impetus to the Centre's work on bio-energy, bio-methanation and wastewater management. Highlighting the uniqueness of the bio-gas reactor, Chanakya says that the reactor developed by his team can use plant or agriculture waste, and not just cow dung like a traditional gobar gas plant. It can also use the digested residue as a substrate to grow mushrooms (about 2.32 kilograms of mushroom per kg of the substrate).
On the other hand, S Dasappa's (Professor, CST and CGPL) work on thermo-chemical conversion of biomass has led to development of various technology packages, and these products have been successfully commercialised through technology transfer. For instance, General Electric (GE), which in 2015 licensed the biomass gasifier technology that generates electricity from agro-waste and wood from IISc, will help Phoenix Energy set up power plants in California, USA.
Creating a livelihood
During demonetisation the farming community was threatened. Crops were ready for harvest but largely remained untouched as farmers found difficult to pay cash to farm labourers due to currency shortage. In this time of crisis, CST's fuel-efficient ASTRA vegetable and fruit drier came to the rescue of many farmers. In Pandavapura taluk of Mandya district, Karnataka, this innovation is helping not only farmers and farm labourers, but even rural womenfolk earn a livelihood through it by forming self-help groups. This technology has been taken up by Technology Informatics Design Endeavour (TIDE), an NGO, to extend its reach to the farming community in Karnataka.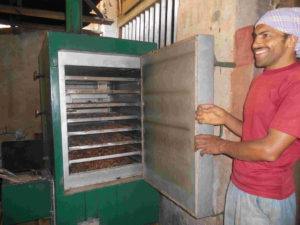 According to HI Somashekar (former Technical Officer, CST) this technology has met with huge success in and around Sirsi in Uttara Kannada district. "The technology completely dehydrates vegetables, fruits, spices, and even fish and prawns while retaining their nutrition levels and flavours before packaging them in powdered form and can be readily used in preparing dishes like sambar, pickles, pulao, or curries, with their natural flavours intact," says Diwekar Bhat, who has been using this technology to dry areca nut in his farm in Sirsi.
Serving the cooking needs: ASTRA OLE
From finding place in community kitchens to schools and houses, ASTRA OLE is both energy and fuel-efficient. In partnership with IORA Ecological Solutions Pvt. Ltd., an NGO based in New Delhi, CST has been training young boys from villages in rural technology like fuel-efficient cooking stoves (ASTRA OLE), sanitation, rammed earth stabilised mud block technology, ASTRA drier among others. In less than a year since the training programme began in 2016, more than 10 young boys were trained at IISc's Challakere campus – they are now working in 25 villages in Sirsi, where they have built 20 cooking stoves and six bath water heating stoves.
"The stove cost us Rs 2,500, including labour, making charges and locally procured raw material," says Keshav Marya Nayak of Shigehalli village in Sirsi tehsil of Uttara Kannada district. Nayak saw this stove in the home of Kiran, one of the trainees at CST. For Chandrakala, another user of the cooking stove since June 2017, life is a bit easier now – cooking time has reduced, and she now has more time for other chores and for her family. "I have to collect less firewood, there is no smoke, no soot, and hot water can be used for washing vessels, bath and cooking," says Chandrakala, listing the advantages of having an ASTRA OLE.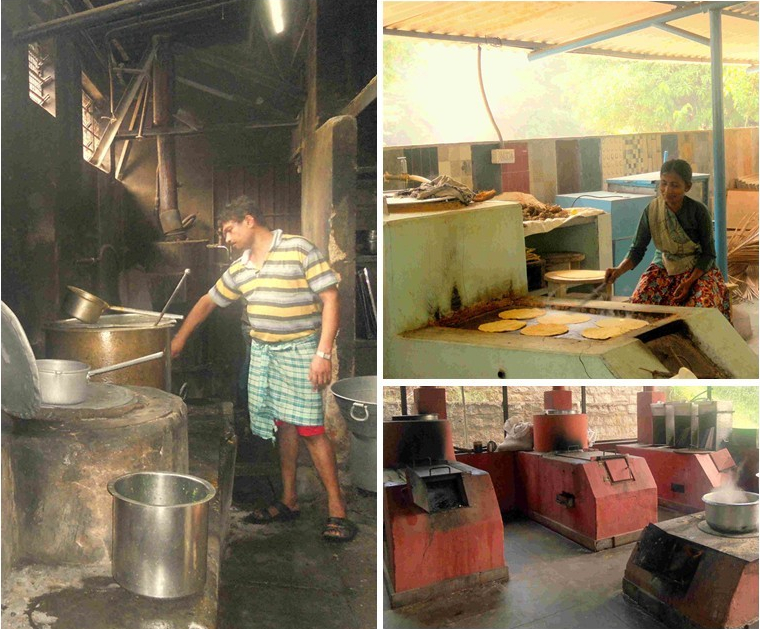 ASTRA OLE cooking stoves are now used at commercial and non-commercial establishments. An ashram in Kengeri on the outskirts of Bengaluru, for example, serves 150 hot meals daily on an average, all cooked on ASTRA OLE stoves. The Valley School, Bengaluru, which has 7 cooking stoves, serves 500 meals per day and are completely off LPG cylinders. And a jaggery park in Mandya too uses a modified version of the stove. Vishnupriya Hotel located on Commercial Street, Bengaluru, has been able to reduce the number of commercial LPG cylinders they use from 100 cylinders a month to 20-22, while Huliyappa's Donne Biryani in Yelahanka, Bengaluru, find the ASTRA cooking stove an eco-friendly option and dish out around 500 plates of chicken biryani daily. ASTRA OLE also allows Nandakumar, owner of a hotel in Devanahalli, to slow-cook traditional recipes for flavour and nutrition.
Technology adoption
"Fortunately, the villagers in the areas where we worked developed faith in the solutions we offered," says Reddy. The technologies developed at CST are a work of labour and time, many of them took decades to develop, and the process continues even today. While these technologies have made a difference to the lives of many living in rural clusters, their reach is still limited to a miniscule number of people in the country. The reason why CST has not been able scale up, according to NH Ravindranath (Professor, CST), is lack of will or interest on the part of the government agencies to adopt and disseminate these technological solutions to a larger population.
Moving into the future
Punit Singh (Assistant Professor, CST) is currently engaged in implementing a project in Chhattisgarh for an un-electrified tribal village situated in a forest (Bastar district), but blessed with a gradually-sloped perennial stream. He has designed, manufactured and tested an innovative low head hydro-turbine integrated to a generator and pump as one 'single unit'. The idea is that this can be used to alternatively supply electricity and pump water to higher locations for irrigation and drinking water needs of the people. This project, currently being implemented, will create ecological and human interdependence ensuring sustenance, Singh says. In future, he intends to focus on innovative and challenging turbomachinery for renewable energy covering both hydro and thermal applications.
In line with UN's Sustainable Development Goal 6 of ensuring access to water and sanitation for all, Laxminarayana Rao (Assistant Professor, CST), has developed a new method of recycling greywater – that is, non-industrial wastewater from domestic sources such as dish-washing, laundry and bathing. Upto 75% of all water used in homes can be classified as greywater. Remaining 25% of domestic waste water, originating from toilets and flushes, is termed as blackwater.
Rao says that, in many countries, greywater is being reused for many applications like flushing toilets, irrigation of lawns, washing of vehicles and windows, fire protection, boiler feed water and concrete production, amongst others. But there are many problems associated with reuse of untreated greywater. It may increase the risk of spreading disease due to microbial growth in water. It may also result in elevated concentrations of detergents in the soil when reused for irrigation. Though there is a strong initiative to recycle water, much of the efforts are hindered by the socio-psychological biases.
The method developed by Rao uses ozone generated from dielectric barrier discharge (DBD) cold plasma based reactor. For in-house applications, a compact DBD-based ozone generator was designed as commercial units are bulky.
"Based on the positive laboratory results, a decentralized greywater recovery system for a school in rural India is being designed," says Rao. This school, he says, has about 200 students, 5 staff members and 5 support staff, and consumes around 2500 L per day of fresh water drawn from a borewell nearby, out of which about 1500 liters ends up being used for washing hands or dishes. The remaining 1000 liters is used in the toilets. In the first phase, about 1000 L of greywater – water from the hand wash and the kitchen sink – will be treated and reused as toilet flush water. The project is currently in its implementation stage.