An interview with the Chairperson of Aerospace Engineering Department on its 75th anniversary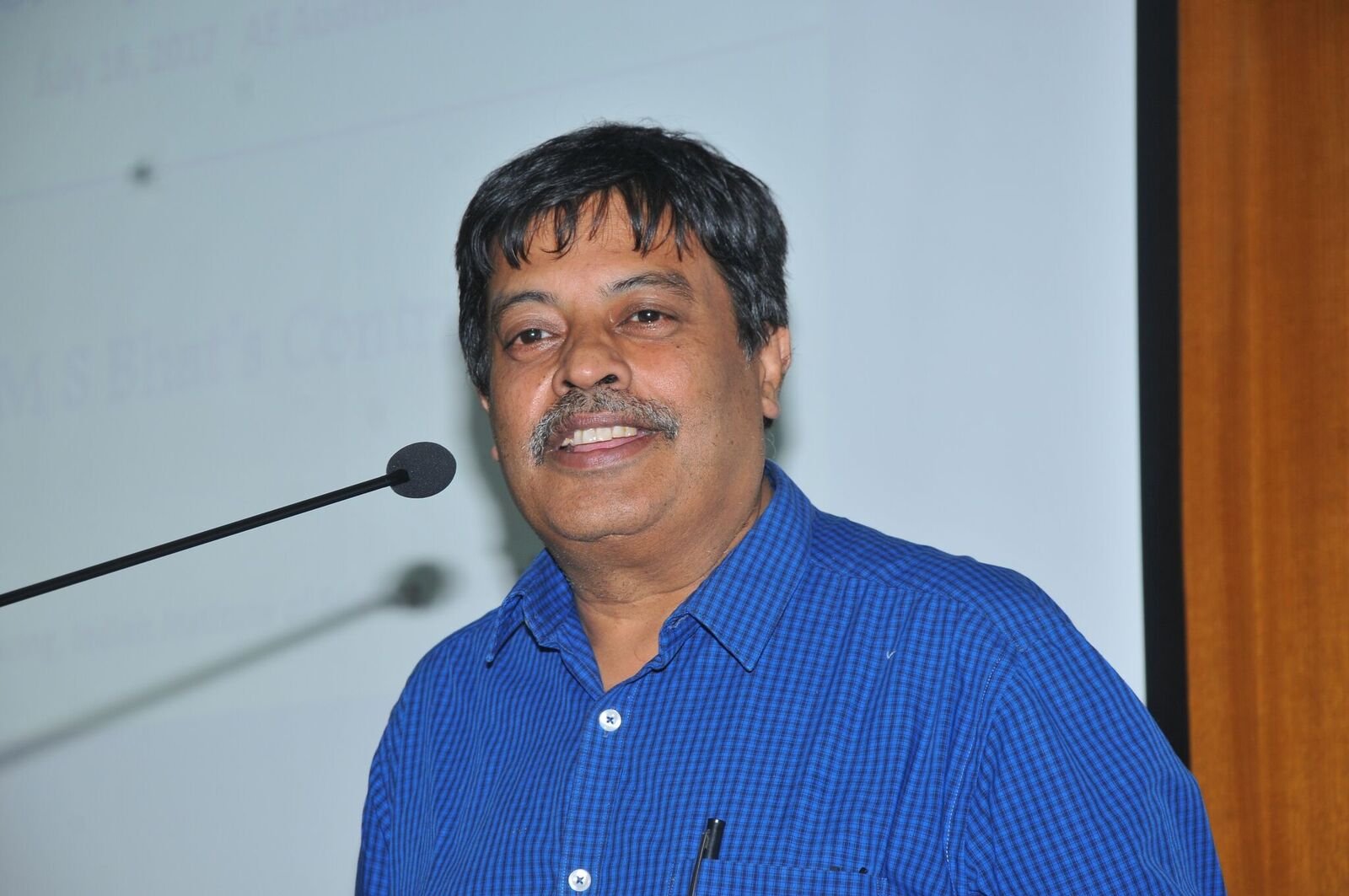 IISc's Department of Aerospace Engineering has around 240 students and a faculty strength of 35. It runs multiple research centres, has close links with HAL, NAL, ISRO, DRDO and other government agencies as well as with the private sector, and works on areas ranging from unmanned aerial vehicles and shock tubes to missiles and green propellants. With a long and rich history under its belt, the Department plans to celebrate its platinum jubilee this December.  
Connect spoke to S Gopalakrishnan, Chairperson of the Department, ahead of the platinum jubilee celebrations. Here are edited excerpts from that conversation:
In all these 75 years, what do you think has been the Department's biggest achievement?
There is still nobody to beat us.
None of the IITs or any other colleges can match our performance in terms of scholarships, achievements, our contribution to national development and strategic programs, our own leadership in many of these areas – many of our own students have gone on to occupy high positions in other institutes and in industry. In the recent Shanghai Ranking [now called the Academic Ranking of World Universities], our department was ranked 32nd in the Subject Ranking for aerospace engineering. It is the only department at IISc to be ranked in the top 50.
The initial concept for Light Combat Aircraft (LCA) came from the Department. Prof Satish Dhawan was instrumental in starting the Space Commission and the Department of Space. We started an exclusive ME programme on rockets and missiles to train DRDO scientists. Many of our students graduated and went on to work for DRDO, and are in leadership positions today. These are some of the ecosystems we created, and there really is no one to beat us at it.
We are far, far ahead and there is no one who can catch up with us, at least in the near future, and that's the sad part, because we want competition. To drive us to do better, to go higher.
In the early years, our focus was on national programmes, and we had few. publications Honestly, because we didn't really maintain archival records, and so much of the early work was classified the Department was oriented towards national programmes, second- or third-generation scientists at the Department like me don't even know about all the work that was done here in the past.
The landscape has changed. Today, DRDO and the government no longer rely on us routinely except to be part of review committees. Many of our innovations that were born out early national project-oriented research are used in other areas now, such as Damage-tolerant design (like that of crack-resistant glass). Shockwave technology [originally used in hypersonic vehicles], which was predominantly defense oriented, has branched into other applications, including cleaning up dry borewells so that they can be rejuvenated.
We have created drones that can take off and land in water, and collect water samples as part of the national program to clean the Ganga. In Gauribidanur in Karnataka, we used drones to plant seeds on a large scale, which can also be used for afforestation. All of this involves using aerospace technology for civilian applications.
What do you think has been the Department's most exciting innovation for the public good?
I think the Reddy Tube, created by Prof KPJ Reddy [also the founder of Super-Wave Technology], is one of the greatest inventions we have here and has a huge societal impact. It can create 10 bar pressure within a syringe. One of its uses is as an artificial insemination gun for cows to increase milk productivity. This device is called the Super Bull, and is a roaring success. Several people have taken licenses to use it. This technology has many, many uses, including painless delivery of injections to diabetics.
I think the Reddy Tube, created by Prof KPJ Reddy, is one of the greatest inventions we have here and has a huge societal impact.
What are the Department's connections like with private industry today?
General Aeronautics, a private company by our well-known alumnus Dr Kota Harinarayana, is currently being incubated here on campus. It works on micro air vehicles, especially micro helicopters, for civilian use, such as delivering organs to hospitals on time.
Our own faculty began two startups under the Faculty Entrepreneurship Programme. One is Simulation and Innovation (SandI) Engineering Solutions, which basically develops high-end Computational Fluid Dynamics software. Now many engineering colleges use this acclaimed HiFUN code, and Defence Research and Development Organisation (DRDO) and Aeronautical Development Agency (ADA) use it too.
The second startup is Super-Wave Technology – the most talked-about one from IISc. Using research that has come out of this department on shockwaves and hypersonics, one of the things they are working on now is increasing the productivity of oil wells, for which they have a big contract with ONGC. They are also using shock waves to dry tea leaves. Usually after picking, tea leaves takes 10-15 days to dry. With shockwave technology, they can be dried in a day. When the Prime Minister visited us two years ago, a pack of tea dried using shockwaves was given to him.
Our old open circuit wind tunnel is being extensively used both by strategic sectors such as DRDO and ISRO as well as by players in the automobile industry, like Mahindra & Mahindra, to work on aerodynamic design. It is also used by people who build tall buildings, and even navy vessels.
Does the Department have plans to branch into new areas in the next few years?
Our vision is that we will start a programme in green aviation to reduce the carbon footprint of flying. We are also trying to start something in the area of aerospace materials. Until now, we have depended on the Metallurgy [now Materials Engineering]Department to give us materials, but we want a person to work on it for us exclusively.
My bigger vision is to have a centre like Caltech's Jet Propulsion Lab (JPL). We currently have three centers, the Joint Advanced Technology Program (JATP) funded by DRDO, the Space Technology Cell funded by the Department of Space, and the Center for Excellence in Hypersonics with BrahMos Aerospace to work on scramjet combustion. Very soon, there is going to be another in the defence sector with Bharat Dynamics Ltd.
The whole idea of having something like JPL is to have the scientists at our centres from different organisations work alongside our faculty and students. Rather than have independent centres that are separate from our academic programme, we integrate them so that we do work for the strategic sector through an academic interaction. That way there'll be a constant flow of funds, students, and output. This will benefit the country, the institute and our students, and the Department is well placed to do it.
In the even longer-term, my goal is to start an undergraduate programme in Aerospace Engineering.