An IISc alumnus, KKS Murty spent many years as an engineer with HAL. Now he runs Select, a book store in Bangalore that enjoys the patronage of many bibliophiles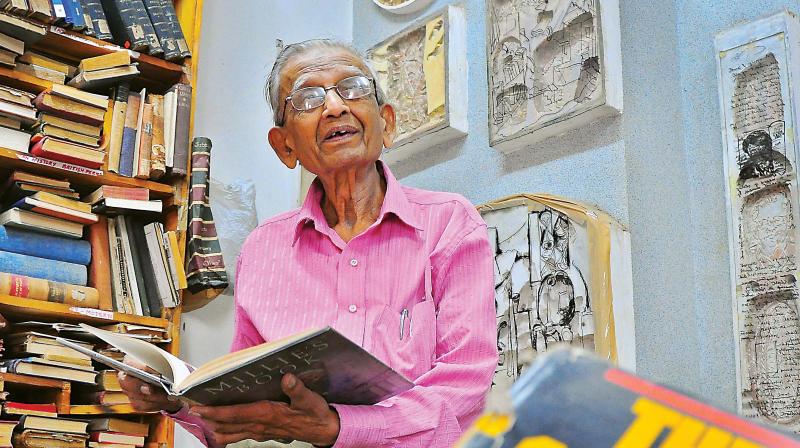 A somewhat run-down, two-storey building tucked into a by-lane off Brigade Road, might not, under any other circumstances, merit a second glance. Its appearance, however, vastly belies the iconic status that the bookstore it houses, Select has come to hold in the heart of every Bengalurean. Today, it enjoys the patronage of some of India's most eminent literary figures – historian Ramachandra Guha has been visiting for over 40 years, playwright Girish Karnad drops by on occasion too and India's best loved author, Ruskin Bond, even mentioned it in his book, Confessions of a Book Lover. "Mr Bond wrote a letter to tell me what he was doing," says the store-owner, KKS Murthy, glowingly of an author he considers a favourite, producing it so we can take a look.
We arrive at the store without warning and are greeted at once by KKS Murthy, the sprightly old-timer who, with his warmth and grace puts us instantly at ease. He bears us no ill will for having taken him by surprise; on the contrary, Murthy is a most obliging subject, sitting and standing on command during the photoshoot. (We learned his birthday was coming up in a few days and made sure we returned the next day with a birthday card; a small gesture by which Murthy was visibly moved.)
The building on Brigade Road has been the family home since 1989, a big leap from the store's humble beginnings in 1945. KBK Rao, an accomplished lawyer working in Andhra Pradesh, was always an ardent lover of books. Post independence, when the Cohen Book Auctioneers on St. Mark's Road decided to auction off books left behind by British families, Rao was the highest bidder. "The turning point in my father's life came when one Mr. Robertson, retired Director of Imperial Bank, Kolkata, started the Select bookshop in a garage on Museum Road. It was a good deed that in the end sealed his fate. Rao, who managed to procure a copy of Alice in Wonderland signed by author Lewis Carroll, handed the book over to his friend. In return, Mr Robertson left him the bookstore.
Sir CV Raman, RK Laxman and UR Ananthamurthy are among the celebrities who have walked through its doors, for the store, with its cluttered piles of books reaching from floor to ceiling, is a veritable treasure trove. A first edition print of Nehru's The Discovery of India and Gandhi's My Experiments with Truth, along with rare manuscripts dating back to 1400 AD, are among the most prized members of Murthy's collection.
Sir CV Raman, RK Laxman and UR Ananthamurthy are among the celebrities who have walked through its doors, for the store, with its cluttered piles of books reaching from floor to ceiling, is a veritable treasure trove
Bookstores across the city now frequently resort to selling toys, stationery and gifts to keep their book business afloat, although Select has, almost miraculously, remained untouched by the tidal wave of digitisation. Murthy replies, not without a hint of pride, "You will be surprised to know that out of the 30-odd people who visit my shop each day, most are youngsters from Delhi, Pune, Mumbai and Chennai, all searching for rare books. In my continuous pursuit of collecting old books and newspapers, I'm willing to pay big bucks to anyone who approaches me with a valuable collection, too."
Murthy, who graduated from the prestigious Indian Institute of Science with a degree in aeronautical engineering, spent two decades fulfilling his scientific bent. "Having studied at such a prestigious university, I had no choice but to find a job in my field," he said. This he did, spending 18 years as a production engineer with HAL, which involved some years of posting in the U.S. "I was constantly sending my dad books when I was there," he recalled. Wrapping up a successful career as an engineer, he returned to Bengaluru to take on his father's baton.
Today, the books are the only things keeping loneliness at bay proving true friends in times of need. "I lost my wife a year ago," he said, face momentarily contorting with sadness.  My son is the only family I have left – he takes care of me and the shop. I have no grandchildren either."
The government is often accused of not maintaining or protecting its archives. Select Book Shop is at odds with this, having played a fundamental role in preserving the city's rich reading culture. "The Archaeological Survey of India is coming next week to buy their own book, an 1834 print," Murthy said, happily, adding, "They're paying me Rs 15,000 for it."
In this fast-paced world, where information is forgotten just as quickly as it is obtained and knowledge is reduced to trifling arguments on social media, Murthy, with his unwavering dedication and his grand love for books is a beacon of hope for the literary-inclined soul. We're glad he's around!
This article first appeared in Deccan Chronicle