Rangmanch and Rhythmica offer students space for creativity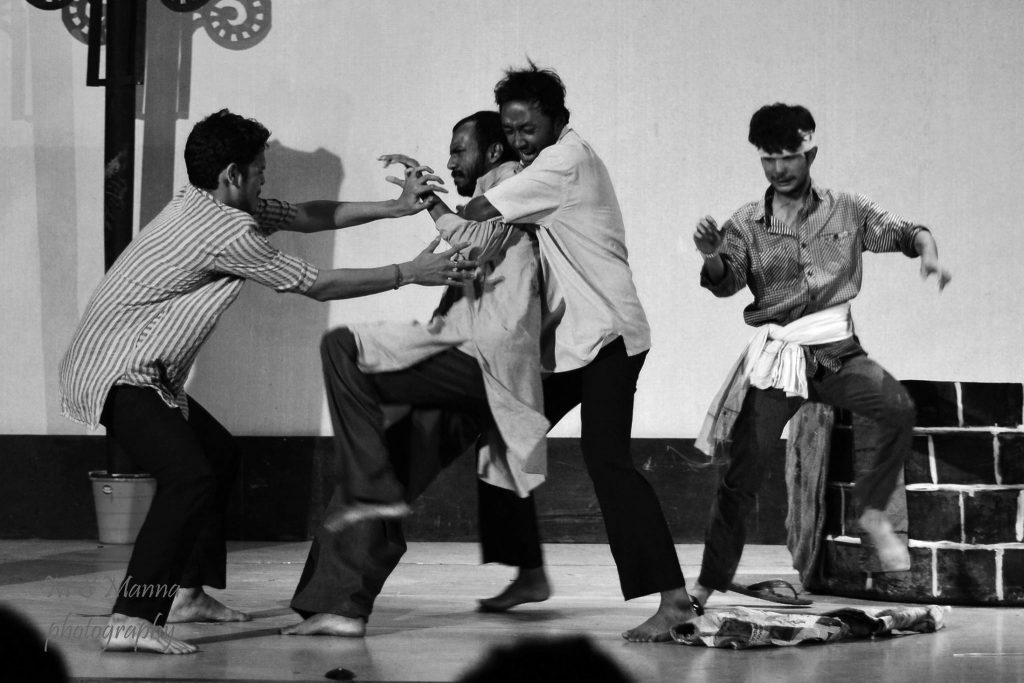 IISc is famed for its science and engineering éclat. Students here are expected to be academically brilliant and consistently work hard to excel. In such an environment, Rangmanch and Rhythmica are two student-driven clubs that allow them to showcase their artistic ingenuity. In the absence of a full-fledged humanities department at the Institute, the activities of these two clubs provide students an outlet for cultural dialogue and expression.
Drama on campus
Rangmanch, the dramatics club of IISc, was formed in 2008-09. Recalling its inception, Amit Roy, a PhD Scholar in the Department of Physics, says that the seed of the idea to start a dramatics club for IISc students was sown when the Centre for Film and Drama in Bangalore presented the play 'Copenhagen' at IISc. The audience comprised members of the Institute – mostly students – who were interested in theatre. Following the play, there was a meet-up of these theatre enthusiasts and this marked the beginning of Rangmanch. The first production of the club was a musical play called 'Life at IISc'. It was written and created entirely by the club members and performed on the occasion of the freshers' orientation programme organised by the Student's Council in August 2009. This play was a great success and subsequently encouraged many more students to join the club.
'Life at IISc', the first production of Rangmanch was a great success and subsequently encouraged many more students to join the club
Over the years, Rangmanch has represented IISc in numerous theatre festivals and national level competitions and has won many accolades. It inspired the formation of other cultural clubs at IISc; the Art and Literature Club is one example. Rangmanch was also instrumental in the creation of similar clubs in other Bangalore institutes like the National Centre for Biological Sciences. The club has been gradually growing, both in members and in number of events, and has been staging poignant performances. "After watching a few plays by Rangmanch, I feel it is larger and more brilliant than I initially thought. It will be great to learn from them," says Satwik Garikimukku, an undergraduate student who recently auditioned for the club.

The current conveners of the club are Dymphna Joyce John, a PhD student in the Department of Molecular Reproduction, Development and Genetics, Rohit Dutta, a PhD student in the Molecular Biophysics Unit and Akash Gulati, a PhD student in the Department of Physics. The various activities of the club, they say, attempt to creatively explore several areas of theatre including street plays, mime, musicals, and improvisation.
The primary role of a convener is to act as an interface between the Institute administration and the club. They represent the club at the Gymkhana Student Affairs Council (GSAC) meetings, arrange periodic meetings of the club members to plan future activities, secure venues and organise different events. They also keep a record of the finances. Other than the conveners, there are directors, writers, and producers who guide the performers. Those who are interested in arts and crafts venture into set design, costume design and lighting among many other activities. The Institute provides them with space and resources for various events including the Rangmanch Showcase (the annual theatre event), Sangam (the fresher's event), Spectrum (the annual sports and cultural event of Gymkhana), Gandhi Jayanti, and Founder's Day. In addition to this support, the club conveners collectively feel that a certain amount of seed funding at the beginning of each session would be helpful, and that the long-pending infrastructural improvements of the Students Affairs Committee building should be completed.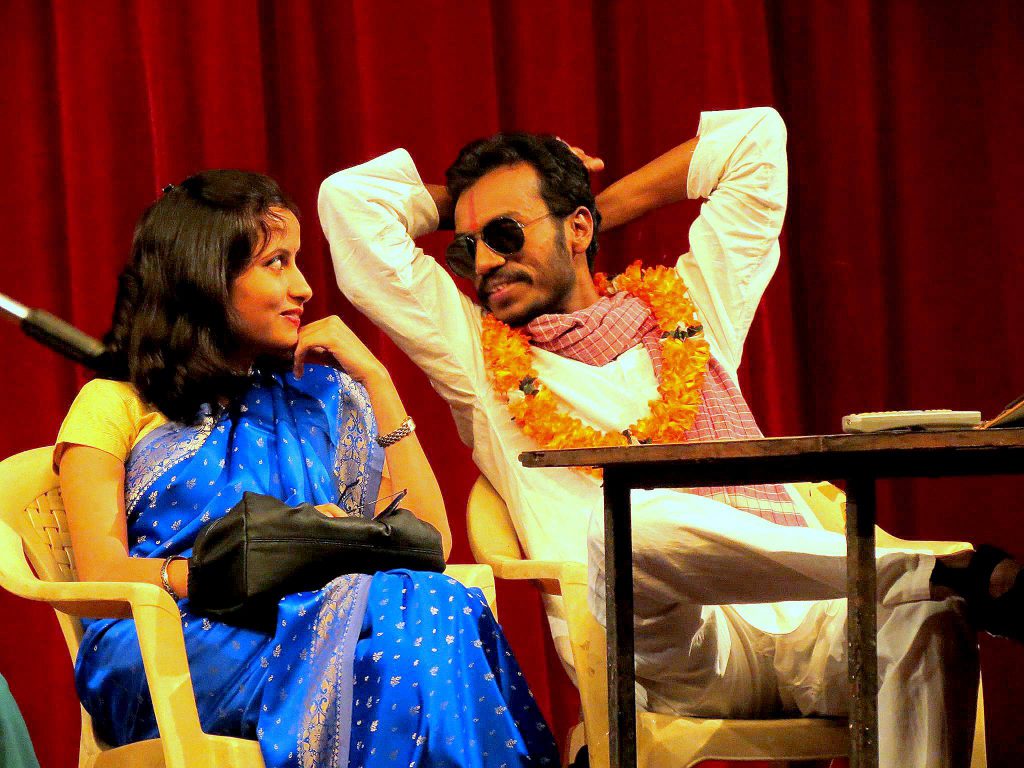 Performing for a social cause
Rangmanch, besides being a source of pleasure and joy for its members and audiences, has also enabled self-discovery for some students. Amit says, "The club has been my constant source of energy and motivation to overcome failures, in research as well as in life. It has taught me teamwork and collaboration." Sri Vamsi Matta, a former UG student and founder of the Bangalore-based theatre group Chandrato Collective says that he learnt life skills by doing theatre with Rangmanch. "Like the real world, the theatre world is also casteist, sexist, elitist and highly gate-kept by cis-het, savarna men. It also involves a lot of red tape, bureaucracy and navigating ideologies.
"Rangmanch helped me understand theatre in totality," he explains. He believes that no other theatre school would have been able to teach him these on-the-ground lessons. He goes on to add that while he found his calling and his love for theatre through Rangmanch, having a background in science has also proved to be invaluable for him. He follows the same method for theatre production as he did for designing an experiment and writing a research paper, reading literature thoroughly and analysing materials and methods. "This rigour comes from my science education," he explains.
Rangmanch has also been a platform from which students give voice to local and global concerns. In 2015, Rangmanch members performed incisive street plays in the wake of the nationwide protests by research scholars demanding a stipend hike. These plays became very popular and appealed to researchers all around the country. Through performances of plays like Vijay Tendulkar's 'Silence, the Court is in Session', Aristophanes' 'Lysistrata' and Mahesh Dattani's '30 days in September', Rangmanch has explored the harsh realities that women have faced across time and space. Sanjna Banerjee, a PhD student in the Centre for Neuroscience says, "Rangmanch not only provides a platform to present women's issues but actually strives to foreground them." The club encourages original scripts and adaptations from intersectional feminist texts in different languages, and has an equal if not larger proportion of women spearheading direction, scriptwriting, acting and production design. Rangmanch's plays on women's issues have been performed across venues in Bangalore, including the Rangashankara Theatre festival.
Reverberating melodies
"Rhythmica plays for the crowd," is the tagline of the music club of IISc. In the 19 years of its existence, the club has not only enthralled its listeners, but has also honed the talent of numerous students, giving them a space to create, share and discuss music. It has brought to the campus an impressive repertoire of music ranging from Indian classical to Western; from Rock to Jazz and Blues; from western country music to Indian folk; Vedic tunes and home-brewed self-composed scores, and from the early 20th century classics to the current chartbusters.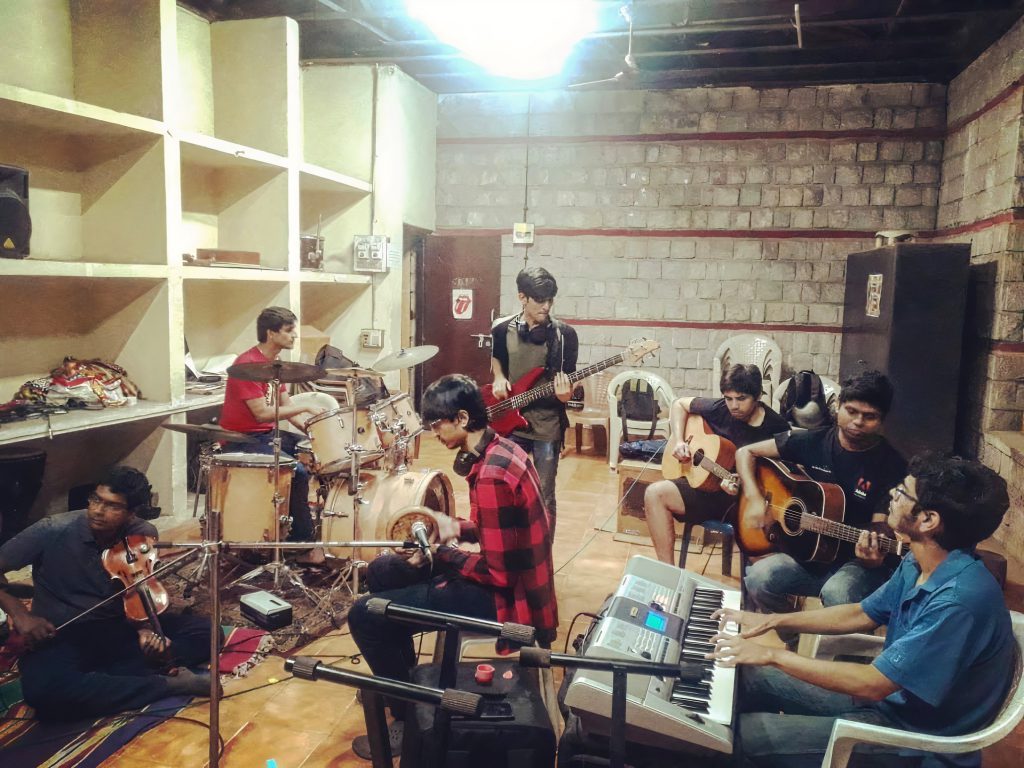 Reminiscing about his experiences, Appilineni Kushal, a former UG student, says that Rhythmica nurtured his love for music. Playing songs with the group helped him understand and appreciate the role of different instruments and the minute technical details of composing a song. It introduced him to like-minded people with whom he is still in touch and continues to seek feedback on his original works. He continues to compose music at the University of California at Davis, where he is pursuing a PhD in Applied Mathematics. Echoing similar thoughts, Sruthi Unnikrishnan, a former PhD student in the Centre for Ecological Sciences, says that Rhythmica was a huge stress-buster for her. It is only because of Rhythmica that she has made friends across disciplines and discusses work and music with them, she adds. "I think I have grown as a person due to my association with the group. I was a convener for the year 2011-2012. I was very active in Rhythmica and it has a special place in my heart."
Music continues to flow with Rhythmica
Rhythmica is highly coveted among the music lovers on campus. Kartikey Pratap Chauhan, a UG student who enjoys performing Indian semi-classical music, narrates that after entering IISc, he aspired to join this "prestigious" music club. He was not successful in his first attempt, but he trained harder, and to his joy, he qualified in the second attempt. This boosted his confidence as a singer. Rhythmica taught him to pay attention to technical aspects of singing, he says. Eventually, he got the chance to perform before an audience of more than 350 people, twice. He also feels confident about his organisational and interpersonal abilities now.

Rhythmica follows a democratic enrollment process and is not restricted to freshers. Monmita Bhar, a PhD student in the Centre for Neuroscience and a former convener, says that all students on campus are welcome to participate and the auditions offer an opportunity to gauge potential members' interest and musicality. The panelists try to assess these as objectively as possible.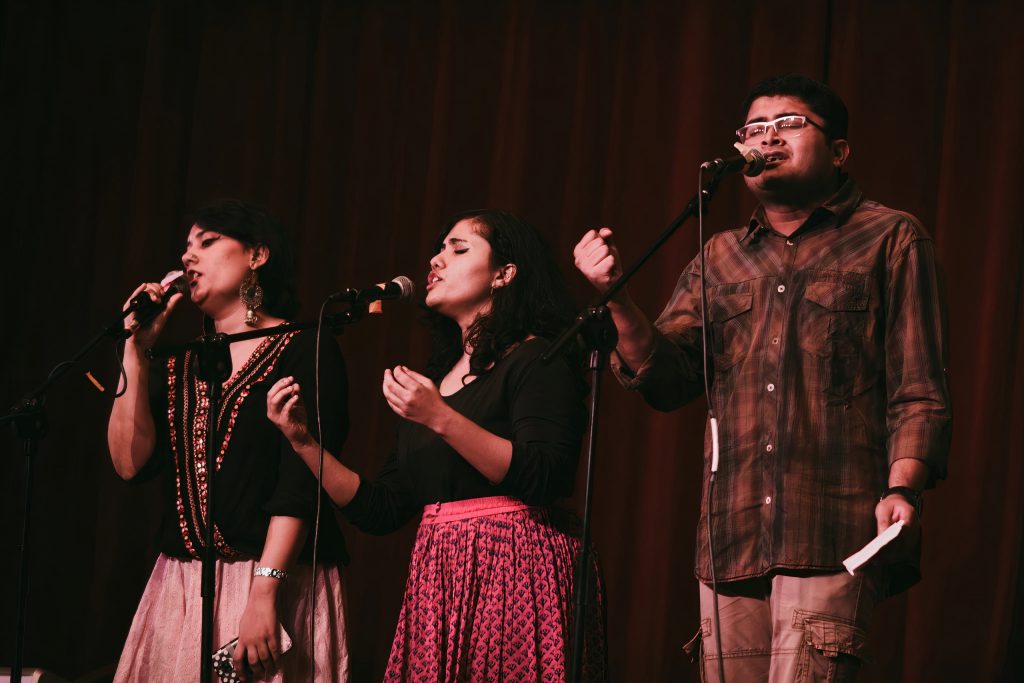 The conveners, Umang Bhat, Meghal Sachdev, Nilay Agarwal – all UG students – explain they have been unable to conduct shows or auditions for the past two years due to the pandemic. In addition, many veteran members have graduated and left the Institute. Now that life on campus is slowly returning to normal, they are conducting auditions and hope to receive the IISc community's support once again. Besides performing at official IISc events like the Independence Day celebrations and representing the Institute in inter-collegiate events, Rhythmica also organises music classes for the IISc community at an affordable rate. They plan to resume these courses and workshops as well. The club conveners also say that they would like the Institute to provide improved access to the music room as the present one is located far away and is restricted at night.
The lives of IISc students, like everyone else's, have been affected by the ongoing pandemic. Yet, the bleak situation has not completely dampened their spirits. Cultural Secretary Rydham Goyal, a UG student, explains that many students of IISc are still highly motivated to participate in cultural activities, which have increased substantially as campus opens up again. Students have been asking various clubs to organise training sessions for dance, drama and musical instruments, which gives them an opportunity to pay attention to arts and crafts, he adds.
Rangmanch and Rhythmica, as much as they are the bedrock of IISc students' creative expressions, have also effectively supported the mental and emotional well-being, not just of the students, but also their many spectators.